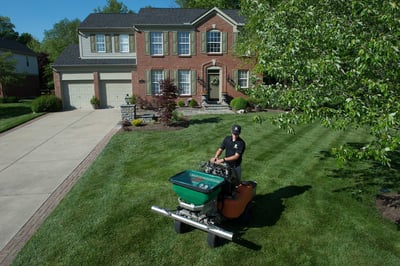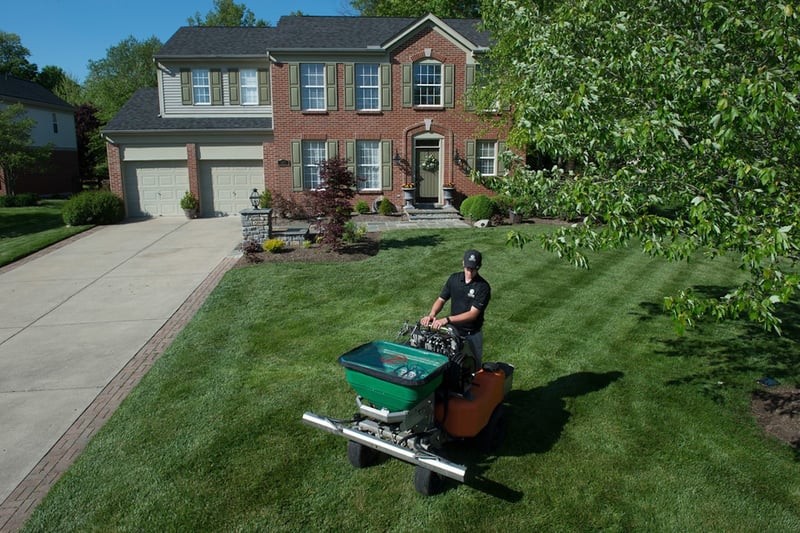 If you're looking for a lawn care company that is going to help you have the beautiful and lush green lawn that you want, then you might be going through the process of comparing your options.
After all, there are a lot of different lawn care companies in the Dayton, OH area but you want to be an educated consumer and make a wise choice.
One company that may have shown up on your radar is Turf Point in Dayton, OH. You might be wondering how this company compares to Oasis. In fact, Turf Point recently compared our two companies on their website but we found there were some misrepresentations.
We wanted to take the time to respond to some of their claims as well as perform a fair comparison of these two companies.
Service Area & Company Growth
In their comparison of the two companies, Turf Point positions Oasis Turf & Tree as a large company with expansive geographic coverage. They make the argument that they (Turf Point) are dedicated to just the local Dayton market but Oasis covers a much wider area.
While it's true that our service area is larger than Turf Point Dayton, OH, we also don't see that as a negative. Oasis has expanded steadily and deliberately. It was a very cautious (and conscious) decision that didn't just happen overnight.
We started in Loveland, OH, but we grew because we were constantly having friends and family recommend our services to others. As our business grew organically by referrals, we ultimately expanded into Dayton and other areas.
Though we are still based out of Loveland, we have long been servicing the Dayton, OH area, as well as other service areas. Our employees who work in Dayton are committed to that area just as our employees who service Cincinnati, are committed there. We are proud that so many of our customers are happy with our services that they recommend us to others and we've grown to accommodate that.
Response Time
Our response time is also something that we're quite proud of. No matter where in our service area you are based, you can count on reaching us and receiving a speedy response.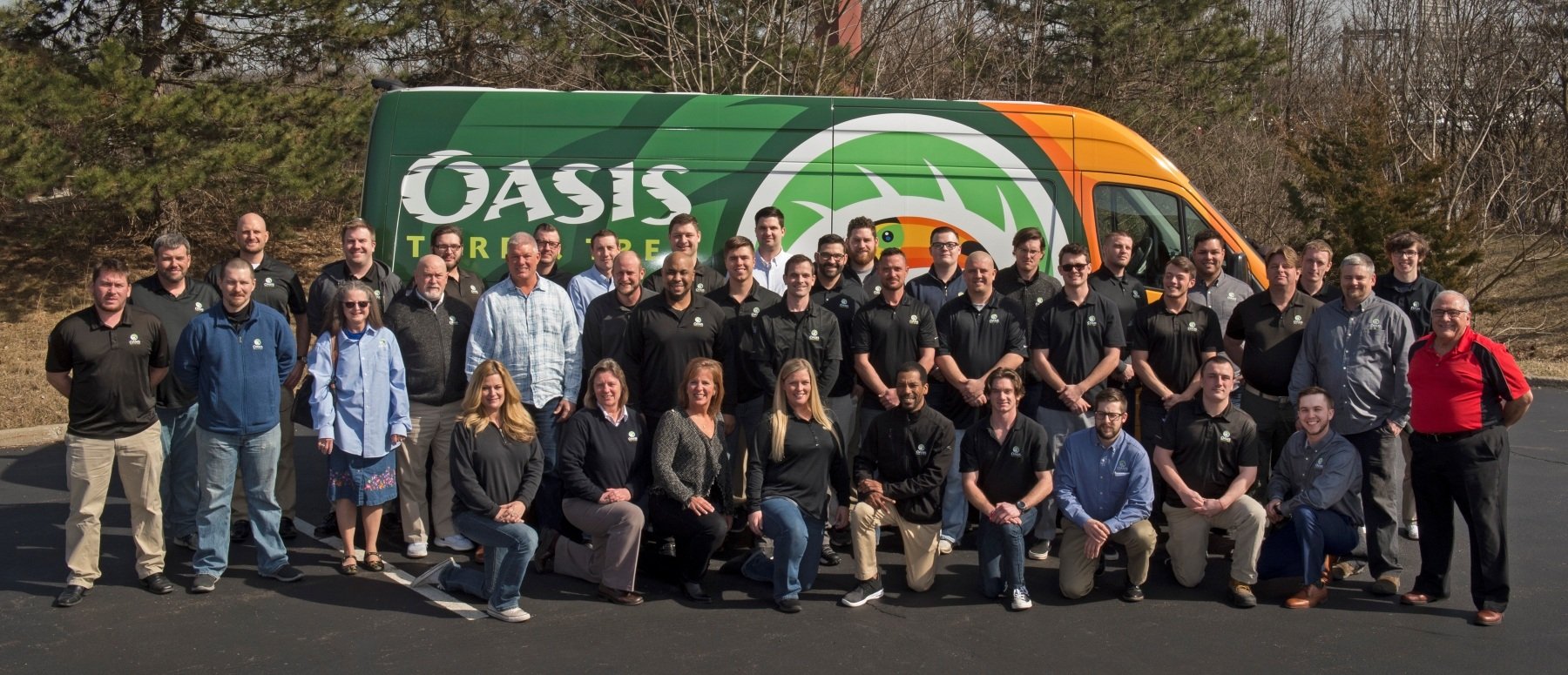 Our hours are:
Monday- Thursday, 8 am to 8 pm
Friday 8 am to 5 pm
Saturday 9:30 am to 1:30 pm (during spring only)
We know that many homeowners are busy and often work full-time. We want to be available during "normal business hours" but also a little before and after those daytime hours in order to be reachable when you need us to be.
By way of comparison, Turf Point lists their hours as Monday- Friday, 9 am to 5 pm.
Customer Satisfaction
At Oasis, we are also very proud of our high rate of customer satisfaction. That's been proven by the way in which we've grown through referrals.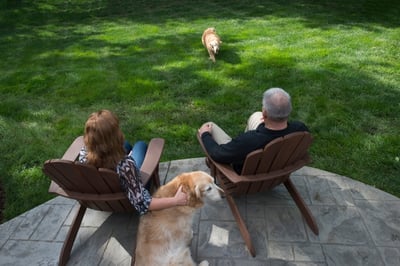 However, we found it misleading that Turf Point Dayton, OH took the time to comb through all our Google reviews to find one negative complaint and highlight it in their comparison argument. They took a single review out of more than a hundred that are out there. For some sense of comparison, we have 147 reviews on Google and a 4.7-star rating. While Turf Point has a 4.8-star rating, they have fewer reviews.
Every company gets a negative review from time to time. Turf Point certainly has them, too. Though we aren't going to point out negative reviews of our competitors, we will say that how a company responds to reviews (including negative ones) is important. You'll notice that Oasis Turf & Tree has always responded directly to any less-than-perfect review as we want to remedy any dissatisfaction our customers might have.
Free Services Mention
Turf Point also makes a big deal about offering free aeration and free soil treatments when customers prepay, implying that Oasis does not offer any perks. However, Oasis does offer 5% off for prepaying and regularly runs promotions for $25 off a new lawn care program as well as including added value in our lawn care programs.
We also include free guaranteed grub control, free guaranteed surface insect control, and free crabgrass control booster with all of our programs. But we aren't offering these additional services as a "bait and switch" game as many companies often do. This is when a lawn care company ropes in new customers with free services. They give it to you free the first year but automatically charge for it in future years.
Our perks are services that we will continue to perform with your program for free every year.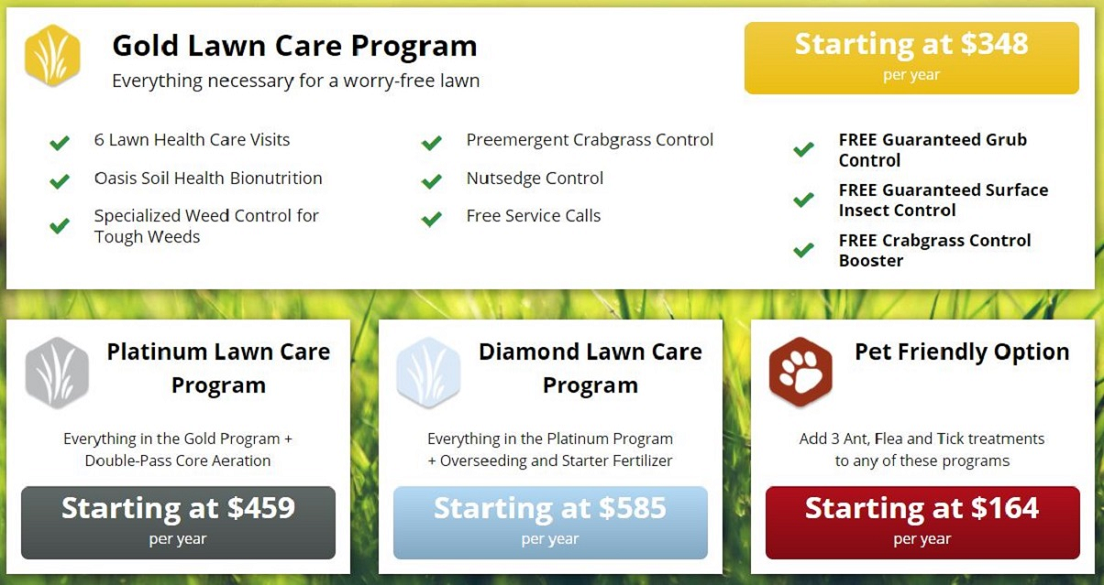 Whenever you're getting something for free, we would advise being a smart consumer and asking questions.
Our experience is that when companies offer valuable services completely for free, there is usually a catch. For instance, oftentimes what is marketed as "free soil treatments" wind up being a treatment they don't actually need.
In addition, offering free aeration is also suspicious because it's one of the most labor-intensive treatments a lawn company can do (if done correctly). Is Turf Point's free aeration double-pass core aeration? If it's not, it might not be getting you the results you desire. With a service as valuable as aeration, we suspect that by offering it for free it may already be built into the cost or is not the high-quality service that you need to actually get great results. It might be a subpar variation.
At Oasis, we have two lawn program options that already include double-pass core aeration and one program option that does not. We're not trying to use aeration as some marketing tactic by making something appear free that really isn't—or pull a bait and switch where it's free at first but we'll charge you for it next year. You can see plain and simple that it's built into our cost in two of our programs, should your lawn need it.
Comparing Lawn Care Programs
It is difficult to compare the Turf Point's lawn care program to ours as their website is not incredibly detailed on what's included. They don't spell it out clearly.
According to their website, Turf Point appears to offer fertilizer in the early and late spring and some sort of treatment for weeds. They also talk about adding nutrients in the summer, but don't explain what that is. Turf Point does mention performing summer grub control. Fall lawn care talks again about "nutrients" without much explanation and mentions aeration.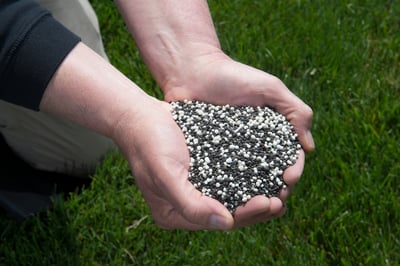 There does not appear to be different program options to meet different needs. It's possible that Turf Point offers programs, but they don't spell out what's included or what you can expect to pay.
At Oasis, it's much easier to see exactly what you're getting for your investment. We offer 3 different lawn care programs: Gold, Platinum and Diamond, and each one spells out exactly what is included and how much you'll pay. There are no questions or uncertainties, as we believe in transparency.
Oasis also stands out from Turf Point in that we focus on soil health and utilize bio-nutritional products that promote a thriving soil. The truth is, this is something that only a small fraction of companies offer because it costs them more than just throwing down synthetic fertilizers. However, Oasis believes in doing what is best for the long-term.
Making a Wise Choice
Choosing a lawn care company can feel like an overwhelming decision when there are so many companies out there to choose from. It's also difficult to "weed through" all of the claims being made when some of them are merely marketing gimmicks or advertising noise.
If you're like a lot of homeowners, you just want to be able to understand what you're getting for the investment that you're making. You want a company that is honest and transparent—and of course, one that is reliable, too.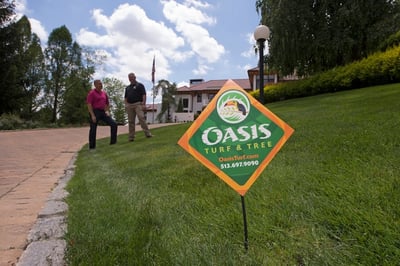 We commend you for taking the time to perform some research and to understand the differences between the Dayton, OH lawn care companies you're considering. As a wise consumer, you just want to make the best possible choice.
As you aim to achieve that goal, we recommend that you take time to ask questions and to understand what it is that you're receiving for your investment. By doing so, you'll ensure that you put your property on the path to a lush, green lawn and form a relationship with a great local company that you can count on.
Of course, if you end up choosing Turf Point, we certainly hope you'll be happy with the services that you receive. However, if you'd like to join the 10,000+ local homeowners who trust Oasis year after year, we'd love to start a mutually rewarding, long-term relationship.
If you'd like to learn more about the lawn care programs that we offer in Dayton, OH, Cincinnati, or Northern Kentucky, request your quote, help us find the right program for you, then sit back and relax knowing you've made a wise choice.