Having been in the lawn and landscape industry for more than 45 years, Jeff Murphy has gained a reputation as the resident "tree expert" that he says comes from many years in the field and attending dozens and dozens of seminars over the years.

Actually, he knows a lot more about the industry than just trees. With the Green Industry being more than just a career but a true passion, Jeff has a wealth of knowledge on a little bit of everything about plants, lawns, and more.
A Long History in the Green Industry
Jeff says a lifelong career in the Green Industry all started in 1972 when he was in high school and saw a "Help Wanted" sign on the greenhouse across from his school.

While he never would have imagined that job would lead to a long-time career, he did quickly learn that he had a passion and a skill for working with his hands. Whether it was planting flowers or mixing soil, Jeff says it was as much fun as it was a job.

He also enjoyed chatting with the German owner who was able to help him with his German in high school!

Jeff ended up working at that greenhouse all the way through school and enjoyed it so much he went on to study Horticulture at UC. While they ultimately ended up dropping that major (due to a lack of interest at the time), and Jeff earned a degree in Business, he still went to work for a landscaper after college.

He's been in the Green Industry ever since.
In fact, Jeff has worked for Oasis Turf & Tree for the last 15 years.

"It's just something I really enjoy," Jeff shares. "One of my favorite things to do with my spare time is work on my own yard."

Jeff says that one of the things he likes so much about Oasis is their emphasis on training, education, and learning. Jeff loves the fact that the Green Industry is ever-changing and says it's the type of career where you'll never get bored. There is always something to do or learn.

"What I learned back in 1972 is probably wrong today and that's why it's important to stay on top of training and education," he says. "This is an industry that is always evolving and if you're not keeping up with it, you're dead in the water. I really appreciate that Rob is someone who really believes in training and in always improving. That's one of the reasons I've been here as long as I have. I respect that Rob cares so much about growing and learning."
Life Outside of Work
When not at work, Jeff is still finding ways to use his hands and stay busy. He admits he is not one to ever want to sit around. As he mentioned, he often loves to work in his own yard when he's at home.

Another one of his favorite things to do is repurpose old furniture into something new. He just recently completed a project that involved using an old cedar fence that was going to be disposed of to fix up an old cedar chest that was in disrepair.

Jeff also loves cooking and trying new recipes as well as spending his free time with his dogs.

"Perhaps the most interesting thing about me is that I sing like an angel," Jeff adds. "Rob and I have gone out for karaoke before since he likes to sing, too!"
Making a Job Into a Career
Though he certainly never imagined that stepping into that greenhouse would turn him into a Green Industry veteran, Jeff says that any job is often what you make of it. And he says the same can be true at Oasis Turf & Tree. Someone who might be looking for a "lawn care job" can easily make this into a "lawn care career."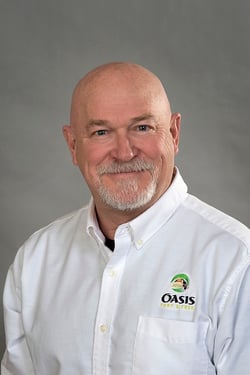 "As with most things in life, you get out what you put in here," he says. "There is an opportunity to make a career here a really great experience, but you have to be ready to put in the effort."
Jeff says that one of the best things about working at Oasis Turf & Tree is that it truly is like a family. Everyone gets along and leans on one another for support. But having that positive work ethic is key.

He says that Oasis can be a good fit for someone who has that positive attitude.

"It can be a great place to work and Rob and Angela really care about everyone getting along and having a positive team culture," Jeff shares. "If you put in the effort and take the time to get to know the people around you, you'll see how quickly you can fit right in."

Looking for a tree care career in Cincinnati and Dayton, OH? Consider joining the Oasis Turf & Tree team and find out more about how you can become part of our family.