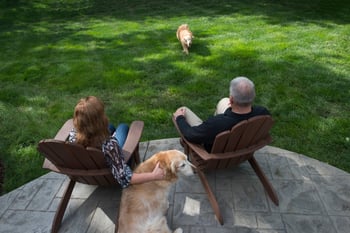 Having a thick, green lawn is important to many Ohio homeowners. A great lawn isn't all about making your neighbors green with envy. A gorgeous lawn increases a home's value and is also good for the environment, improving air quality in your neighborhood.
One of the keys to maintaining beautiful turf is a lawn care program that focuses on soil health and preventative solutions for common lawn problems.
Before jumping in and hiring just any lawn care professional, many people want to know, "on average, how much does lawn care cost?" Your annual investment in lawn care is influenced by a variety of different factors.
Factors That Contribute to the Cost of Lawn Care in Ohio
There's a common misconception that all lawn care companies are the same and the only difference is the price. However, there are big differences in cost and end results when comparing lawn care companies. The many factors that contribute to the cost of lawn care services in Ohio include:
Products
The types of lawn care materials a company uses are directly reflected in the price you pay for lawn care services. When a company uses a higher quality product, you'll usually spend a little more for their services.
For example, many of our competitors exclusively use synthetic fertilizers. These materials may green up a lawn initially, but may not be the best solution for long-term results. Our lawn care program uses bio-nutritional materials and organic-based fertilizers which improve the soil over time and solve underlying lawn problems. Bio-nutritional materials and organic-based fertilizers cost more money, but they're also better for your lawn.
Always ask lawn care companies what products are included in their price. It's not always an apples-to-apples comparison when you're looking at prices. Some companies only include fertilizer and weed control in their prices while others may also add insect control or other important lawn care treatments.
Make sure your lawn care program includes proactive treatments for your lawn's potential problems. Some lawn care companies try to gain a client without explaining these treatments and then try to add them later, making the cost more expensive.
Application Methods
Some companies choose to treat lawns by combining fertilizer and weed control into one tank and spraying the liquid mix across the entire lawn. Other companies use granular and liquid materials separately. There are times when Oasis Turf applies these materials separately. This can require a second pass over the lawn and could influence your program's pricing. However, this application method may be better for your lawn in the long run.
Likewise, the number of visits included in a company's lawn care program directly impacts the cost. Each visit could be made up of a varying number of applications. Before agreeing to any services, make sure you know how many visits and specific applications the program includes. Ask when these specific visits take place throughout the year.
Labor
The technician who comes to treat your lawn needs to be paid for their time, and these labor costs are included in the price for lawn care services.
A low-priced service may mean the technicians aren't getting paid well, which could lead them to cut corners. Ultimately, this leads to frustration on your end because you're not getting the quality of service you expected. Low prices could also mean that the company has a high technician turnover rate. Companies that invest in quality staff and keep employees longer benefits you, the customer, in the long run.
Customer Service
A great lawn care company will do everything in their power to make sure you're satisfied with the quality of service you receive. They will be available to answer your questions about the services performed, your bill, or other concerns.
Support staff also impacts the cost of lawn care services. Smaller companies without support staff to answer your calls or schedule appointments typically cost less, but you also may find it frustrating when you cannot get in touch with someone to answer your questions. It's may be worth paying a little more for good customer service. At Oasis, we have a whole team of experts that are ready for your call. We won't make you wait for days for answers to your important questions.
What's Not Included In The Cost Of Lawn Care Services
Every company is different, but for the most part, the cost of lawn care services includes:
Additionally, many companies will come to your home free of charge between visits for touch ups or re-dos for problem areas. Some companies also include post-emergent crabgrass control in their lawn care prices.
It's important to point out, however, that some lawn care services cost extra. These extra services could include aeration, overseeding, grub control and insect control.
When you compare lawn care programs, be sure to pay as much attention to what is NOT included as what is. Some of these services are infrequently needed, but make sure your lawn care company explains what the potential costs could be.
How You'll Pay For Lawn Care Services
Most companies charge for lawn care services by application or by season (spring to late fall). You can either pre-pay for all of your visits ahead of time with a discount, or you can pay for each visit as you go. Not every company gives the same discount for pre-paying, so be sure to explore this option.
Some customers may want an easy pay option where payments are automatically deducted from a bank account or credit card after a visit is completed. This optional payment method is becoming more popular in the industry. This auto-pay method does not always have a discount associated with it.
Average Cost Of Lawn Care In Ohio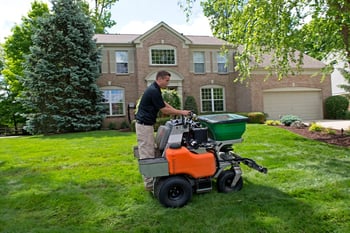 Every company is different, but the average lawn care cost in Ohio is $50 to $75 per visit. For an eight visit lawn care program, this equates to $400 to $600 per year. The price you'll pay also is primarily based on the size of your lawn (12,000 square feet is the average).
Since the cost of lawn care in Ohio varies significantly by company, it's important to do your research.
As you consider lawn care companies, ask lots of questions about their company, staff, and program's features. The more informed you are, the happier you'll be with the quality of services you receive.
At Oasis Turf & Tree, we specialize in creating green, healthy lawns for our customers in the Cincinnati area. We invite you to learn more about how we can help you achieve the lawn of your dreams. Take some time and read more about our lawn care programs, their pricing and request a free estimate.