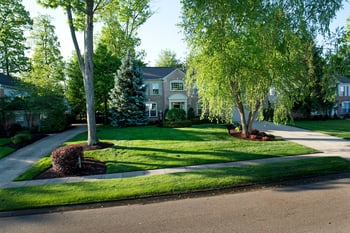 Whether you're starting your journey in improving your lawn or need to find a better solution than your current provider, finding the best lawn care service can be quite the adventure.
Most homeowners spend countless hours online reading reviews, comments and product information before making a purchasing decision about all sorts of home improvements. When it comes to choosing a lawn care company, your process shouldn't be much different.
There's no shortage of great lawn care companies in Cincinnati, which makes deciding which one is right one for you even more difficult. Price is always an important factor, but a high level of expertise, a clear understanding of your specific needs, and high-quality customer service are equally essential.
To help you along your quest to find the best lawn care service in Cincinnati, we put together a list of who we think are some of the best companies in the Southwest Ohio area.
Buckeye EcoCare
Founded in 1984, Buckeye EcoCare is a locally owned lawn care company that serves the Southwest Ohio area. They specialize in lawn care, tree and shrub care, pest control and lawn renovation.
Buckeye EcoCare offers a variety of lawn care programs to help you achieve a thicker, healthier lawn. Their primary program consists of five applications of time-release granular fertilizer.
PureLawn
PureLawn is a locally-owned family lawn care business that primarily services the Cincinnati and Dayton areas, but they also service Mason, Loveland, Centerville, Springboro and other cities surrounding these areas.
PureLawn takes an environmentally responsible approach to lawn care services. They offer organic-based fertilization programs, weed control, core aeration, slice seeding, grub control, soil tests and soil amendments.
Their core program is five applications and uses a combination of synthetic and organic-based slow-release fertilizers and soil enhancers, and weeds are spot treated with each application. PureLawn also offers a fully organic lawn care program.
TruGreen
Founded in 1973, TruGreen is a nationally recognized lawn care company with a branch office in the Cincinnati area. In late 2015, TruGreen merged with Scott's LawnService, in April 2016, making it the largest lawn care company in the country.
TruGreen offers several different lawn care programs, and their most popular plan includes pre-emergent, targeted weed control, fertilization and grub prevention and control. They offer basic and more comprehensive plans in addition to a lawn plan that uses only 100% natural fertilizer (with no weed or insect controls).
Weed Man
With over 45 years of experience and franchises all across the country, Weed Man in Cincinnati is a locally owned and operated franchise. Weed Man offers a number of different services including lawn fertilization, weed control, surface insect control, grub control, lawn seeding, crabgrass control, flea and tick control, core aeration and nutsedge control.
Their primary lawn care program consists of six applications with four applications made up of 65 percent slow release fertilizer. Applications are eight to 10 weeks apart.
The
Best Lawn Care Service
In
Cincinnati
At Oasis Turf & Tree, we've been providing lawn care services to the Cincinnati area since 1996. We're committed to giving you a healthy, green lawn all year long, which is why our team designs a lawn care program specific to your needs and lawn's growing conditions.
Our opinion may be biassed, but with good reasons to support our stance. We believe our lawn care service is the best you'll find in Cincinnati. We invite you to compare our company and our approach to lawn care to any of these worthy competitors.
How Oasis Turf & Tree is Different than other Lawn Care Companies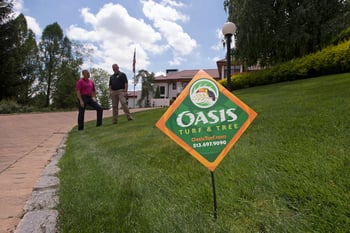 Unlike other companies, we follow a detailed eight-step process to ensure that you get consistent and reliable results every time. We invest time and money into services that will get you the long-term results you desire and focus on building the health of your soil rather than making it dependent on fertilizers and synthetic materials.
We believe in providing comprehensive lawn care services that address all of your needs rather than charging extra for the services that matter most. Our primary program consists of six visits – two in the spring, two in the summer and two in the fall. Each visit includes:
Custom blended fertilizers

that naturally build the health of your soil

Weed control

that includes multiple products designed to take on tough weeds

Full lawn check-up and evaluation

to check for concerns before they become a problem

Personalized communication with your technician
Clean up

where we blow off driveways and walkways after each application

Proactive communication and follow-through

to provide you with the highest level of service

Free service calls

so you don't have to wait until the next visit to get your questions answered
Our environmentally responsible approach to lawn care leaves you with a thicker, healthier lawn that is better able to resist drought and disease while retaining its moisture.
Comparing Oasis Turf & Tree to the Best Lawn Care Companies in Cincinnati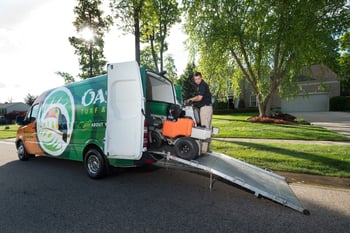 When searching for the best lawn care in Cincinnati, we recommend to write down a list of what's most important to you. Understand that although prices and lawn care programs may be different, what's important to you is the same. Ask companies to explain how they are different and to go into detail about their services.
During your search, it will help you stay focused as you narrow down the long list of local companies. By choosing the right lawn care company for your Cincinnati home, you'll reap the benefits of a healthy lawn throughout the year.
At Oasis Turf & Tree, we specialize in creating green, healthy lawns for our customers in the Cincinnati area. Learn more about how we can help you achieve the lawn of your dreams by requesting a free estimate.