Do you know what kind of trees you have on your property? If you're like most people, the answer is probably no. We know this as we get lots of calls from locals asking questions about tree identification. Unless you have an arboriculture background, you're probably stumped.
The question of, "What kind of tree is this?", may be the starting point to address your concern if you could be unknowingly neglecting your landscape investment.
Do the types of trees at your home have common pests? Are there symptoms you should be watching for?
What Kind of Tree Do I Have
—and Why Does it Matter?
The truth is, tree identification is the first and most important step in caring for the trees on your property. Every tree has specific challenges and needs and you can't properly care for it if you don't know what plant you're dealing with.
Fortunately, there are a lot of resources out there that can help you to identify the trees on your property. Trees are typically identified by their distinguishing characteristics including their leaves, bark, and flowers.
Let's take a look at how these plant parts can be used with identification tools we recommend.
Tree Identification by Leaf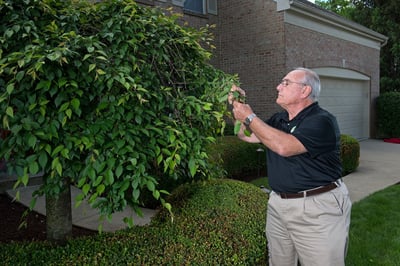 Leaves are one of the most reliable ways to identify a tree since they are found on or beneath the tree year-round, as opposed to flowers and fruit which only appear for a short time. As you aim to make an identification using a tree's leaves, you might want to use a field guide to assist. We like Tree Finder: A Manual for Identification of Trees by their Leaves.
Today, there are even apps available to help you make your tree ID by leaf. Leafsnap, for instance, makes a tree id by picture. The app, which was the result of a collaboration between Columbia University, the University of Maryland, and the Smithsonian Institute, uses a leaf photograph to identify your tree.
Tree Identification by Bark
A tree identification can also be made using its bark as some types of trees have very distinctive barks. You'll want to examine the bark's feel, color, characteristics, and even smell. Bring a field guide with you that can help you to make your identification. We like Winter Tree Finder: A Manual for Identifying Deciduous Trees in Winter.
Tree Identification by Flower
Flowers can also play an important role in tree identification. The flower color, shape, petals, and pattern arrangement are all distinguishing features that can help identify one type of tree from another. You might want to make use of a field guide if attempting to identify a tree by flower on your own.
Additional Resources for
Tree Identification
If you're still looking for help identifying your tree in Ohio, you might want to turn to our local extension office, which has lots of fantastic resources. The Ohio State University's Extension, Buckeye Yard and Garden onLine provides timely information about Ohio trees (and much more).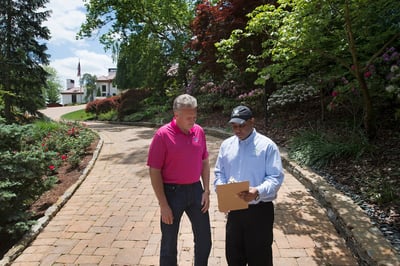 You might also consider connecting with a tree technician or your local tree care company who can assist with tree identification.
At Oasis Turf & Tree, our tree technicians take a lot of pride in making recommendations regarding trees on local homeowners' properties—even if it's not for services we offer. For instance, even though we don't offer pruning, if our technicians are out on your property and recognize that a tree could really benefit from it, we're going to share that information. We're not just out to benefit our bottom line. Our technicians are trained to know a lot about trees and they get a lot of joy out of sharing their knowledge.
Hiring a Lawn Care Company that Also Knows Trees
At the end of the day, your goal of identifying your trees likely comes down to being able to care for them properly. This is also why it's important to hire a company that really knows trees.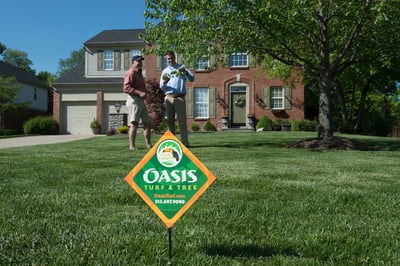 The truth is, there are a lot of lawn care companies offering tree and shrub services that don't really know the difference from one tree to another. However, because different trees have different needs based on species, this is a detriment to the best possible service.
It's important to choose a lawn care company or tree service with experienced and licensed technicians who will take a customized approach to your property based on the types of trees that you have.
In addition, since your best defense against common tree problems (such as pests and disease) is good soil health, you also want to choose a company that focuses on this vital component of tree care. Find a company that aims to improve your soil health by providing the micronutrients that it really needs for your trees and shrubs to thrive.
By choosing a lawn and tree service that will ensure your trees are properly identified and they get what they need to perform their best, you'll be able to cast aside those nagging worries about protecting your landscape. Instead, you'll feel confident that your trees are in good hands.
If you want to find out more about tree and shrub health care for your Cincinnati, Dayton, OH, or Northern Kentucky home, call us today at 513-697-9090 to get your quote, let us help you choose a stand-alone program or bundle it with other services, and then sit back and relax knowing your trees are truly in good hands.