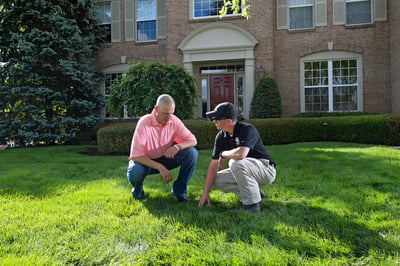 If you care about having a great lawn at your Northern Kentucky home, then you'll need to hire a great lawn care company. After all, a lush and green lawn doesn't just happen on its own. It's critical that your lawn care company is using the best products and implementing the best practices in order to achieve the results that you're after.
Of course, you might be wondering, don't all lawn care companies do that?
The truth is, not all lawn care in Florence, KY—or anywhere else for that matter—is the same. In fact, there can be quite a few differences from company to company and choosing the best one might be a bit more involved than you anticipated.
But we want to help you make the best choice. Here at Oasis Turf & Tree, we've been around long enough to have a good sense of who our competition is and who you might be comparing us against.
So, in order to simplify the process, we've gotten some of your research started. In this article, we'll compare A&A Lawn Care and Landscaping in Florence, KY to Oasis Turf & Tree.
Who is A&A Lawn Care and Landscaping?
Based in Florence, KY, A&A Lawn Care and Landscaping is a company offering a variety of lawn care and landscaping services. The company says that its services include lawn mowing, lawn care, landscape maintenance, and commercial services.
For residential homes, their "landscape maintenance" services include floral displays, gutter cleaning, holiday and event lighting, spring and fall cleanup, firewood, design and installation, pruning, snow removal and tree and shrub maintenance. The company's commercial landscaping division lists these same services as well as parking lot cleanup and irrigation.
The large number of services offered by A&A Lawn Care and Landscaping is the biggest difference from Oasis Turf & Tree.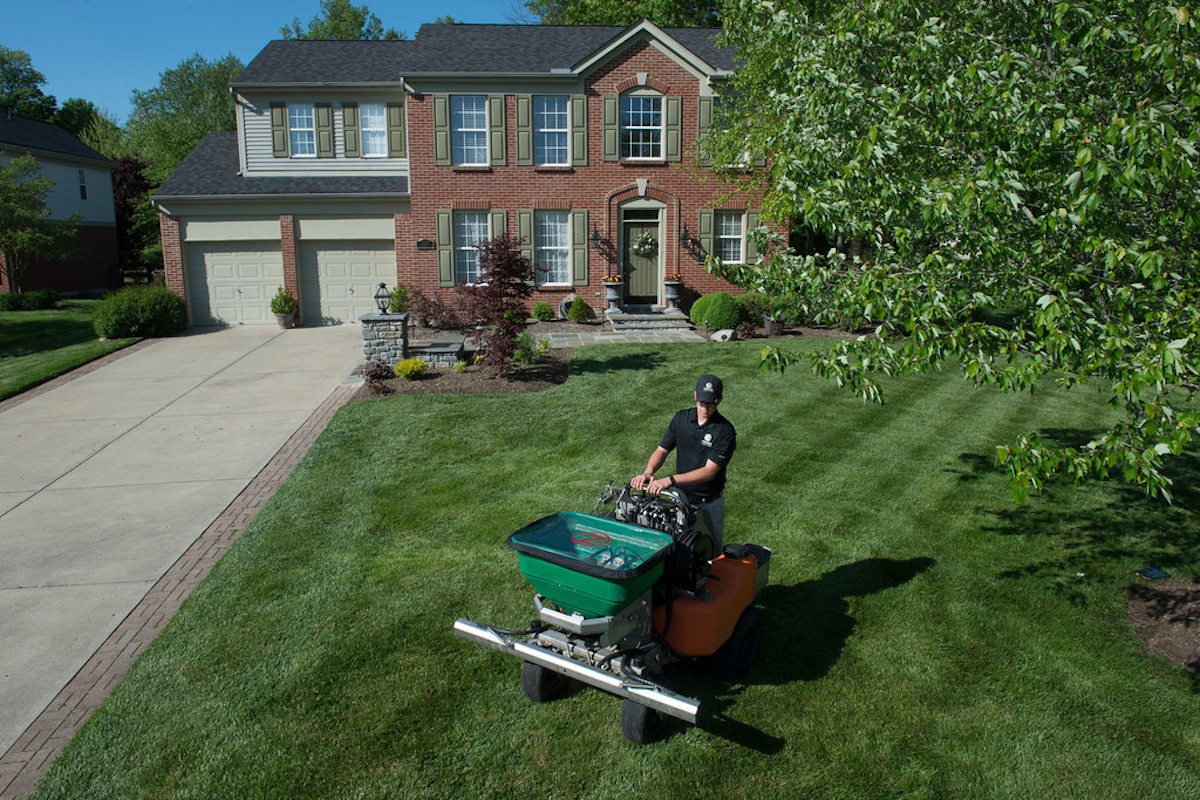 Simply put, we are committed to being particularly specialized with the lawn care services that we offer. Similarly, we are also primarily committed to serving residential clients and don't put an emphasis on commercial work.
A&A also has a blog on their website, which we commend, as we believe sharing information and educating customers is important. While their articles are not nearly as in-depth as those we've put together at Oasis, it's still more than a lot of companies are doing.
Comparing Lawn Care Programs
Since Oasis Turf & Tree does not offer the variety of other maintenance services that A&A delves into, let's just compare the two companies' lawn care programs.
On their website, A&A says that they provide a 6-application program to control and prevent weeds. There appears to be one basic lawn care program to which you can add additional services. What is already included is fertilizer, weed control, and surface-feeding insect control, spread throughout the six visits.
Lawn care add-ons for A&A appear to be grub control, aeration and overseeding, mosquito control, goose control, and mole control.
At Oasis Turf & Tree, we offer 3 different lawn care programs that allow you to choose the program that is right for you. Like A&A Lawn Care and Landscaping, we also perform 6 visits.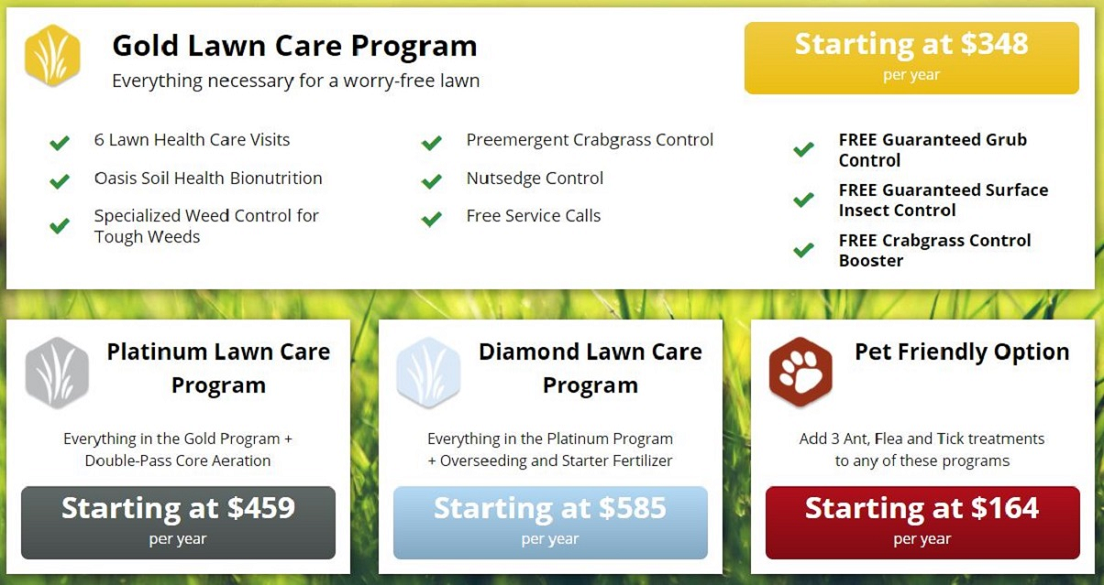 However, a "visit" is just a trip to your home, so be sure you understand how many treatments are applied during these "visits".
One perceived difference is that we offer nutsedge control in all of our lawn care programs, something that we aren't sure whether A&A does or not as it's not mentioned specifically. Nutsedge can be a difficult-to-control weed and requires specialized treatment, something that we'll perform in early summer if your lawn is prone to developing this unwanted weed.
Another difference is that Oasis offers free grub control in all of our packages. When it comes to lawn care in Florence, KY, this is an important service. Grubs are entirely too detrimental to leave this service as an optional item.
Taking a "wait and see" approach about whether they want to invest in grub control is a huge risk. Unfortunately, when you start to see the damage, sometimes it can already be too late. That's because these tricky pests often go unseen until the damage is severe. Then you'll not only have to treat the grubs with a more expensive product, but also face costs to re-seed the damaged areas (plus wait for them to fill-in).
It should also be noted that there are no starting price points on A&A's website, which is not uncommon. Most lawn care companies do not share any information on pricing upfront.
But at Oasis, we believe in being as transparent as possible and include starting prices right on our website.
Comparing Online Reviews
Online reviews are another great way to compare Florence, KY lawn services. With reviews, you can get a sense of what past and current clients have to say about any particular company and its services.
When looking at reviews, you should look at both the number of stars that the company received (on a 5-point scale) as well as how many people have reviewed the company. Maintaining a high rating with many reviewers is more challenging than maintaining a high rank with just a few reviews. A 4-star and up ranking is good, though ideally, you want to find a company with at least a 4.5-star rating.
Let's take a look at A&A Lawn Care and Landscaping vs. Oasis Turf & Tree.
A&A Lawn Care and Landscaping Florence, KY Reviews
Google: 104 reviews, 4.4-star rating
Facebook: 91 reviews, 4.5-star rating
HomeAdvisor: 8 reviews, 4.8-star rating
Compared to other Florence, KY lawn services, A&A's reviews are good and we give them credit for that. As we mentioned, keeping a high ranking with a large number of reviewers isn't an easy feat so it obviously means they're doing a lot of things right.
However, we're very happy to see that our happy clients have helped us come out on top here with all of these great reviews and ratings!
Making Your Educated Decision
With the internet at your fingertips, you have access to a lot of information, and that can be helpful in doing your research and narrowing down your choices. However, we also understand it's not always easy to filter out the good information from the bad.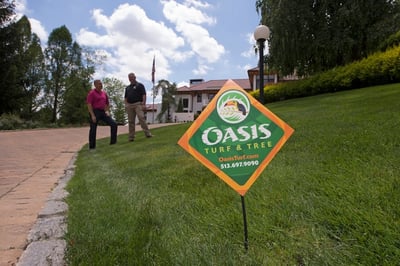 That's why we're here to help.
If there are any questions that we can answer or ways that we can guide you in making your choice in lawn care in Florence, KY, then feel free to reach out.
Even if you don't choose Oasis as your lawn care company in Florence, KY or surrounding areas, we want to be able to help you better understand what's out there, in the industry that we love.
We know that honesty and transparency are important to you and it's something that we believe in, too. It's why we try to share as much information as we do on our website both in blog articles,comparing one company to another, and in spelling out all of the details in our lawn care packages and even our pricing.
In the end, we want you to be able to make the best choice for your lawn so that you know you'll be satisfied with both the service and the results. With all the work you're putting in on researching Florence, KY lawn services, you deserve nothing less than the best.
Want to learn more about lawn care services for your Cincinnati, Dayton, Ohio, or Northern Kentucky home? The process is easy! Request your quote, choose the lawn care program that's right for you, and then sit back and relax as the local pros help you get the lawn of your dreams!