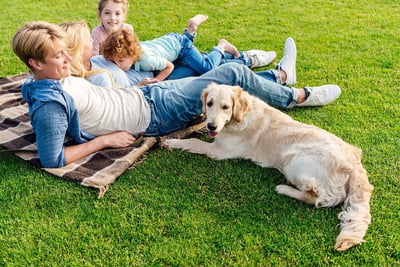 Your lawn is important to you and you go to great lengths to ensure it's the best it can be. That includes hiring the best lawn care professional out there.
Of course, choosing the "best" company is not exactly a simple decision when there are so many companies to choose from. Not only that, but you're deciding between both local companies and nationally known brands, and you're not really sure if one is better than another. Should you go with the big name, just because you've heard it before, or is the local, family-owned business the right choice for you?
We understand it is easy to get overwhelmed by the information that is out there. Because we want to help you make the best possible decision for your lawn, I want to be available to guide you in that choice.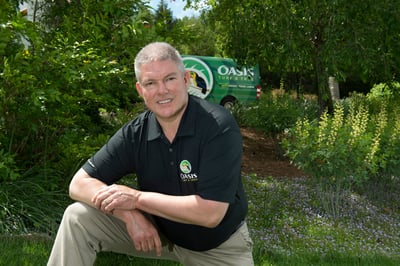 That's right...this is the owner of Oasis Turf & Tree, Rob Reindl, weighing in personally on this subject. You won't find the owner of Trugreen writing an article like this to Cincinnati, Dayton, OH, and Northern Kentucky homeowners.
That effort requires filtering out some of the advertising noise and getting down to what really matters—an honest and transparent look at what the lawn care companies in our area have to offer. In this guide, we'll look at some of the key points of comparison that you should be considering as well as why they matter.
Scotts Lawn Service vs. Trugreen vs. Oasis Turf & Tree
TruGreen has been a recognized force in Cincinnati, Dayton, and Northern Kentucky for some time. This large, national lawn care brand provides quite a contrast from a local business such as Oasis Turf & Tree.
While you may be inclined to also compare the option of Scotts Lawn Service for your Cincinnati, Dayton, OH, or Northern Kentucky home, an important fact you should know that this other well-known national name, was actually purchased by TruGreen in 2015.
Scotts Lawn Service is now TruGreen.
Comparing the Basics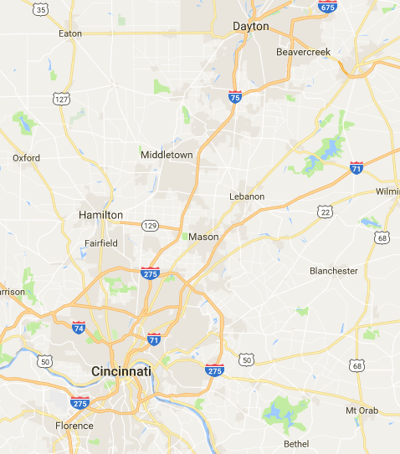 As you research the basics of the lawn care companies that you're considering there are obviously going to be some stark contrasts with a national chain versus a locally owned business. In comparing basics about TruGreen Cincinnati (part of the largest lawn service company in the United States) to Oasis Turf & Tree, the most noticeable difference is the size of their customer base.
TruGreen services millions of customers nationwide. Oasis, on the other hand, only focuses on the local area including customers in Cincinnati and Dayton, Ohio, and Northern Kentucky, as well as its surrounding areas.
Both companies have been in business for a similar amount of time. TruGreen was founded in 1990 and Oasis was founded in 1996. At a glance, Oasis offers lawn care, tree and shrub care, outdoor pest control, and aeration and overseeding. TruGreen has similar service offerings.
On the surface, with a look at the basics, these companies don't appear all that different so far (with the exception of how many customers they service). But let's dig deeper.
Comparing Online Reviews
Online reviews are naturally a place that you may turn to in order to compare lawn care companies. Though there are still Scotts Lawn Service reviews found in Cincinnati, what you really want to compare is TruGreen Cincinnati reviews to those of Oasis. Since TruGreen is a national brand, and there are many similarities from branch to branch, it's also worth looking at some of TruGreen's national reviews.
Let's first look at TruGreen Cincinnati reviews on three popular review sites.
Comparing One Team to Another
Getting to know some of the folks who you're going to be dealing with once you hire a lawn care company is another important fact to consider. But how can you do that before actually hiring a company? The best way is to browse the company's website and maybe their Facebook page and to find out more about them.
This may not be a simple feat when looking at a large national company. After all, TruGreen has somewhere between 13,000 and 14,000 employees. You might see some smiling faces on their website, but are they actual employees or are they just models in a nationally branded marketing piece? And even if they're actual employees, are they the same employees that work at your local branch—the same folks you'll see coming out to your property?
Oasis Turf & Tree, on the other hand, is a locally owned, family business that currently has 43 employees. The faces of the folks you see on our website are the very same people that you will see working on your lawn (or answering our phones when you need someone to talk to in the office).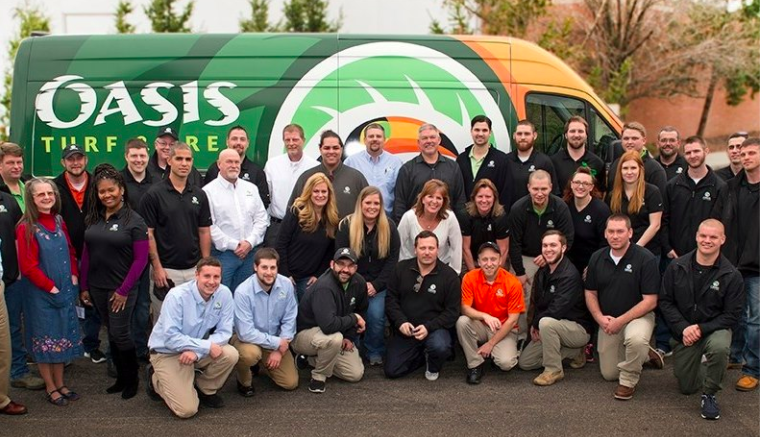 As you read more about the company you're considering, look at what staff certifications are mentioned. Can you read profiles of the actual team members that might be sent out to your home? What sense do you get about the company culture in terms of factors such as training and continual improvement, employee turnover, and even the way in which employees are treated? All of these factors can give you a good sense of what type of experience you might be able to expect from that company.
Pricing Comparisons
For Oasis, our Gold package starts at $378 annually and our Diamond package starts at $672. It's very transparent what you receive with each of our packages as we're certainly not trying to hide anything or surprise you later. It's all spelled out for our customers in advance.
For TruGreen Cincinnati, as well as every other branch across the country, they are going to come in as the cheaper option 99 percent of the time when compared to Oasis.
They have been running the same special for almost 15 years which is that the first visit is $29.95 for up to 5,000 square feet. But that's only the first visit. From there, an average visit could be closer to $50 per visit, times the 8 visits they perform, or more if you have a larger lawn.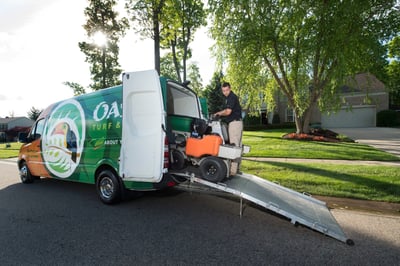 You have to be careful about comparing lawn care programs on price alone. It's more important to look at what you're getting for that price.
While one program might cost more, you might also be getting a lot more out of it, making it worth the extra money.
For instance, a six visit program from Oasis actually contains more individual treatments applied when compared to an eight visit program from Trugreen. We'll get into those specifics in just a bit.
You must also be careful with some of the lawn care secrets that companies have been known to pull—such as the bait and switch. A company may give you a low price upfront to reel you in, but once you're a customer they'll hit you with a higher price or constantly call you about add-on services that perhaps should have been included from the onset. In the end, you may be left paying the same (or more) as another company you were considering.
Program Comparisons
Of course, as you compare TruGreen Cincinnati to Oasis Turf & Tree, you'll also want to look at the programs being offered by each. You should look at each of the following factors as you weigh your options.
How many program options are there? And what types of programs does the company offer and what is offered within that program?

TruGreen offers three programs, two of which are really just lawn options while the third program has some tree and shrub health care thrown in.

Oasis has three lawn care programs. As you upgrade, aeration and overseeding are added in, should they be services that are determined are needed when you begin service for your lawn. But all the lawn care necessities such as grub control and surface feeding insect control are included in each program level. Some of these items aren't mentioned on Trugreen's program description on their website.
What are the number of visits?
Just be careful on this path of comparison as more visits does not necessarily mean better service. What's important is what's done during those visits, which leads to the next point of comparison.
Other Lawn Care Material Considerations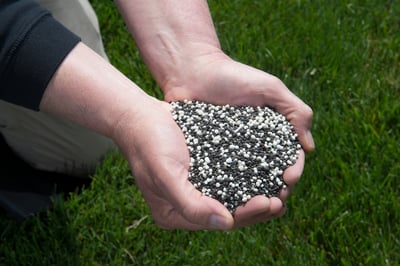 There are many factors that influence pricing and results. One common misconception that people have is that materials are relatively the same.
Fertilizer vs. Organic-Based, Bio-Nutritional Fertilizer
Is the company you're considering using the basic, synthetic fertilizer or are they using a more beneficial organic-based fertilizer with bio nutrition for long-term soil health?
There is a big difference between the two. If you find one program is a little more money, it may be that you're getting better products and service. It's better to focus on soil health than just fertilizing with inexpensive materials to mask the problems of why your lawn is off-color or thin.
Broadleaf Weed Control

Broadleaf weed control should be a basic element of your program. But what kind of weed control products are they using? Just the typical cheap stuff for easy-to-kill weeds, or are they also focused on hard-to-control broadleaf weeds like wild violets?
Grassy Weed Control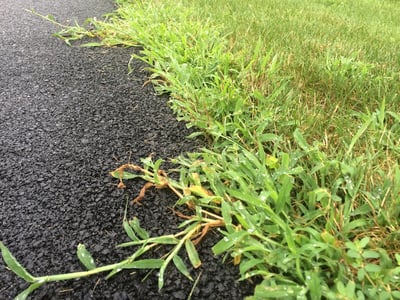 Nutsedge and crabgrass are two particularly troublesome weeds in Cincinnati, Dayton, OH and Northern Kentucky. Make sure your lawn care company includes nutsedge control and post-emergent spraying of any crabgrass breakthrough you may get in weaker lawn areas. These treatments are often not included in most companies' lawn care programs (but are in Oasis').
Insect/Grub Controls

Something as important as preventative grub control should not be compromised or added on as a later service. Grubs are too destructive to take any chances. Other destructive insects include chinch bugs and billbugs. Make sure your lawn care program covers these pests if needed or it could be an additional charge.
Additional Services
If your lawn requires it, does the company also offer services like aeration and overseeding? And if they do include these, do they do a single pass or two passes across the lawn with an aerator? Do they use premium-blend seed especially designed for your local area? These are often ways companies keep their prices lower, by not taking these extra steps.
Process for Estimate/Consultation
Most lawn care companies are going to offer you a free estimate or consultation before they begin service with you. But how that process plays out can differ from company to company.
Speed is important to many people. Small companies and large companies both know this and make a point to follow up quickly. At Oasis, we try to get back to people who submit forms within the same day (often within the hour). We feel it is important that clients do not wait to get the information they need. If they can make an informed decision faster, than they can get their problems addressed more quickly.
With us, you aren't calling into a national call routing center and speaking to someone who isn't even in your area, dispatching someone they don't even know. You're speaking to someone local who will have a team member they know, come out and see your lawn in person.
Looking at Guarantees
Does the company that you're considering offer a guarantee? Do you trust it and feel confident they'll follow through on it?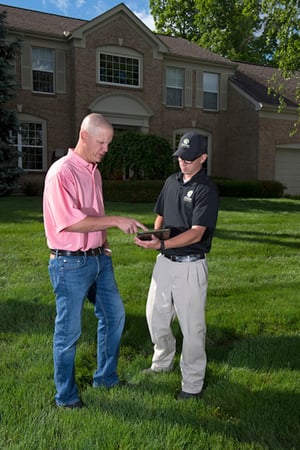 TruGreen Cincinnati, like all TruGreen branches, offers the Healthy Lawn Guarantee, which their website states means they will gladly visit the property as often as needed between scheduled visits to make necessary adjustments and ensure satisfaction.
At Oasis, our guarantee is pretty simple, and on par with what TruGreen states. We guarantee all of our services and will continue to come out until our customers are fully satisfied.
That's not just something that we say, it's something we really believe in—and follow through on.
If you're not satisfied with something about your lawn, we want to know so that we can take the steps to remedy it.
Our ultimate goal is to create happy clients and we can only do that with communication that works like a two-way street. If our clients notice something in between visits, we encourage them to tell us.
Making Your Educated Decision
With the internet at your fingertips, you have access to a lot of information, and that can be helpful in doing your research and narrowing down your choices. However, we also understand it's not easy to filter out the good information from the bad.
You shouldn't require a background in agronomics to be able to research lawn care companies. With some lawn care companies trying to pull a fast one, with slick sales tactics, we know it can feel like that sometimes.
Even if you don't choose Oasis as your lawn care company, we want to be able to help you better understand what's out there, in the industry that we love. We know that honesty and transparency are important to you as a customer, and are values that we believe in as a company. It's a direction that we want to see the industry moving and we are frustrated by gimmicks and lawn care secrets as much as you are. This is why we work hard to uncover them (though it may not always be appreciated by other companies).
Commitment to the Local Community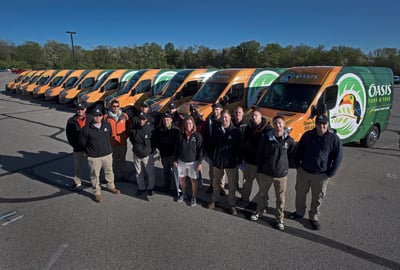 As a local, family-owned business, we operate a lot differently than a big national chain. We have the ability to adjust our approach to lawn care based on what our local customers are dealing with. We are not just following a regimen dictated by a corporate office. That means we truly have the ability to customize our programs and our approach.
Our team not only works here but lives in the community as well. That means they deal with the same lawn care issues that you do and they understand what you want and need. Our team, as well as myself and my wife Angela, also love getting to know our local customers—running into them at the grocery store or at a ballgame.
At the end of the day, that's probably the biggest difference between Oasis and a big national chain. We care about servicing the lawns in our community because we are part of this community, too. If you're looking for answers for your lawn, we encourage you to work with a local expert in your community, rather than just become one of the millions in a national chain.
Want to learn more about lawn care services for your Cincinnati, Dayton, Ohio, or Northern Kentucky home? The process is easy! Request your quote, choose the lawn care program that's right for you, and then sit back and relax as the local pros help you get the lawn of your dreams!