Are you looking into hiring a lawn care company? It may seem like a simple enough endeavor, but with so many lawn care companies making claims about how great they are, it can be difficult to weed out the good from the bad.

It also gets confusing to ensure you're actually comparing "apples to apples" when looking at two companies side-by-side. There are so many different factors you need to consider when choosing a lawn care company.

We understand that the whole process can feel a tad overwhelming if you don't know what to expect. That's why we're diving into how to choose a lawn care company…including some of the specific things to consider. You deserve to feel confident in making a good choice by knowing what factors matter most.
How to Choose a Lawn Care Company
There's a ton of marketing and advertising noise out there with many different companies claiming to be the best. But instead of getting bogged down by all of those claims (many of which aren't even important), here are some things that really matter when choosing a lawn care company.
#1: Look for a Company that Focuses on Soil Health
A lot of companies will talk about the great results that they can give you. But if they're not doing anything with soil health, then it's probably all a lot of noise.

You should know that the true secret to an amazing lawn lies in the quality of the soil.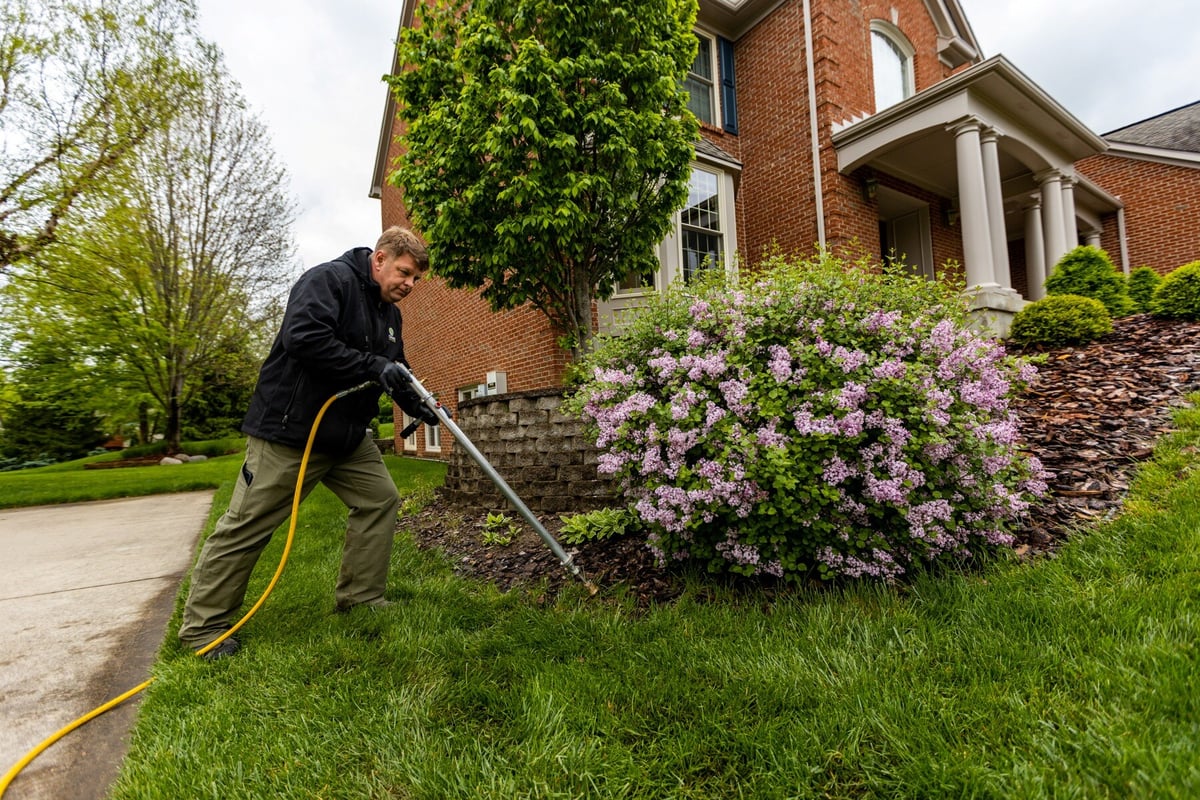 Naturally healthy soil is full of beneficial microorganisms like fungi and bacteria, which help a plant to digest nutrients. These microorganisms also help strengthen your lawn against disease and pests. Healthy, biologically active soil has a highly diverse array of this microscopic life.

While fungi and bacteria are the most well-known, it also includes protozoa, mites, and micro arthropods, to name just a few. There can actually be as many as 50,000 species in just a teaspoon of soil. It is this healthy blend of living organisms that helps create optimal growing conditions for the lawn.

You'll be able to visibly see the difference between a lawn that has healthy soil and one that does not. In choosing a lawn care company, look for one that talks about soil and uses a bionutritional lawn care program that is actually focused on the microbiology of your soil.
#2: Look for a Company that is Committed to Training
Since it's the people that make up any good company, you want to make sure you're searching for a lawn care company that has well-trained technicians. People often don't realize how many companies are getting by with just the bare minimum. The bare minimum "mandatory" training in Ohio is "service person training," which is a day of in-house training.

But you want to find a company that goes beyond the minimum.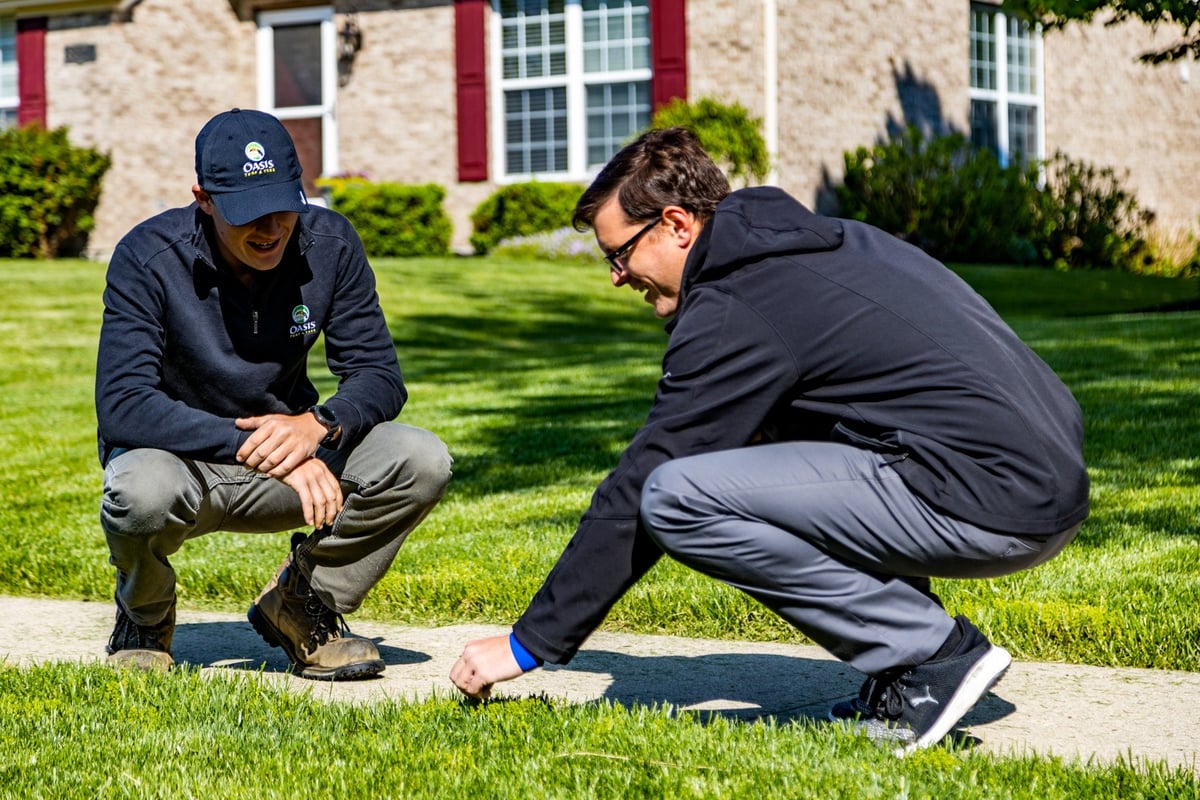 At Oasis, servicing Cincinnati, Dayton, OH, and Northern Kentucky, we go much farther than the basic state requirements. It is our goal to have all of our technicians licensed. Even though it's not "required," we see it as incredibly valuable both to our technicians who appreciate the opportunity to learn and advance—but also to our clients who obviously benefit from having trained technicians on their properties.

We know that the best results are contingent on great training so it's not an area that we're willing to skimp on. When choosing a lawn care company make sure that you find one that takes training seriously.
#3: Look for a Company that Offers Excellent Customer Service
Customer service is incredibly important…even if you're getting good results. Our guess is that even if your lawn was looking good, you'd still be pretty frustrated if your lawn care company never answered your calls or didn't show up when they said they would.

That's why when choosing a lawn care company it makes sense to look for one that also cares about treating its customers well.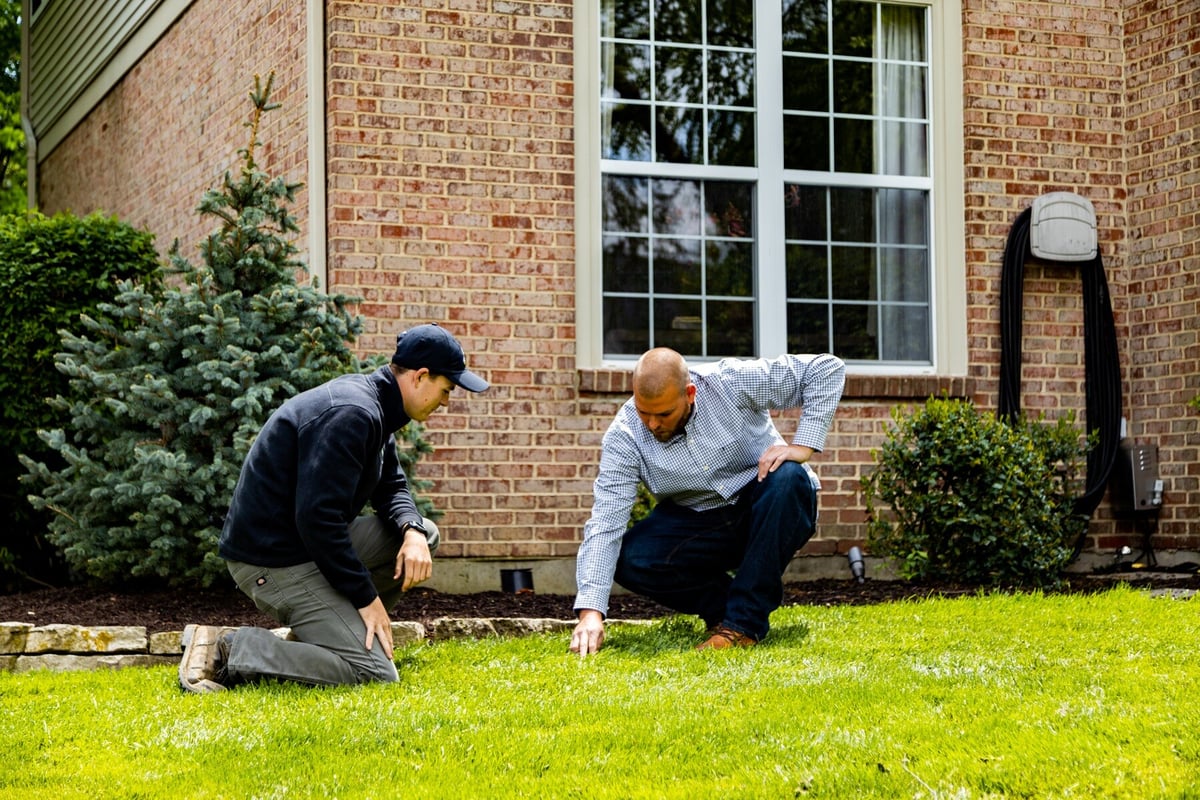 One of the best ways to get a sense of how the experience with a lawn care company might be is to gauge how it goes during the hiring process.

You can also look at social proof (which is our final point below) and see how other people felt their experience with this company went by reading testimonials and online reviews. Ultimately, you want to find a company that is going to treat you well.
#4: Look at Social Proof Before Hiring a Lawn Care Company
Finally, we want to talk about social proof: Client reviews, referrals, and testimonials. Hearing what other customers have to say about a company that you're considering is very helpful in the hiring process.

Third-party review sites, like Google Reviews, should provide you with an unbiased opinion of any lawn care company you're thinking about hiring. A review site like this uses a five-star rating system and allows customers to share some information about their experience.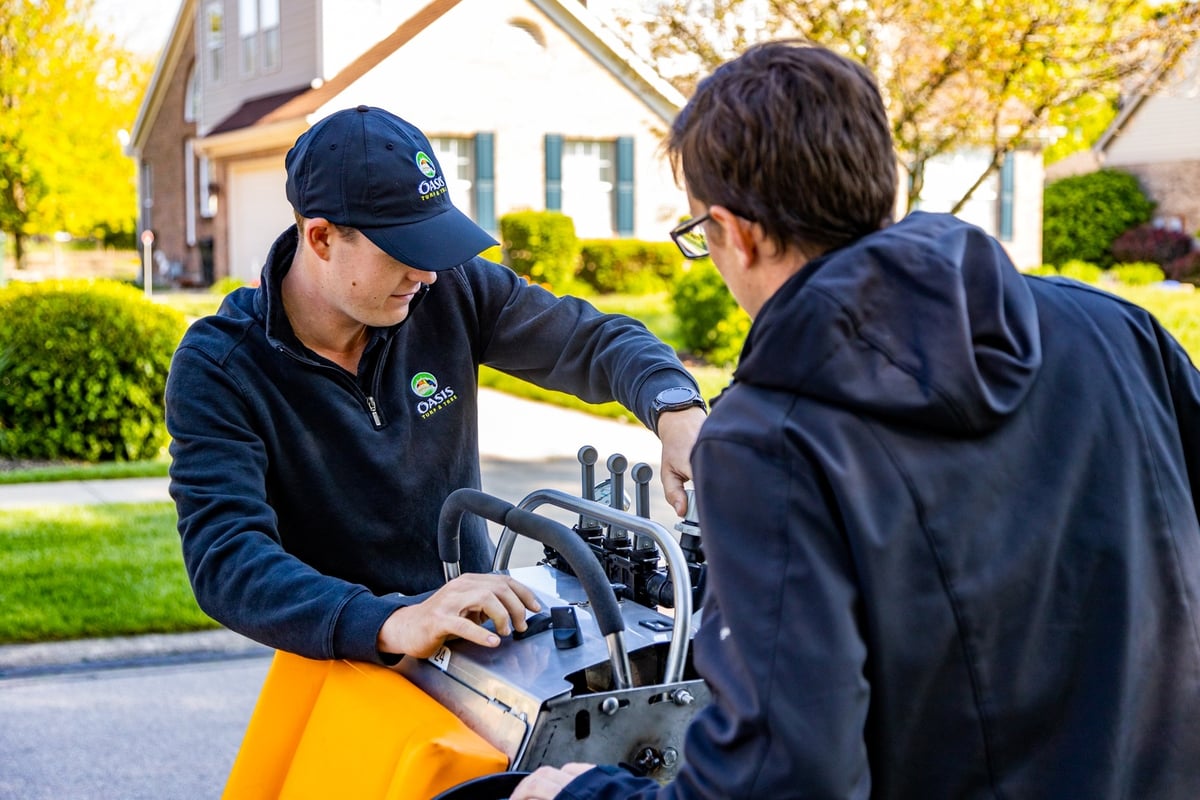 If you're truly looking for the "best," we suggest looking for a company with a 4.5-star rating or higher. But also take some time to read the comments. This will give you a good sense of what the overall experience has been like.

Here are a few real reviews from our Google Reviews page:

I just signed up with Oasis Turf and Tree a few weeks ago. I had been using another company to do my weed and feed on my lawn for years and was looking for a change. Oasis has been very responsive so far and the technician was very thorough on the day of my 1st application, explaining everything and answering all my grass and weed questions. Very pleased so far!

---

I have only used Oasis for a short time, but so far I am impressed. I used a competitor for 20 years and was happy until the last few years when they weren't showing up when they said they would. So far Oasis has been great and has been completing their service in a timely and professional manner.

---

I've used Oasis for two years now and have been very pleased with their service. I had not had my backyard treated with the previous company and chose to have my whole yard done by Oasis. I was surprised how quickly Oasis was able to improve it. The tech always leaves a detailed report. So glad I changed to Oasis!

---

We used Oasis for many years, then switched to a competitor. I wish we hadn't done that because after two seasons our yard was sending out distress signals. So, we contacted Oasis and renewed our contract. Even after one treatment this year, the improvement in our lawn is very noticeable. Brown patches disappeared, as did weeds. And grass is regrowing and filling in bare patches at a solid, consistent rate. We're so glad we went back to Oasis. Highly recommend.
Making the Best Decision in Lawn Care Services in Cincinnati, Dayton, OH, and Northern Kentucky
We know that hiring a lawn care company is a big decision. Finding the right one will prevent headaches in the long run as you won't have to go through switching lawn care services again.

Hopefully, this article has given you some helpful advice on what's worth paying attention to during your search.

In the long run, your research efforts will pay off. By looking into some of these lawn care companies' claims and also paying attention to what others have to say about them, you can find a company that is truly delivering the best results AND a great experience, too.

Want to learn more about professional lawn care services for your Cincinnati, Dayton, Ohio, or Northern Kentucky home? Request your quote, choose the lawn care program that's right for you, and then sit back and relax as the pros help you get the lawn of your dreams!