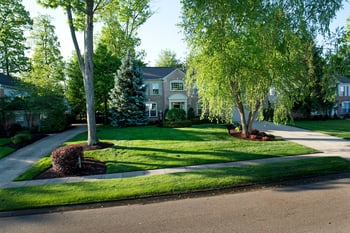 While shopping on price alone is not the best way to find a good lawn care program, we know that you still appreciate saving money when you can. Unfortunately there are lawn care companies in Cincinnati, Dayton and Northern Kentucky that will cut corners to promote their lawn care discounts. The challenge is to find ways to keep some bucks in your pocket without sacrificing quality.
When looking for ways to save money on lawn care, don't accept subpar service or accept deals that sound too good to be true. Instead, seek out a lawn care company that offers you the most value for your investment.
Here are 8 ways (both short-term and long-term) that you can save money on lawn care as well as some common traps you will want to avoid.
1. New Lawn Care Customer Discounts
Oftentimes when you're just starting out with a company, there may be a lawn care discount involved. If you've been unhappy, switching lawn care services can be extremely easy and you may even save some bucks. Just don't make the mistake of constantly switching lawn care services solely for this reason. There is a tremendous amount of value with a company that truly knows your lawn and it's unique challenges.
Lawn care is very different from company to company, despite the common misconception. Be careful you're making a fair comparison.
2. Proactive Lawn Care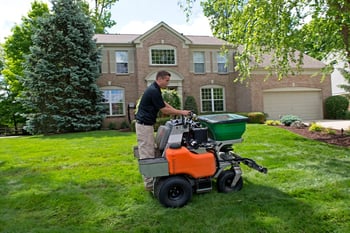 A company that is proactively addressing lawn health rather than waiting for there to be problems to do treatments is actually saving you quite a bit of money. A lot of companies practice reactionary lawn care, treating problems as they arise. Many times this can lead to areas of the lawn being taken over by certain weeds, which can be costly to repair.
A common trap is to promote a lawn care program with only 4-5 treatments, that doesn't include the essentials like nutsedge or post-emergent crabgrass controls, for example. Once you sign up, you're asked to add services for your lawn for common issues like nutsedge or crabgrass breakthrough (that should have been included), and even additional treatments it doesn't even need like limestone and gypsum. Be careful your new lawn care service provides you with a comprehensive program and discusses any potential additional needs upfront.
Don't forgo preventative care to try and save a dollar, as it will often cost you more in the long run.
3. Pre-Pay Discounts
Receiving a discount for paying in advance is a relatively common lawn care promotion that can save you money without affecting quality. If you have the cash to pay for the program upfront, this is one of those win-win scenarios that helps both you and the lawn care company with no downside.
Pre-paying for service does not mean you're bound to stay with the company for the entire year. If you choose to part ways, they are required to refund any funds in your account. Don't stay with a bad lawn care service just because you still have a few more horrible lawn care treatments paid for in advance.
4. Referral Programs
Frequently overlooked but one of the easiest ways to put cash in your pocket, refer-a-friend programs are a lawn care promotion that you should be taking advantage of. If you find enough friends to refer, you could be getting your lawn care services for free.
5. Bundling Lawn Care Services
There are often significant savings to be had when you bundle services together from the same company.
However, be wary of companies that might not necessarily be experts in other services or may charge you an arm-and-a-leg for them. Before hiring any company, take a comprehensive look at ALL the services they offer and what you might be adding to determine whether its worth that lawn care discount.
6. An Emphasis on Soil Health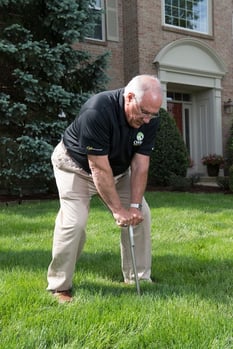 Very few companies pay attention to the overall health of the soil, instead practicing reactionary lawn care and treating problems as they arise. However, finding a lawn care program that is focused on soil health will prevent problems and save you a lot of money in the long-run.
That's because a lawn's overall health is really dependent upon its soil. Healthy soil that is full of beneficial microorganisms will naturally fight disease and pests, which can be costly problems.
7. Proper Irrigation
Watering at the right time is incredibly important when it comes to your lawn's health. It's so easy to waste water, which in turn, wastes money. But watering at the right time will not only ensure dollars aren't going down the drain. It will also ensure that your lawn is at its healthiest so that it can ward off problems, saving you even more in the long-run.
Occasionally paying someone to check your in-ground sprinkler system might help address leaks or inefficient coverage that could save you big in the long-run. There are also inexpensive timers that can be installed for your spigot if you're watering from a hose, which can help prevent waste. These small investments can lead to significant savings.
It's also worth noting that a lawn care program that focuses on soil health will reduce your lawn's need for watering by up to 20%.
8. Free Lawn Care Service Calls
Unfortunately there are some lawn care companies that will nickel and dime you in every possible way. But there are definitely companies that have their customer's' best interest at heart and offer benefits such as free service calls. This means you don't have to wait until your next visit to address concerns. Taking advantage of an offering like this can save you money by troubleshooting problems early on.
Seek Out Lawn Care Company Value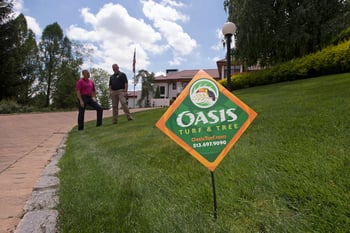 While savings are wonderful and nobody wants to turn down extra money in their pocket, at the end of the day what you should really seek out is a program that offers you value. Lawn care promotions and discounts that sound too good to be true, probably are.
Be cautious about companies that make lofty promises or that might be offering you unneeded services just to be able to promote a discount. Instead, seek out a program that does things the right way such as focusing on soil health or putting down preventative treatments, as it is these practices which will actually save you the most money in the long-run.
Oasis Turf & Tree is committed to offering the very best lawn care without compromise. While we value our customers and show our appreciation by extending new customer discounts or offering refer-a-friend promotions, we also will never cut corners or sacrifice quality just to save you a few bucks.
By doing things the right way, our program provides the maximum value, because we're able to avoid many costly problems. It's that premium value that keeps our customers so happy and keeps their lawns looking great.
If you'd like to find out more about how Oasis Turf & Tree can provide you the most value, contact us or call us at 513-697-9090.