Trees and shrubs are a valuable part of your property, both in a financial sense and through emotional attachment, but they are often overlooked in regard to their care and maintenance. That may be due to the fact that some homeowners mistakenly believe trees and shrubs do not require extra attention.
As a result, these homeowners will find themselves desperately seeking assistance when signs of a major problem unexpectedly appears. But investing in proper tree care in Cincinnati or Dayton, Ohio, or Northern Kentucky beforehand is substantially less costly than trying to fix trouble after it has progressed.
Most homeowners see the value of paying for regular care for their lawns, but the actuality is that your trees and shrubs represent a much larger investment. For example, a smaller property can improve from zero lawn (all dirt) to a nice lawn within a year's time, for less than $1000. A complete landscape of trees and shrubs, on the other hand, can take many years to mature—and may involve up to fifty times the cost. So it makes sense to protect your tree and shrub investment as readily as you do your lawn.
Tree Care in Cincinnati or Dayton, Ohio or Northern Kentucky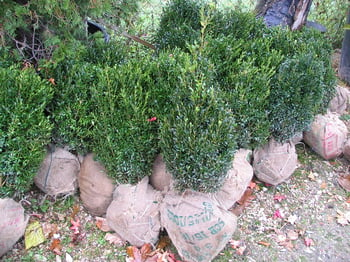 Each species of tree and shrub has its own set of challenges. Some are hardy and resistant to disease and pests while others may naturally be more susceptible or require more attention to flourish. However, many homeowners (and even some landscapers) will choose a tree or shrub based on its beauty, without considering the maintenance needed.
When purchasing trees and shrubs, it's important to understand which plants are at a higher risk than others from pests, disease, and overall health problems. Of course, every plant needs some level of care, but if the one you are thinking of choosing demands extra effort to thrive, you might want to make a different choice.
In addition, the health of your tree or shrub can sometimes be affected by its location and other environmental factors. For instance, if you plant an Azalea in full sun, it's going to be more prone to a lace bug problem. Therefore, it is not only the type of plant you choose but the actions you (or your landscaper) take in establishing it that can contribute to its health and survival. That's why preventative tree care in Cincinnati or Dayton, Ohio, or Northern Kentucky is so important.
Signs of Trouble in Your Trees and Shrubs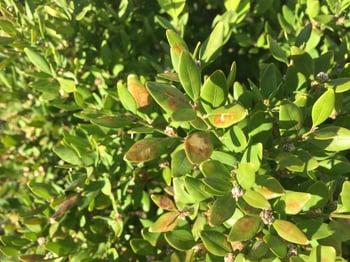 One of the most troubling aspects of tree and shrub health is the fact that most trees and shrubs do not begin to show symptoms of a problem until it is serious and advanced. Insect, disease, mite, and tree health problems may exist for a long time before anyone notices them. Then, once a problem has been observed, it may have progressed too far and be too late to do anything about it. Or it may require an aggressive (and costly) approach that even then cannot guarantee survival.
Many people do not realize that it is rarely one issue which can be pinpointed as the main cause of a tree or shrub's weakening. Of course, there are individual problems that can cause acute damage; a major bagworm infestation, for instance, can rapidly take over your tree and cause it to fail.
But in the vast majority of cases, most plants that decline over time do so due to ongoing pest and disease problems, coupled with harsh environmental conditions like drought or poor soil quality. Waiting to bring in a tree service in Cincinnati or Dayton, OH, or Northern Kentucky after your tree or shrub has already been overtaken by these issues will often be costly and ultimately ineffective, or the plant may too far along to even attempt treatment.
Your Best Strategy for Healthy Trees and Shrubs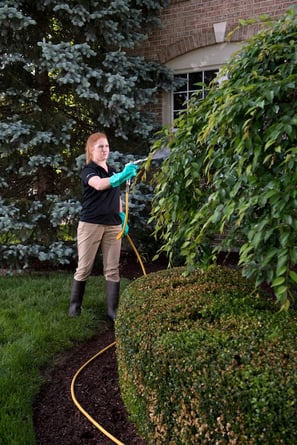 Making preventative tree care in Cincinnati or Dayton, OH, or Northern Kentucky an ongoing part of the maintenance of your landscape is your best choice to ensure the health of your trees and shrubs. The same that is true for your turf is true for your trees and shrubs: be proactive, not reactive. Keeping your trees and shrubs healthy in the first place is the best defense against insects, mites, and disease.
At Oasis Turf & Tree, we offer a six-application tree and shrub care program designed to provide the proper care that trees and shrubs need to thrive and enhance your property for many years to come. Incorporated into this program (and also available as a stand-alone service) is a spring deep root tree fertilization and fall deep root tree fertilization that gives your trees an extra boost, so they will look amazing all season long.
We know that trees and shrubs may be an afterthought for you in arranging for your yard's care, but that can be a costly mistake. By adding tree and shrub care to your property maintenance regimen, you'll protect the valuable investment in your overall landscape.
If you'd like to find out more about protecting your plants through our tree and shrub care program contact us for a free consultation or give us a call at 513-697-9090 so that we can answer any questions.
Image Sources: boxwoods