When it comes to finding great places to work in the lawn care industry, one thing that is commonly heard is that lawn care workers often don't feel appreciated.

Whether they're out in the field or working with the team inside the office, there seems to be echoed sentiments about not getting the support that they need to succeed at their job—let alone feeling as though they actually like coming to work because of great workplace perks.

That's why, when we started Oasis Turf & Tree, it was always a goal to build a business where people love coming to work.

With the construction of our new building, something we have been planning for years, we were able to give a lot of emphasis to perks that would help make our team not only feel appreciated but happy when they come here each day.

Whether they're on the production side, the sales staff, or the customer service team, we want our team to feel as though they not only have all of the tools and support that they need to be successful in their roles, but that there are aspects of this career that make it rewarding and fulfilling—and a place where they really enjoy spending a good portion of their lives.

Here are some of the things that our team tells us they appreciate most.
1. The Building Itself
With the construction of our new state-of-the-art facility, we were able to design and build the space in a way that we felt would best benefit the team. That meant a modern and aesthetically pleasing building that features lots of windows and natural daylight, 25-foot ceilings, lots of interior plants, and a spacious design.

When people walk in for the first time, they often comment on how much they love the building and how different it is from any other place they've ever worked.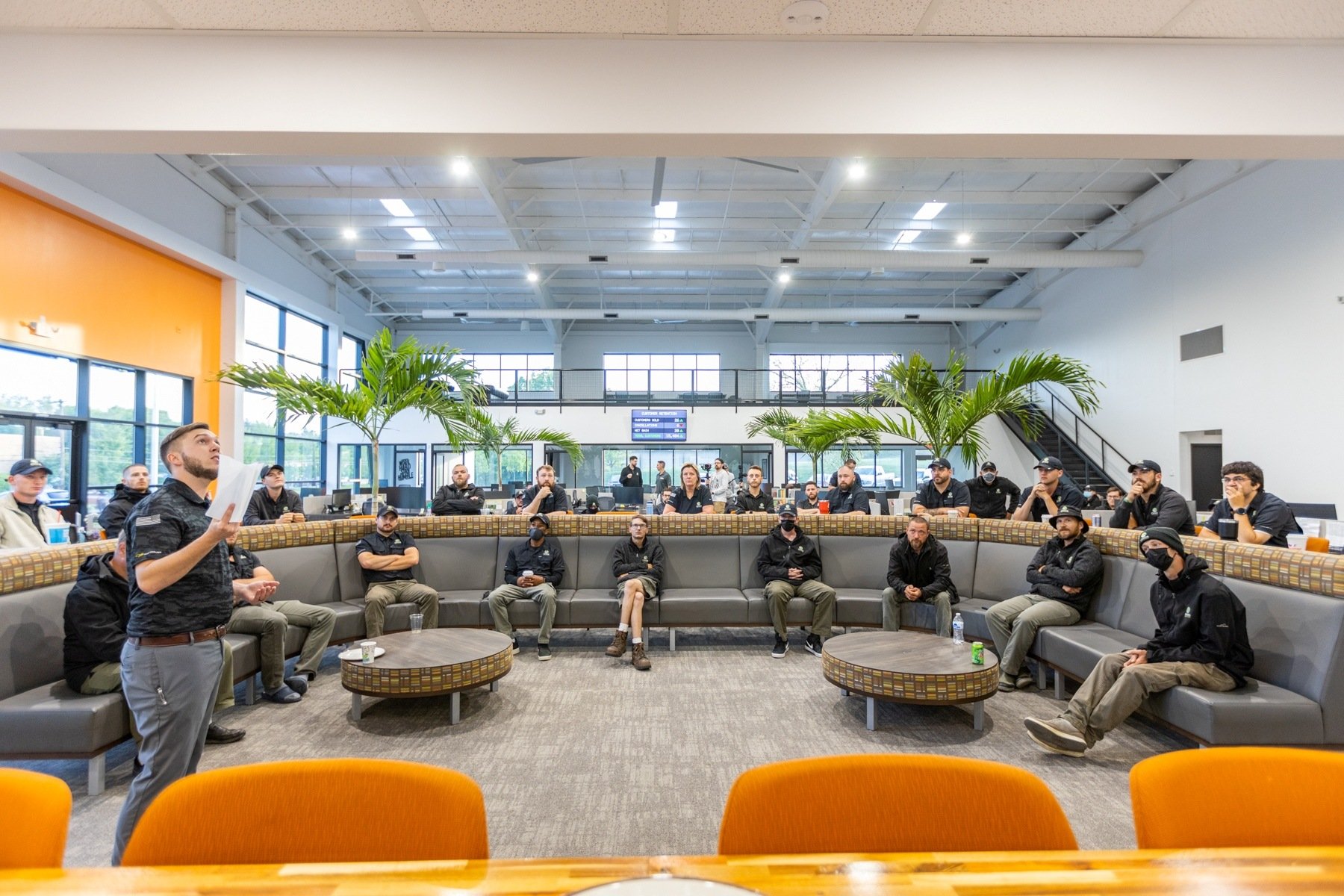 2. Relaxation & Recreation Lofts
Another goal in creating this new building was to give team members spaces where they could unwind or even relax and study when they aren't out working hard in the field.

We have one loft area that is dedicated to recreational space and features comfy couches, a pool table, shuffleboard, ping pong, foosball, Golden Tee Golf, and a card table. It's a great space to socialize at the end of the workday or on a break.

In addition, we also have a quieter loft space that features a library of business books and areas where team members can rest quietly or even study for upcoming certification exams.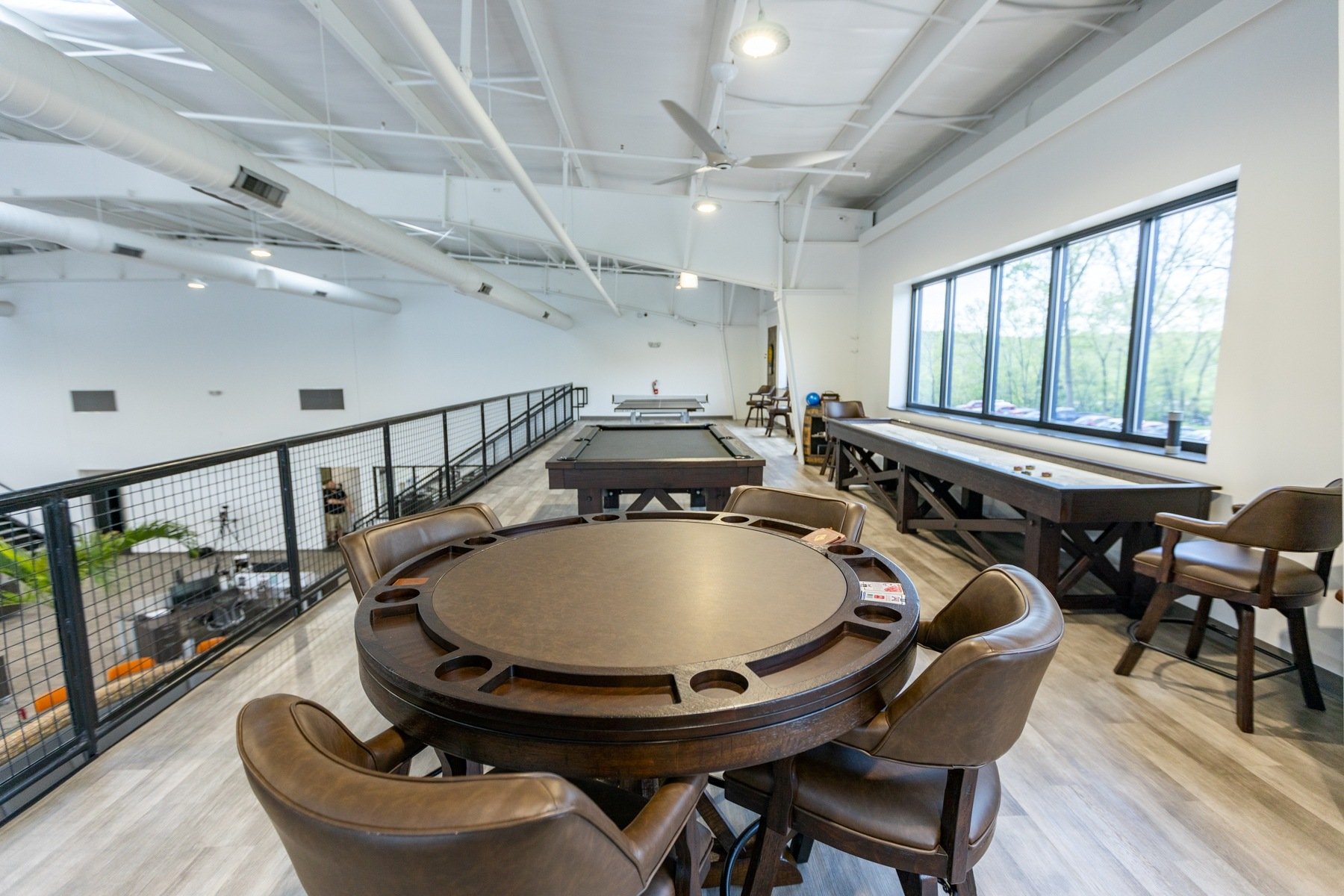 3. A Full Kitchen
For those grabbing coffee, taking their lunch breaks in the office, or even having a snack or early dinner at the end of the workday, we also wanted to have a full kitchen space to meet all of their needs.

The kitchen has a well-stocked coffee area where there are always drinks available. It also has a seltzer tap for unlimited sparkling beverages. Of course, there's a full refrigerator, microwave, and oven.

There is also a great seating area with a wraparound countertop and a variety of seating so that if the team stops in for lunch or they all want to grab dinner together, everyone can be accommodated.
4. An Impressive Locker Room
When it comes to the locker rooms, they are more like a golf course locker room than a high school gym.

They have full showers for anyone that needs to clean up and head somewhere right from work. Everything is new from the automatic sinks to the toilets—and of course, there are great locker spaces for anyone that needs to store their belongings at the office.
5. State-of-the-Art Vehicles & Equipment
Of course, we recognize that a lot of our team members are leaving the office and going out to work in the field, and they need to be supported there, as well. That's why we're constantly investing in new and updated state-of-the-art equipment, to make their jobs easier.

But we are also investing heavily in our vehicles. Our well-equipped and fully customized Sprinter vans make our team's lives easier.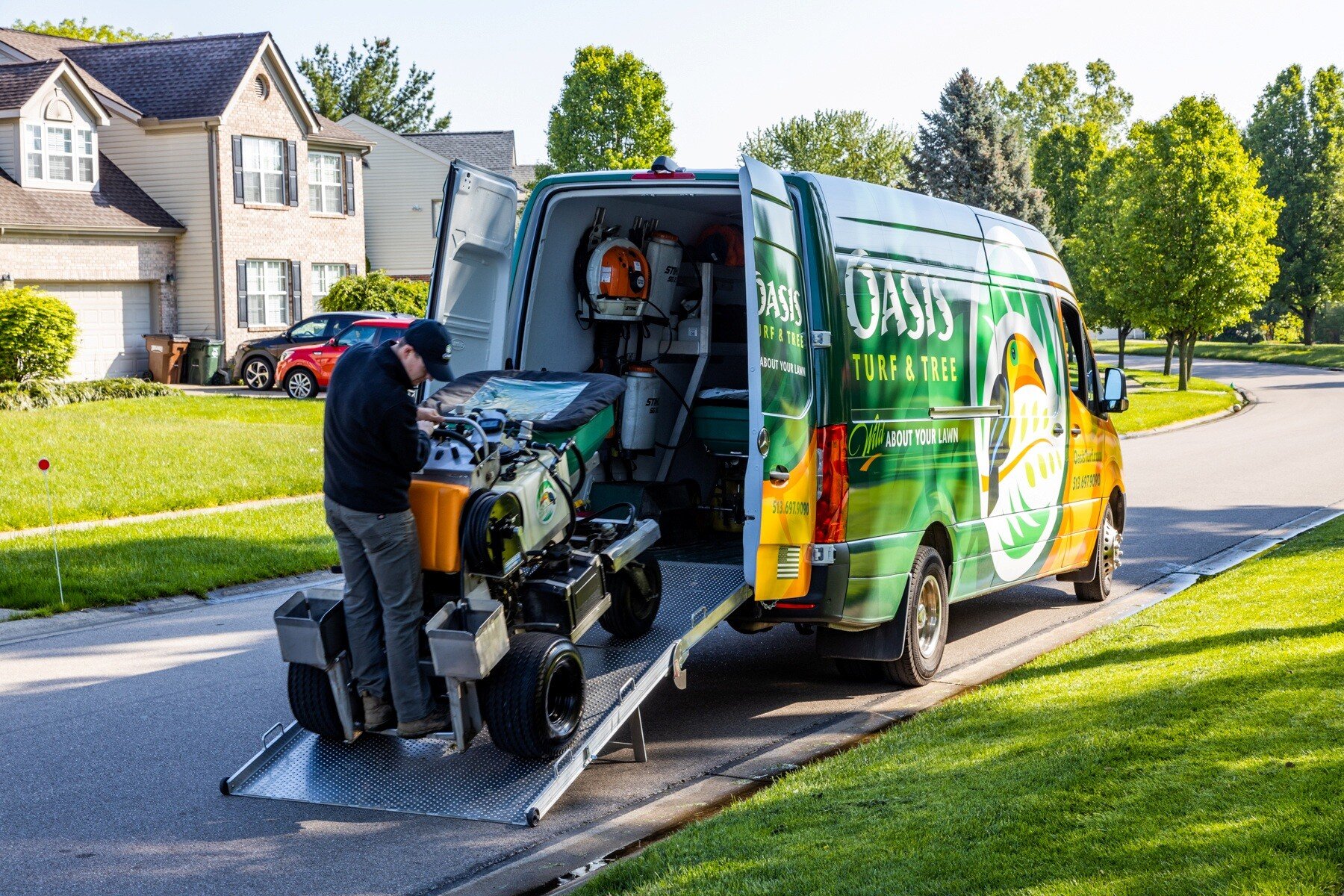 And our building now features an interior wash bay and vacuum (like the ones you'd see at a carwash) in order to help them keep their van looking its best. Our team can wash their vehicles inside instead of freezing outdoors.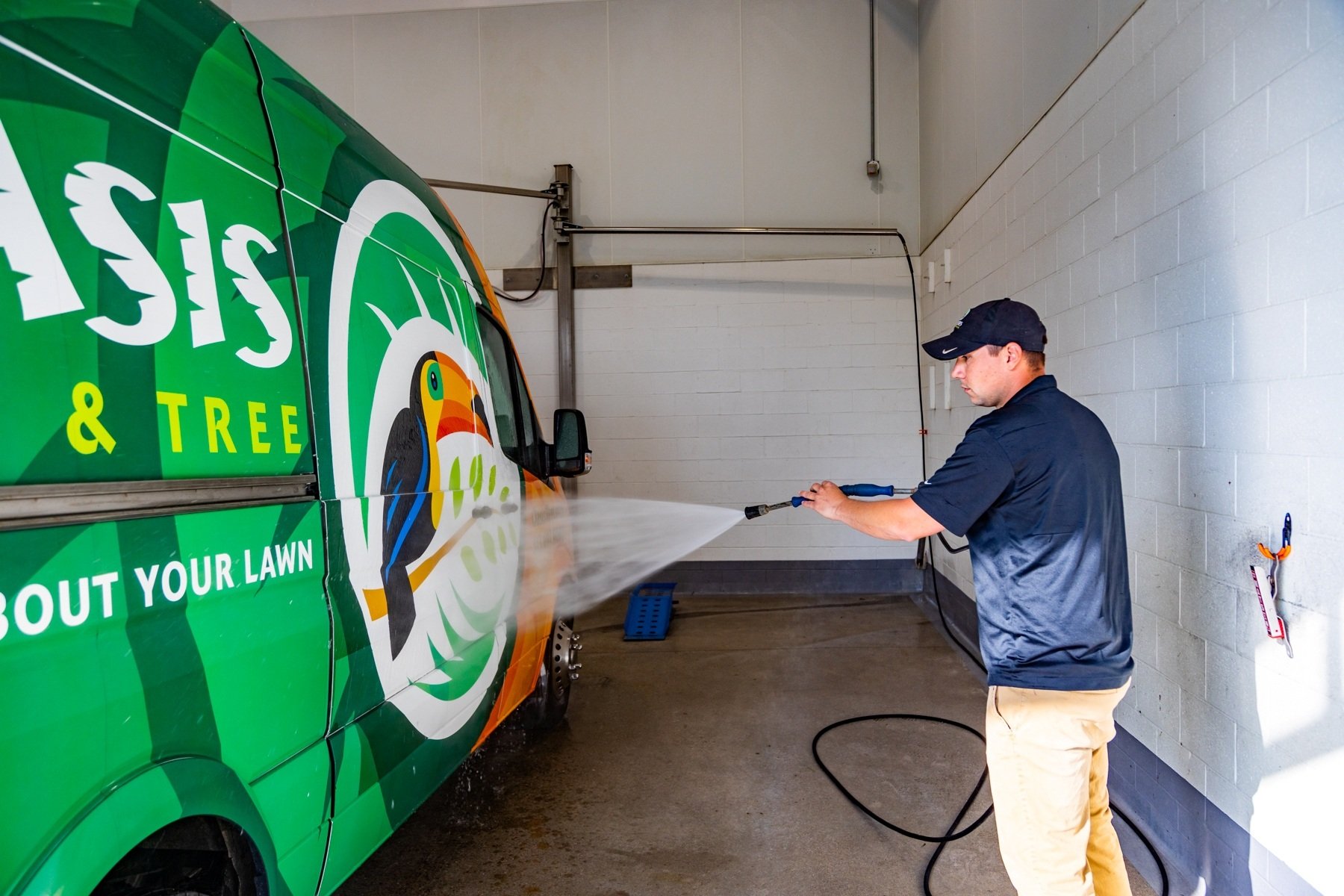 6. Multiple Forklifts/Pallet Jacks
Loading those vans should be easy, too. That's why we have multiple forklifts and pallet jacks. We feel like our technicians shouldn't have to wait to load their vans while a whole bunch of people go ahead of them. Multiple pieces of equipment help them to be more productive and not waste time if they're trying to get finished for the day and onto enjoying their evening.

We've also incorporated equipment so that our technicians don't need to be straining to lift heavy bags of fertilizer. The whole idea is based upon keeping it as easy for our team as we can.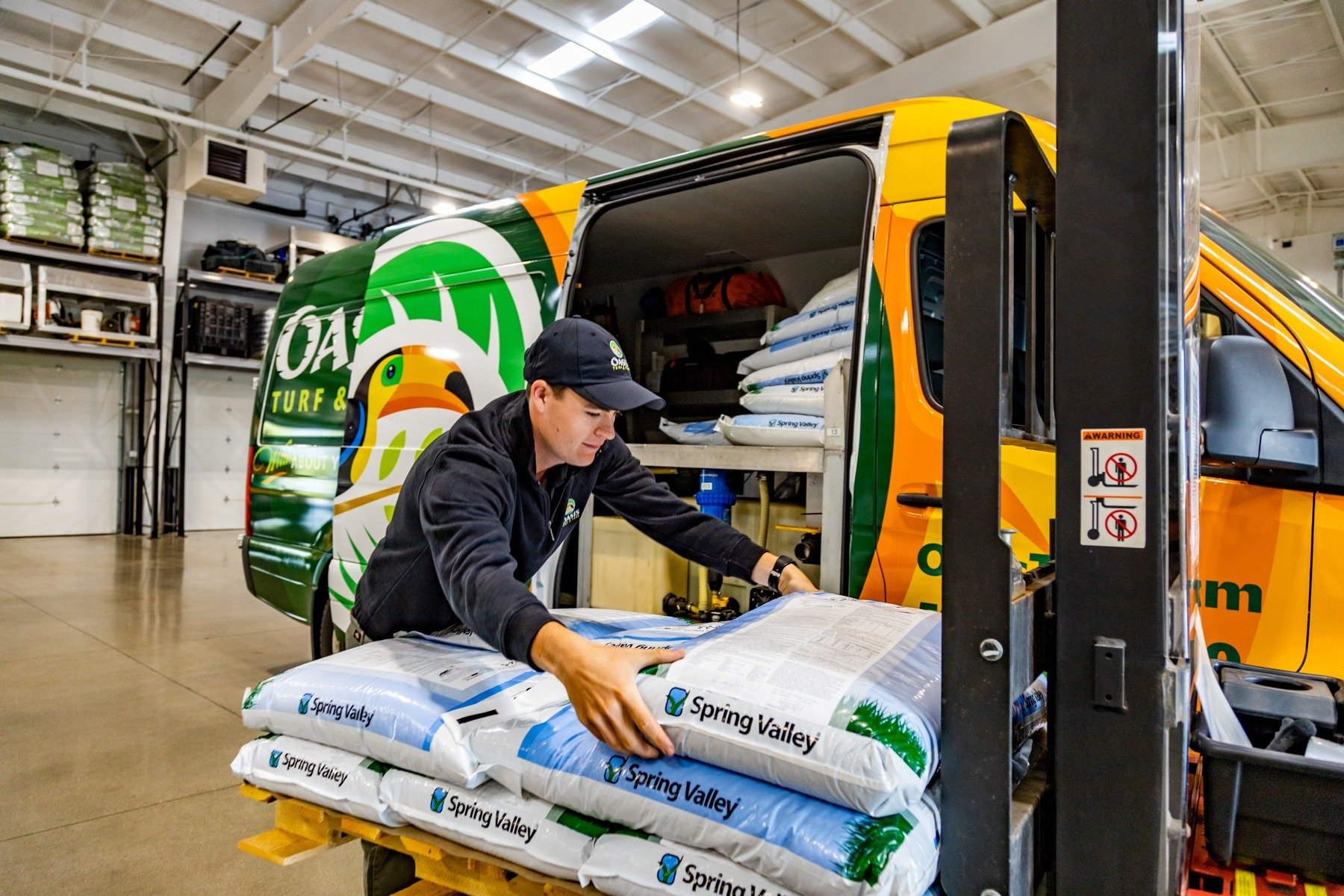 7. A Simple Fill System
Along with that, we also have a simple fill system. Technicians can plug a hose into their van and it will take around a minute and a half to fill the van with product. This was part of our unique van customization, which we had custom-built for us.
8. The Best Office Equipment
Just like we want to support our team members in the field, we also want to ensure that our sales and customer service staff is supported here at the office. We have invested in state-of-the-art computers, phone equipment, and brand-new, noise-canceling headsets.

We know that our sales and customer service staff sometimes want to get up and move around even though they're often on the phone for a good part of their day and these headsets allow for that. Our office staff also has ergonomic chairs and appreciate the open atmosphere of the office (as opposed to being stuck in tiny cubicles).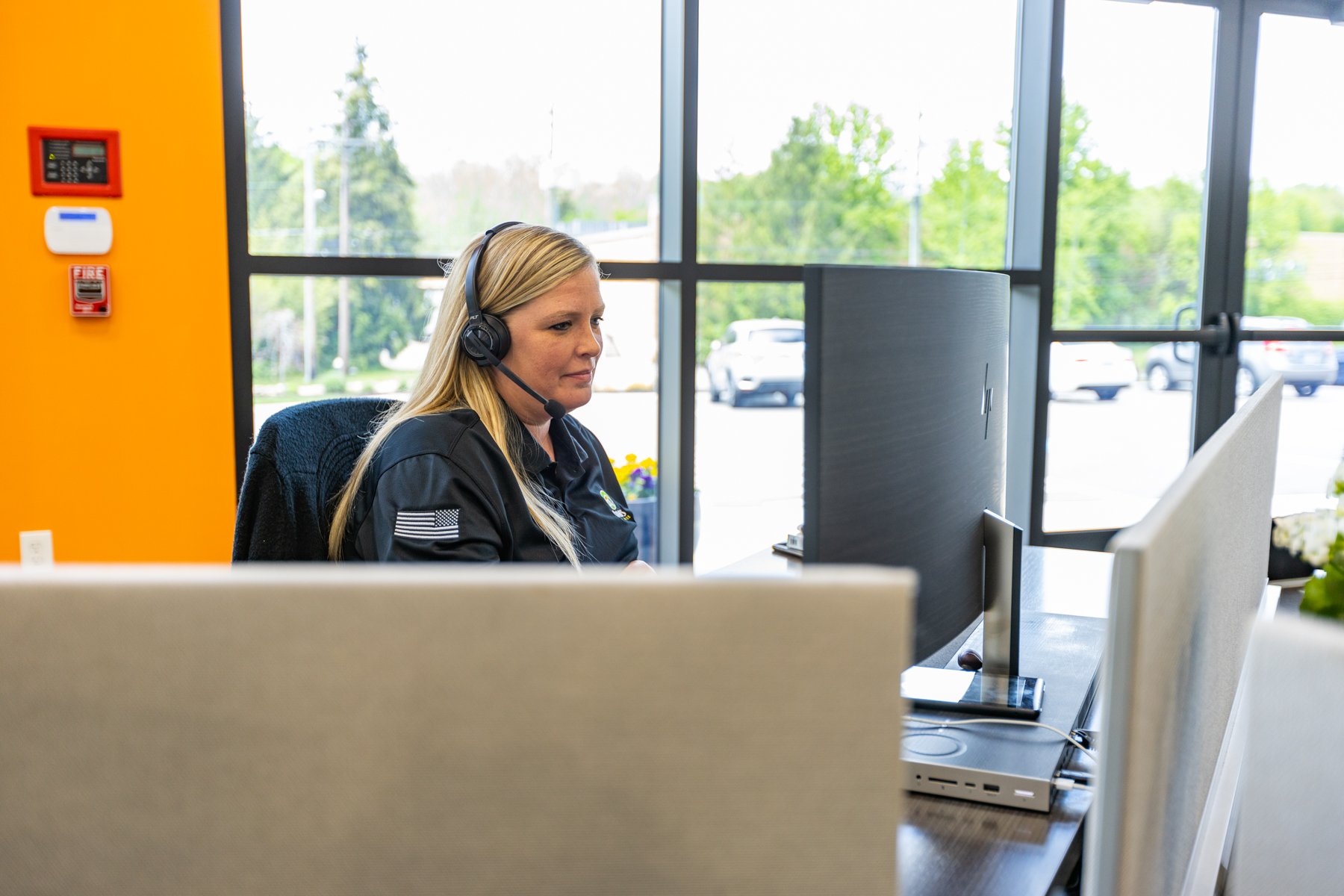 9. Outdoor Spaces
Another of the workplace perks that our team members appreciate is the outdoor space around our building. We have 4 acres of green space that we plan to use for company picnics, barbeques, or even just outdoor lunches.

We also have future plans that include hiking trails, a frisbee golf course, and more. At the time this article was written we had just moved in so we have more plans to come for the outdoor space.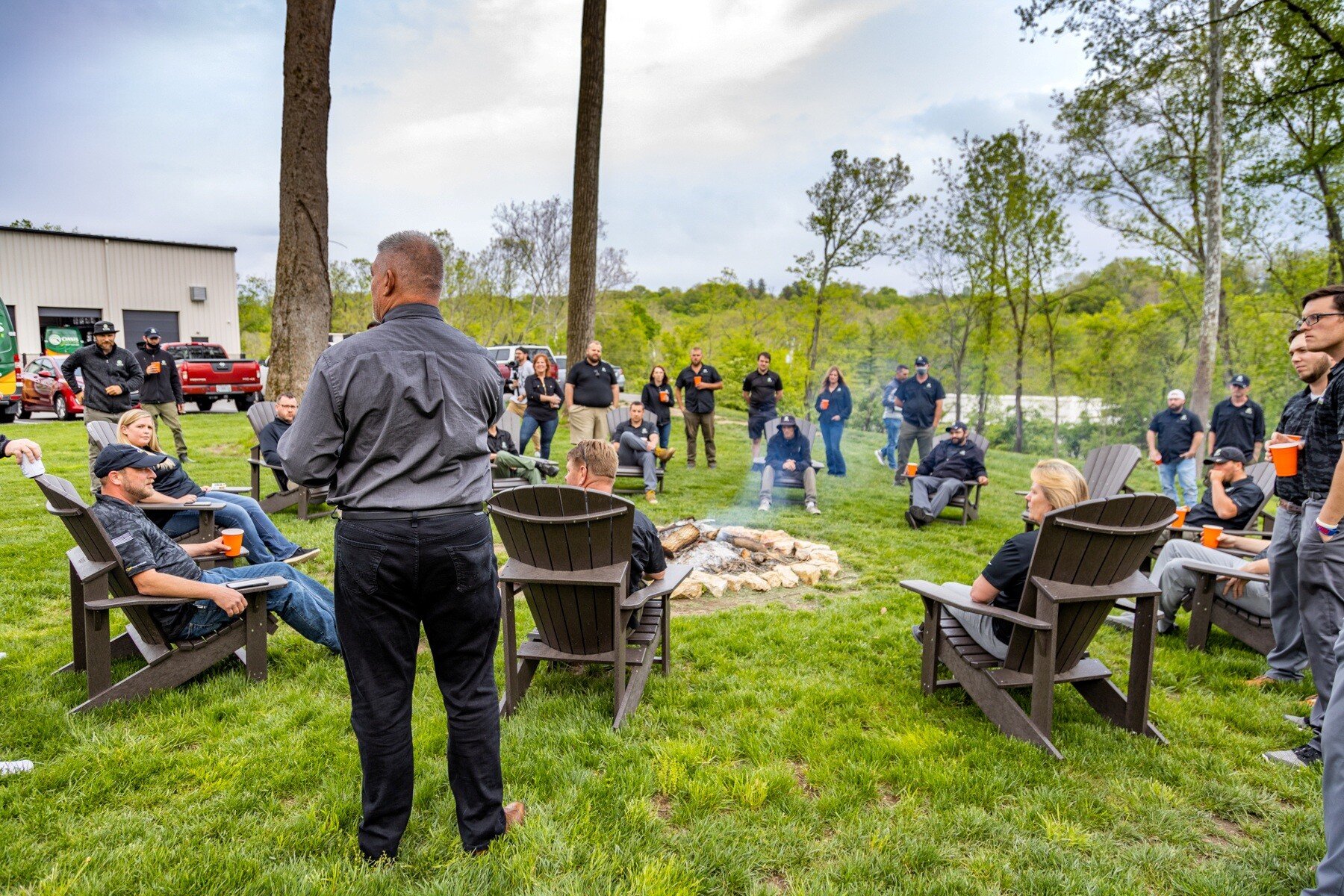 10. A Desirable Company Apparel Program
Finally, it's also worth mentioning that for a lot of lawn care jobs, workers need to purchase their own required attire. At Oasis, we pay for half of any of the desired attire that our team wants and they tend to take advantage of that and stock up (as they should!).

Out in the field, we give the option of several different jacket types and styles so that our team members have some choice. We have a nice Eddie Bauer GORE-TEX zip-up, a Columbia breathable fishing shirt, or an Eddie Bauer winter coat with the company logo, to name a few of our choices.

We also have various choices in the work pants that our team members wear so that they have some options there, as well.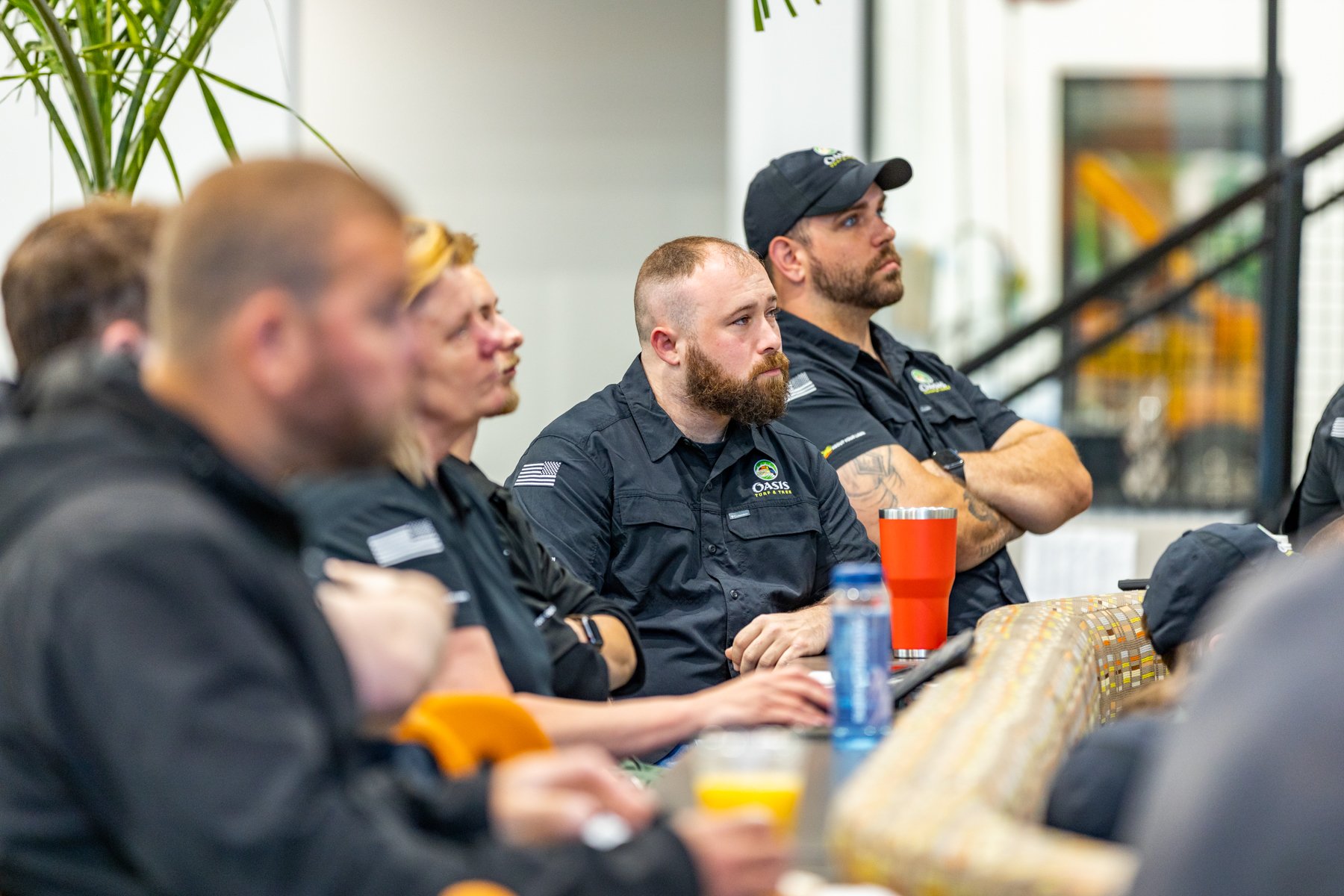 A Great Place to Work
At the end of the day, we know that workplace perks aren't everything. Team members are also looking for a company where they're treated like family, listened to, respected, and compensated well, among other desired workplace characteristics.

But the fact is, only a lawn care company that truly cares about its people (and not just the bottom line) would create these types of workplace perks in order to make the workplace experience as enjoyable as possible.

Along with that also comes those other important characteristics, such as being respected or treated well. In fact, it is because we respect and care about our people so much that we wanted to create this type of atmosphere. We have always wanted to be more than just a job to our team members.

If you're interested in finding a place to work where you can truly feel appreciated and actually enjoy coming to work each day, then we invite you to consider a career at Oasis. We're always looking to add to our growing team.

Looking for lawn care jobs in Cincinnati and Dayton, OH? Consider joining the Oasis Turf & Tree team and find out more about how you can become part of the family and have a career that you actually love.