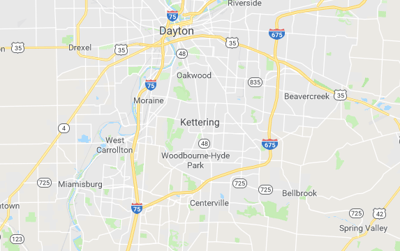 It's no secret that there are a lot of options for lawn care in Dayton, Ohio to choose from. With so many different companies out there making different claims, it might feel challenging to try and separate the good from the bad. Of course, the last thing that you want to do is put in the effort of hiring (and paying for) a lawn care service in Dayton, Ohio only to realize you made a bad choice.
You'd really like to hire the best company the first time around—so that you have zero regrets.
Like you, we've heard some of the common problems with hiring a lawn service. That's why we've rounded up 4 of the complaints that we think are most frequent along with a solution for how to avoid it.
#1 Problem & Tip: Poor Results
The main reason you're hiring a lawn care service in Dayton, Ohio is for the results. When you hire professional lawn care, you're looking for results that demonstrate a healthier lawn—better color, thickness, and fewer weeds. You don't want to end up with results that look subpar or like something that you could have achieved on your own.
Tip: Hire a Lawn Care Company that Comes Through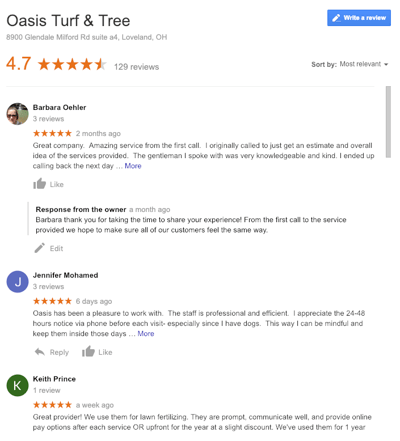 Since great results are the key reason that you're hiring a professional, you want to be able to feel confident that the lawn care company you're hiring is going to get them for you. Turning to what others have to say about lawn care can help you to find a lawn care service in Dayton, OH that delivers on their promises.
Look for a company that has a lot of reviews stating that their program was successful. More specifically, look for comments from customers saying their "lawn looks better than ever" or that the "grass is greener" or "the neighbors are giving compliments." These types of reviews demonstrate that this is a company that's getting great results within your area.
#2 Problem & Tip: Lack of Response
One of the most common complaints you may hear about lawn care companies is that they don't communicate well. Whether they never call you back (or are slow to respond), they don't tell you what services were completed on your lawn, or they don't update you on how your lawn is performing, it can be frustrating when you never hear from your lawn care company.
Tip: Find a Lawn Care Company that Communicates Well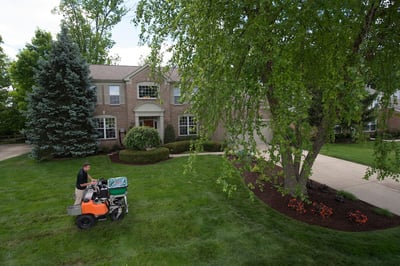 Communication with your lawn care company is important. Look for a company that has a fast response time to queries. After all, you don't have time to waste continually calling a company that never calls you back.
But how can you be confident that a company is going to be communicative when you haven't worked with them before? Look at their reviews and look for words like "prompt" and "responsive."
#3 Problem & Tip: Poor Customer Service
Responsiveness is just one part of customer service. You also want a company that is going to be courteous and respectful when visiting your property, that has helpful support staff when you call the office, and that isn't overly pushy about other services they offer.
The latter is something that you may hear about a lot. Some lawn care services in Dayton, Ohio have gotten a reputation for being pushy by constantly talking about add-ons or upgrades to the services you already have.
Tip: Choose a Lawn Care Company that Puts Customer Service First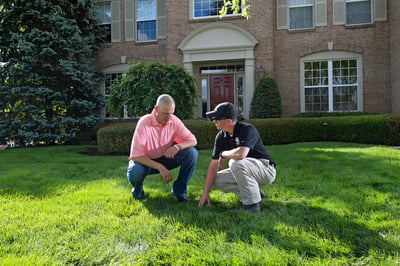 Some lawn care companies in Dayton, OH simply value good customer service more than others. Look for a company that has a strong support staff and therefore has the resources to really be able to help their customers.
When reading company reviews also look for comments about courteous technicians, professionalism, and even friendliness. These things matter when you're interacting with a lawn care company on a fairly regular basis.
#4 Problem & Tip: More of a Hassle than a Help
It shouldn't feel like a huge hassle to do business with your lawn care service. They should be eager to help and make the process simple for you.
But this isn't always the case. Another common complaint that we've heard is when lawn care companies are difficult to work with. Everything from making contact to navigating the website to even paying the bill adds unnecessary stress.
Tip: Look for a Hassle-Free Lawn Care Service
Choose a lawn care service that makes it simple for you. You don't have time to do lots of research or waste unnecessary time trying to pay your bill. You want a company that makes the entire experience stress-free.
Look for lawn care companies in Dayton, OH that offer features like online bill pay, that have simplified programs which lay everything out for you that you need (instead of nickel and diming you later for add-on services) and that provides you with plenty of information regarding what's going on with your lawn so that you don't feel as though you have to perform your own research.
Making a Wise Choice of Lawn Care in Dayton, Ohio, Cincinnati or Northern Kentucky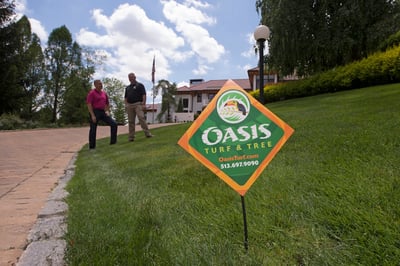 At Oasis, we have heard from customers who worked with other lawn care companies before switching to us and they often shared complaints like these above. We understand the frustrations involved when you hire a service that you're unhappy with. After all, we're homeowners in the Dayton, Cincinnati, and Northern Kentucky area as well and many of us have hired different home services over the years—some good and some bad.
We know that nothing is worse than investing in a company that falls short of your expectations.
That's why we understand that you want to make a wise choice from the very start. You want to find a company that isn't going to give you any of the problems that we've outlined above but that will work hard to ensure that you're satisfied with their results and their service.
That's exactly what Oasis aims to do—but you don't have to just take our word for it. Listen to customers who have already been working with Oasis and taken the time to write a review. We're proud that we have so many customers who have been happy enough with our company (and our services and results) to share their experiences and help you to make a wise choice.
If you'd like to learn more about the lawn care programs that we offer in Dayton, OH, Cincinnati, or Northern Kentucky, request your quote, help us find the right program for you, then sit back and relax knowing you've made a wise choice.