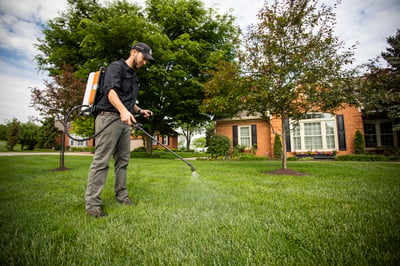 Oasis has always aspired to build a reputation as a "company that cares." That's not only in regard to our own people (our team) but also our customers and our community at large. Though this has always been true, it's been brought to light even more during the pandemic in which we've made a lot of changes in order to help keep everyone safe and happy.
These are just some of the ways we've cared for our team and our customers during the coronavirus pandemic.
Ways We Care for Our Team
Since those of us in the lawn care industry have been deemed "essential," we wanted to make sure that our team feels safe and cared for when coming to work each day. After all, our team is like family to us.
Here are some ways that we've cared for our team.
1. We Clean & Sanitize Regularly
We are performing a full clean by sanitizing the entire office frequently. We've also asked that each individual sanitize and clean their station throughout the day and we've provided wipes for them to wipe everything down easily. We've asked that our office team members limit what's kept on their desks right now to reduce any surfaces that people can come into contact with and to keep cleaning simple and easy for them.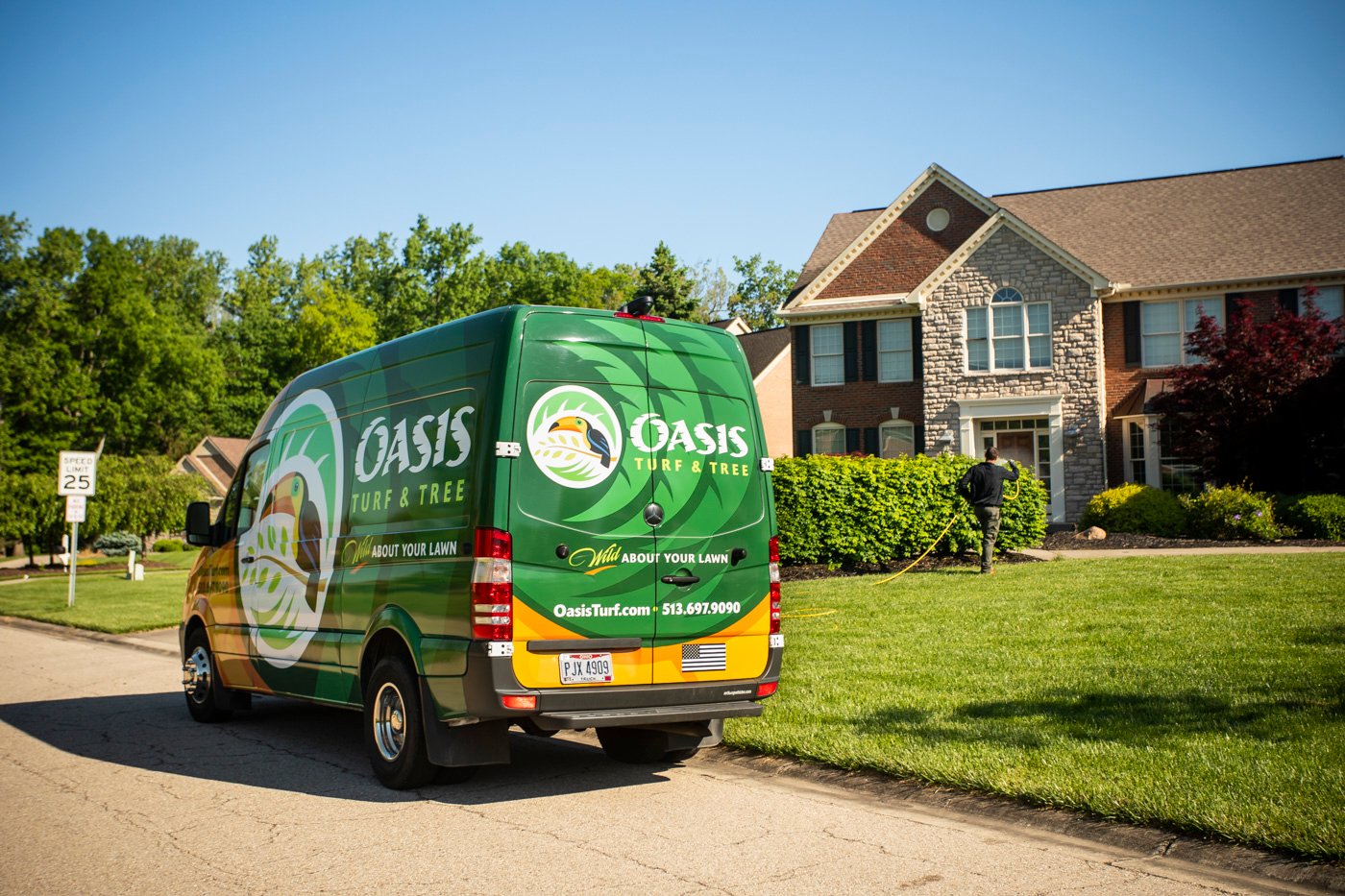 Each of our vans and its equipment is sanitized daily and we've upgraded our personal protective equipment (PPE) to include disposable gloves (each person has a box in their van) and masks.
2. We're Limiting Contact
Although we're doing everything that we can to keep the office clean, much of our office personnel has also been working remotely during the pandemic. We've utilized video conferencing to keep up with the team. Even those of us who do come into the office now use video conferencing for socially-distanced meetings.
We've also helped our technicians to practice social distancing by staggering their start times. Each technician has their own parking space and we've coordinated a strategic plan so that we don't have a cluster of team members all waiting on one another. We care that our people feel safe and not as though they're forced to be in close contact with one another.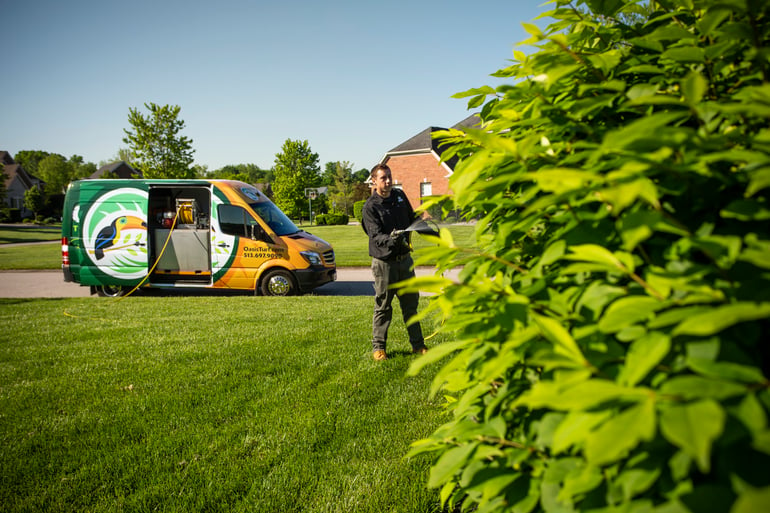 Video conferencing has also come in handy with our technicians. Just recently, we had a rain day and our technicians were home. We used video conferencing to run meetings with presentations that included pictures of various challenges techs are currently facing on the lawns they service. We're not letting COVID-19 stand in the way of our education and troubleshooting efforts as we look to optimally serve our customers.
3. We're Still Focused on Team Culture
Team culture has always been really important to us and we haven't wanted to let the pandemic destroy those efforts. We like to host team gatherings like BBQs and even trips to sporting events. Obviously, the pandemic has dramatically limited what we can do—but we didn't want to let too much time pass without doing something.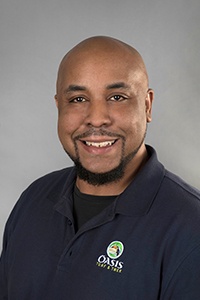 So, we bought cases of energy drinks, gift cards to different food establishments in the area, and some candy bars. Everyone got a care package—even those who are working from home and needed them hand-delivered.
To be perfectly honest, we thought this was just a small gesture, especially compared to events we've been able to host in the past. We didn't expect such an overwhelmingly positive response—but that's exactly what we received.
One of our team members, Tony Reeves, told us:
"Thanks for coming by. I think that was the coolest moment in my Oasis career so far, especially at a time like this. It means a lot."
4. We are Communicating Regularly
Efforts like the one mentioned above obviously mean a lot. But sometimes it's also just about checking in and we make sure to do plenty of that, too. We've been calling our team members regularly, not even about work, but just to see how they're doing.
There's no question that this virus and the impact it's had on peoples' lives can take an emotional toll. Even though we're fortunate enough to be one of the industries that are considered "essential," we recognized that people are stressed and we are here for them.
Ways we Care for Our Customers
Our customers are also incredibly important to us. Because of our status as "essential," we have been able to continue to work on homeowners' properties and we are grateful for that. However, we also want to make sure that they feel comfortable, safe, and well-informed.
Here are some ways we've cared for our customers.
5. We're Sanitizing Regularly
While it's true that our new sanitization methods help keep our team safe, it should also give customers some peace of mind that we're doing everything we can to keep our technicians safe and healthy.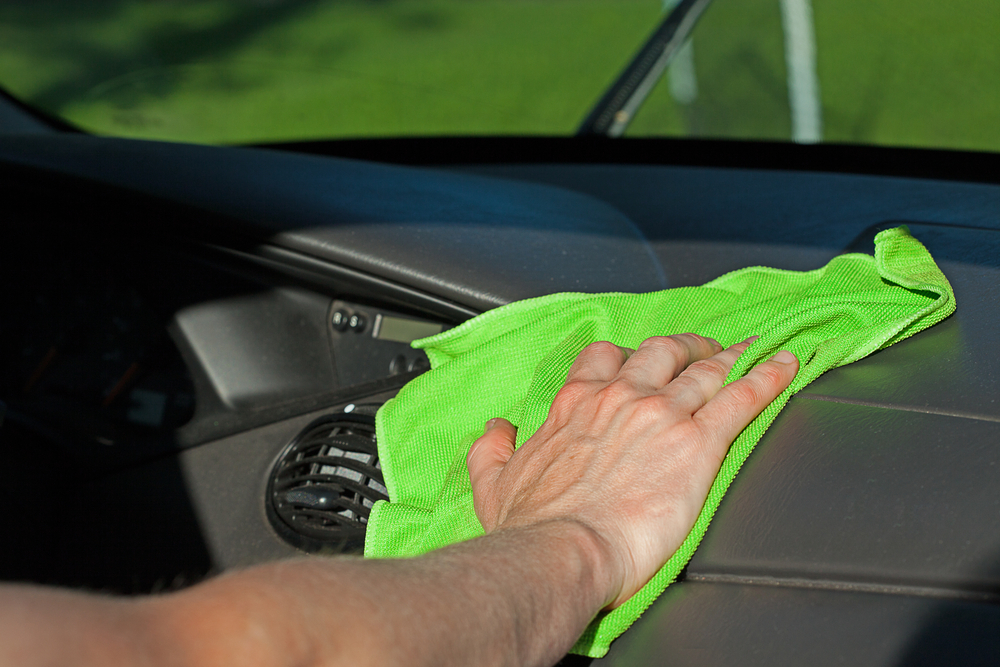 Our new protocols of washing the vans down, sanitizing equipment, and asking technicians to use sanitizing hand wipes after visiting properties help reduce any risk of germs spreading. Of course, since our technicians are working outdoors and never step foot in anyone's home, our industry was already naturally low risk for causing any spread (and is why we've been allowed to continue to work).
6. We've Stopped Leaving Paperwork
Prior to the pandemic, we would hang invoices on the doors but we've started emailing or mailing them instead. Customers can also log in on our website and access their personal account at any time to make payments, view payment history, request service calls, and more.
It was also common for us to leave service notes behind talking about what was performed on the property as well as any cultural recommendations we might have to offer. We've started emailing those as well.
7. We're Practicing Social Distancing
Because we recognize the importance of social distancing, we've stopped knocking on doors. All of our technicians are conscious of keeping an appropriate distance from homeowners (and their neighbors) while on the property. We are taking extra care to be cautious.
For those of our clients who have requested communication prior to a visit, we now make those calls from the driveway, announcing our arrival (as opposed to face-to-face).
8. We Haven't Changed Our Hours or Availability
As we limit social interaction, we still want to make sure our customers know we're here for them. While so many businesses have temporarily shut down or reduced their hours, we've maintained our hours and our availability.
Customers and prospective customers can still call us and get someone on the phone. They can email us and receive an actual response. That's refreshing at a time when people are constantly getting recorded messages or automatically generated responses when trying to reach other businesses.
At Oasis, customers can still ask questions and get the support they need—and a lot of them appreciate that sense of normalcy right now.
We are Here for You, as We've Always Been
During these uncertain times, we want our team and our customers to know that we are here for them. There's a saying that goes, It's not bad, it's just different. We know things feel really different right now but we're doing whatever we can to retain the normalcy that we're able to retain by being here for you and communicating regularly.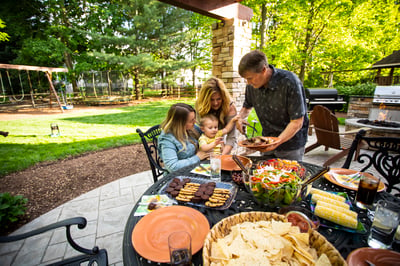 To achieve this, we're being incredibly intentional about the actions we take. We've also spent a lot of time thinking through our processes and any ways that we can make them safer, such as those we've described above. We feel great that people have taken notice. Throughout this pandemic, we've received a lot of really positive feedback and that means the world to us. It makes coming to work each day even more meaningful!
In the end, we'll all get through this. But in the meantime, we're here for you. We want you to know that you can count on us.
Are you someone who is looking for a lawn care job with a company that really cares? You can find out more about a career with Oasis on our website along with the job listings we have available.
Or, are you a potential customer and want to learn more about our professional lawn care services for your Cincinnati, Dayton, Ohio or Northern Kentucky lawn? Request your quote, choose the lawn care program that's right for you, and then sit back and relax as the pros help you get your lawn in great shape.