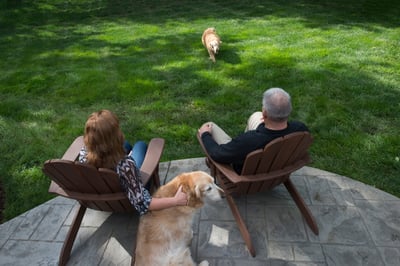 If you're anything like us, you really love your dog (or dogs). Also like us, you probably really love your lawn as well. The trouble is, as we both know, dogs and lush lawns don't always mix well. That's because dogs can cause lawn damage in a number of ways. Whether your dog is digging in the yard, tearing it up by running, or damaging it with urine burns, the challenge remains how to maintain a beautiful lawn while still enjoying it with your canine companion.
Most people realize that some grass damage is to be expected with dog ownership, but if you make arrangements for regular lawn care and follow the helpful tips we've put together, you can keep your furry pal safe and still ensure great results In the yard.
Here are 3 tips on dogs and lawn care services, to help you show your love for your dog and your lawn:
1. Communicate With Your Lawn Care Company About Your Dog
We know your dog is an important part of the family and that you are always concerned for its safety. That's why it's important to communicate with your lawn care company about your four-legged friend. If your dog is going to be home when your lawn care company is scheduled to be on the property, be clear with them about where the dog will be kept during the visit.
At Oasis, we do ask that our customers keep their dog inside on the days we come out to service the lawn. This is for the pet's safety while we're treating the lawn; a dog kept inside is protected and will not have the opportunity to escape the yard and run away. So it's always helpful to know that you have a dog and that it will be inside when we arrive.
2. Ask Your Lawn Care Company About Your Dog's Safety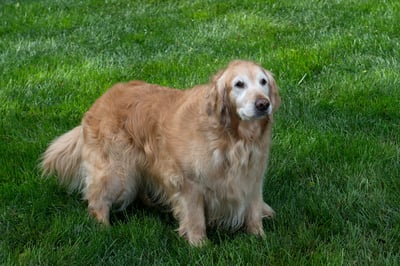 Just as you would want to know when it is safe for your kids to play on the lawn after a product application, you will also want to find out when it is safe for your dog to be outside after a lawn treatment.
Lawn care companies in Cincinnati, Dayton, OH, or Northern Kentucky should always be able to tell you how long your pet should wait before going outside. For example, with the products we use at Oasis, as soon as they dry, it's safe for your dog to go back outside.
We get a lot of questions about dogs and lawn care and we are always happy to answer them. Many of us at Oasis have dogs of our own and we absolutely understand their importance to you and your family. We make an extra effort to be sure that all members of your family are protected—including the four-legged ones. In fact, we're even careful to move dog toys that we find in the yard before applying our products!
3. Don't Waste Your Money on Dog Urine Burn Potions and Remedies
We have treated thousands of lawns over the years and we have seen just about every homemade concoction out there for treating urine burns from Fido. But at Oasis, we believe in transparency, so while you may not want to hear this, our advice is: don't waste your time or money on urine burn remedies.
The truth is that there is no magic elixir to fix dog lawn damage resulting from urine burn. The best thing you can do is to encourage your dog to do its business in the far corners of your yard rather than just off your patio. A thick, healthy lawn will hold up to urine burn better than an unhealthy lawn, but no one can promise there won't still be some damage—it's just part of owning a pet.
However, we can tell you that in the fall, an aeration and overseeding can go a long way toward repairing any areas that have been affected by urine burn, not to mention also helping mend bare or damaged areas resulting from your pup's running or digging.
Hiring a Lawn Care Company that Understands
Dogs and Lawn Care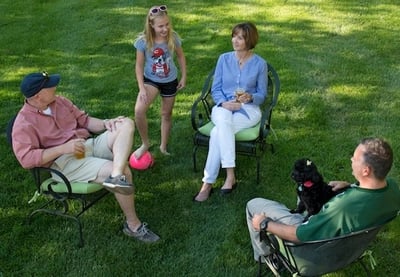 Your dog is a member of your family and you should hire a lawn care company that understands that. At Oasis, we care about our clients and we know that you care about your pets. Therefore, we pay special attention to things like picking up dog toys that are left in the yard, knocking on the door before starting a treatment to make sure the dog is safely put away, and double (or triple!) checking the lock on a gate when we finish the treatment, to be sure that your dog is safe when let out after we leave.
These are steps that Oasis technicians regularly take which really make a difference to dog owners, although we hear that these are steps that other companies often forget (or fail) to do.
Our technicians are trained to care about these details. When we train our people, we talk about the importance of pets to our clients, so that even those technicians who don't own a dog understand the value of our clients' pets.
The fact is that we truly care about what is important to our customers and that is why dogs and lawn care are two things we take very seriously. We want the best for you—and for your lawn. We're here to help you achieve the best possible results, while also keeping your canine friend safe and happy.
If you'd like to find out more about how we can give you the best possible results for your lawn, whether you have a dog or not, contact us for a free estimate or give us a call at 513-697-9090 so we can chat.