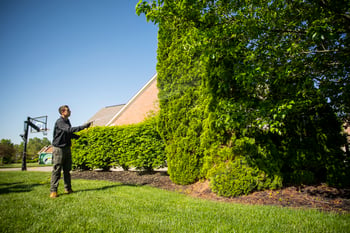 It is a common myth that trees are entirely self-sustaining. While that might be more true of trees in the forest (where nutrients are readily available and soil is entirely different), when it comes to trees in urban and suburban environments, they need a lot of extra help in order to truly thrive.
Not only do urban and suburban trees have to survive in an environment where they don't have easy access to the ideal conditions, but more often than not, they've had a rough start to life to begin with. When homes are built in the United States, the process begins with digging a big hole in which subsoil is ultimately tossed on top of the healthy, thriving soil. Trying to grow trees in subsoil, which is virtually void of healthy micronutrients and soil biology, is a challenge to say the least.
Trees simply aren't going to reach their full potential without some care and assistance. But with a Tree & Shrub Health Care program that includes a deep root tree fertilization, trees can receive what they really need to thrive.
A deep root tree fertilization treatment entails injecting liquid materials below the surface, into the root zone of the trees utilizing a specialized tool used by tree care professionals. The tool is inserted near the base of trees, delivering the precise amount of nutritional materials throughout the root zone. This delivery method reduces runoff of valuable materials and also allows a tree to absorb fertilizer directly through its roots.
The Benefits of
Spring Tree Fertilization
There are many benefits to fertilizing your trees. At Oasis Turf & Tree, we approach tree fertilization twice a year, fertilizing evergreens in the spring and deciduous trees in the fall. These 2 applications in our 6-step comprehensive tree and shrub health care program ensures that your trees are receiving the nutrients they need, when they need them. Your trees are a valuable investment on your property and for that reason, you obviously want to protect them. You also want to see your trees reach their full potential.
Here are a few other key benefits to consider for spring tree fertilization:
Replenished Nutrients.

Spring is a big growth for your trees and they need nutrients in order to do it.

Deep root tree fertilization

will help replenish the depletion of natural soil nutrients and in turn help your trees grow.
Improved Health. Since the health of your trees depends on nutrients, a loss of nutrients can also make your tree more susceptible to insects or diseases. But fertilization will help ensure the good health of your trees and even fight off future problems.
Staying Greener, Longer.

When you fertilize your trees in the spring, they'll establish a healthier, green canopy that will ultimately stay greener for longer. A well-fertilized tree should stay green into the fall season, at which point they can receive

fall tree fertilization

in order to give them another boost.
A Longer Life. By giving your trees what they need to thrive, you'll ultimately be improving their lifespan. Your trees are valuable to you for many reasons. Ensuring that they receive what they need to be healthy also helps protect them.
Evergreen Tree Fertilizer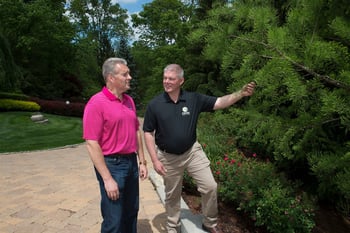 From a horticultural standpoint, it is best to fertilize your evergreen trees in the spring before new growth expands. However, applications into the mid-summer are still okay, as long as it doesn't go beyond that. Tree fertilizer that is applied after this time period will stimulate late season growth which may not have time to harden off before the temperature drops. New growth is more likely to suffer and potentially even die off as it gets colder.
The most important time to fertilize your evergreen trees in their lifespan is when they are still young and growing. By rule of the thumb, annual fertilization of trees will help them not only to adapt to their new location, but will also help visible growth to become more full. We will continue with fertilization until your evergreen has reached its desired size. A mature evergreen may not require regular fertilization.
At Oasis Turf & Tree, we fertilize your home's trees twice a year. While we do spring fertilization for evergreens, we fertilize deciduous trees in the fall. But it is also the efforts we are making year-round that are going to make a difference in the health of your trees. Our focus on soil health will benefit the trees on your property as well.
Spring Tree Fertilization Service in Cincinnati, Dayton, OH, or Northern Kentucky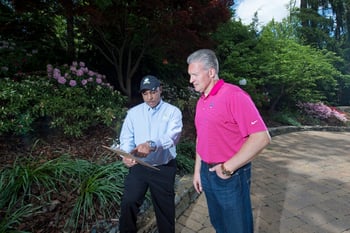 While you can buy tree fertilizer spikes, a DIY effort to feed your trees is not going to be as effective as a professional approach. Those spikes cannot deliver plant nutrients where it's really needed most like Deep Root Tree Fertilization can.
In addition, the tree fertilization materials that can be purchased at the store are not going to be the same as the advanced equipment and professional grade product that a professional lawn care company like Oasis Turf & Tree will use.
At Oasis Turf & Tree, our Deep Root Tree Fertilization treatment is a custom blend of essential elements plus bionutritional materials. This helps restore soil health, develops additional tiny fibrous roots, and adds some of the elements that are naturally found in forest soil, which suburban landscapes lack. It will provide the spring tree fertilization boost that your trees need to truly thrive.
If you'd like to find out more about Oasis Turf & Tree's spring tree fertilization and how it can help your trees reach their full potential, contact us or call 513-697-9090.