Pests like ants, spiders, and centipedes are likely on your list of creepy crawlies that you'd like to keep as far from your home as possible. When these types of pests get close to the foundation of your home, they can make their way inside. Not only can they be a nuisance or a scare, but some pests also bite.
So how can you keep troublesome pests from getting close to your home? There are two options of service that you might be considering - hiring your lawn care company to handle perimeter pest control or bringing in an exterminator. Which option is best for you depends largely upon whether you're trying to prevent a pest problem or contain an existing problem.
When to Hire an
Exterminator
If you're already experiencing a heavy pest infestation or have a serious concern about rodents, then exterminators play a very important role in helping you find a solution to your problem. Here at Oasis Turf & Tree, we offer a perimeter pest control service that will keep pests out, but we do not claim to be exterminators. If there's already a substantial, existing problem, finding an exterminator is going to be your best bet.
That's not to say that one or two insects inside your home constitutes an infestation. If you've only seen pests here or there, you likely don't require full-blown extermination services inside your home. At Oasis Turf & Tree, we do not do treatments inside of the home but aim to keep pests out of it in the first place. An exterminator, on the other hand, will do both exterior and interior treatments to get rid of an existing problem. Once that problem is under control, you could even switch to a preventative service like perimeter pest control, and save some money with a more convenient service.
When to Choose
Perimeter Pest Control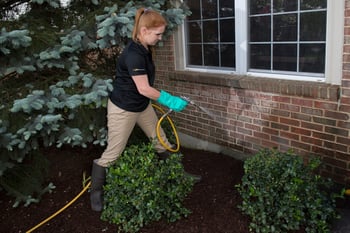 If you've only seen pests inside your home on occasion, or you're just determined to prevent a problem from occurring in the first place, then a perimeter pest control service is the best option for you.
Whether it's ant control, centipede control, or spider control, or the other dozen or so crawling bugs you'll commonly see, a service like ours can help keep you from getting to a point where it becomes necessary to call in the exterminator. That's because it sets up a sort of "shield" that surrounds your home and keeps the pests from getting through by controlling them before they enter.
At Oasis Turf & Tree, our perimeter pest control service is performed entirely outside of the home, which eliminates the hassle of having to be home while it's being done (as would be the case with an exterminator). It's also nice to keep the products outside of your home rather than having chemicals applied inside, as would have to happen if it gets to the point of an infestation.
As a preventative measure, perimeter pest control ends up being a lot less expensive than having to deal with a full-blown problem. For only a small investment you can prevent a very costly infestation, making it well worth it.
Working with Oasis Turf & Tree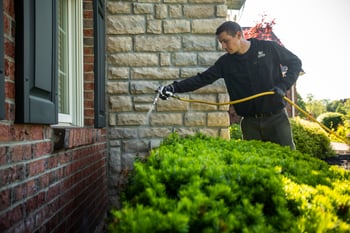 At Oasis Turf & Tree, our perimeter pest control service gets very good results on common pests like ants, spiders, centipedes and others. We're not a pushy company and certainly not one that tries to upsell our clients on every possible service we offer. But we like our clients to know that this is an option and if it's something they're interested in, we can provide the service.
There are a lot of companies that offer pest control services but for a fraction of what most charge, our perimeter pest control is thorough and effective. That's because we use some of the same high quality products to those that exterminators utilize on a regular basis to treat the exterior of your home. Our clients tell us it gets the job done and is a value add for them as part of their overall lawn care program.
We utilize a four-application program that begins in the late spring and runs through early fall, when pests are thriving. This will help ensure that your home is kept pest-free year round.
Whether you've noticed a pest or you just want to be completely proactive in preventing them, our perimeter pest control service can help you keep the pests out!
If you'd like to find out more about the perimeter pest control services we offer, call 513-697-9090, or contact us for a free estimate.
Image Sources: House spider