Few things frustrate homeowners with their lawn more than brown spots in the grass. In fact, for most homeowners, it's a bigger gripe than weeds. Brown spots in the lawn are particularly frustrating if you feel as though you've taken all the right steps.

Perhaps, you even pay for professional lawn care services.

When homeowners invest in professional lawn care, they often feel as though they should never have to deal with lawn problems again but that's unfortunately not the case. There are issues outside of the control of even the best lawn care providers.

In this article, we'll talk about why you may have brown spots on your lawn and what you can do about it.
Diagnosing Brown Spots in the Lawn
When homeowners find brown spots in the lawn, they are quite commonly thought to be related to drought. Homeowners see that their lawn is turning brown in some areas and they automatically assume it must not be getting enough water.
While lack of water can certainly cause a lawn to brown, it's by far not the only possible culprit of brown spots.
In fact, there are some reasons for brown spots in the lawn in which watering could make things worse—particularly lawn fungus.

A big factor in diagnosing brown spots in the lawn will be what time of the year that it is. There are certain problems that will be more likely at certain times of the year. While oftentimes various problems can cause the same-looking brown spots, paying attention to the season will play a big role in determining what's going on.

There can be a fair amount of detective work that goes into the diagnosis.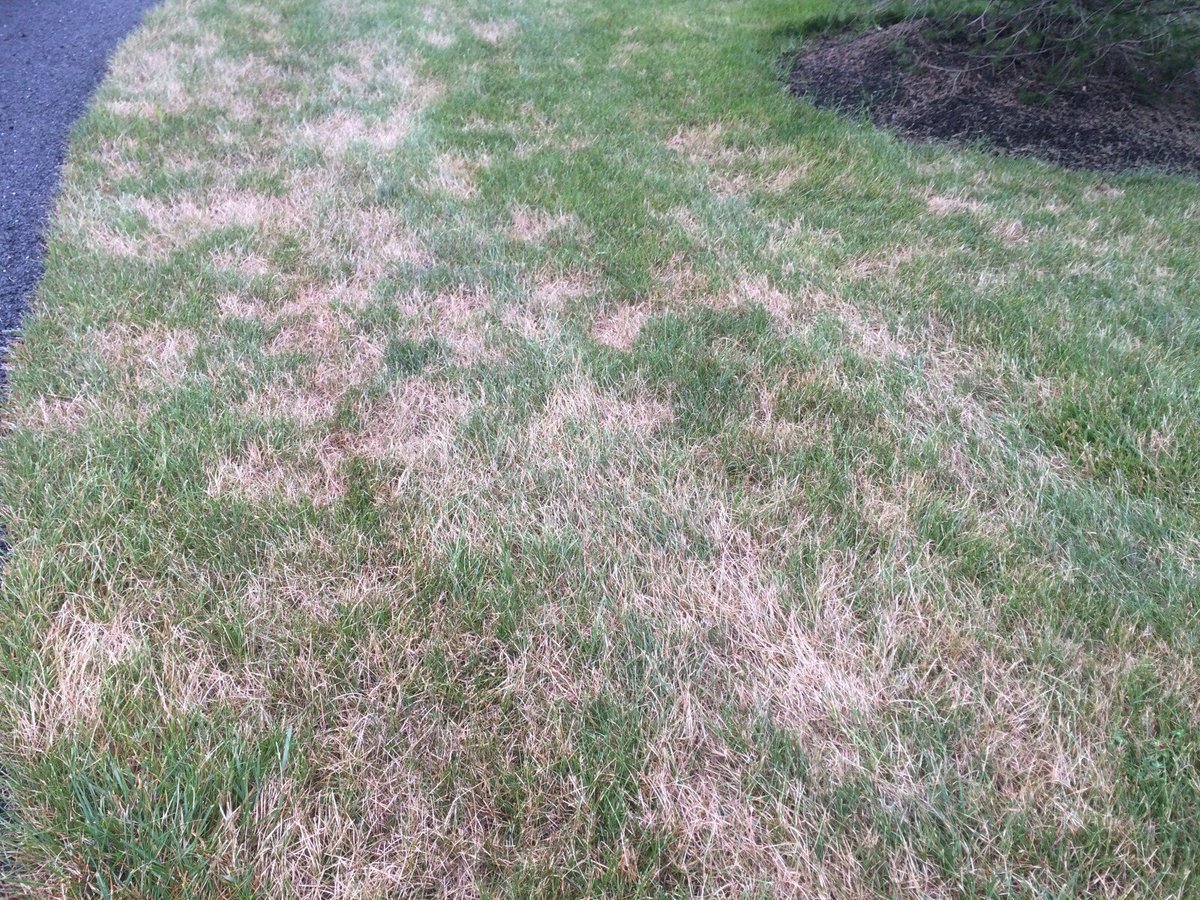 In addition to the time of the year, we might also look at which areas of the lawn are affected. For instance, if's just one spot in the front of the yard, it could be that a neighbor's dog is using that spot to go the bathroom. If it were a problem like a lawn fungus or even an insect, it would not just be a single spot that is affected.
Possible Reasons for Brown Spots in the Lawn
As we mentioned, the potential reasons for having brown spots can be quite vast. While we won't dive into detail on each one, we want to at least share some of the possible reasons why your lawn could be dealing with brown spots. We have a lot of articles already written on many of these topics if you want to read more.
Leaving the Diagnosis of Brown Spots in the Lawn to a Pro
As you can see, the potential reasons behind brown spots in the grass are varied. And making a proper diagnosis is not that simple when many of these issues can mimic one another.

That's why we believe it's best left to a professional.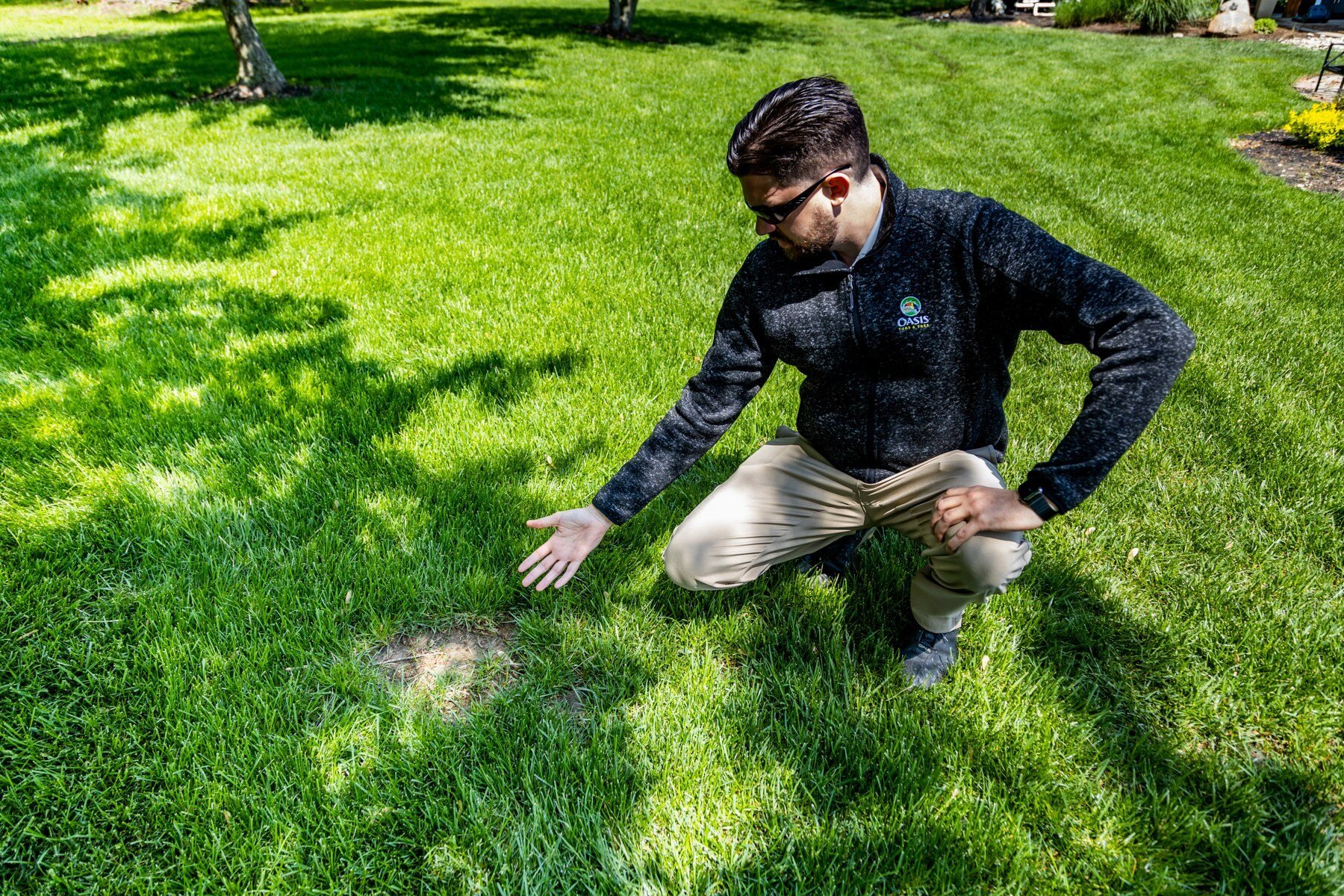 Making the proper diagnosis will be the first (and most important) step to getting your lawn back on track.

At Oasis Turf & Tree, we look to make that simple for you. That's why we welcome homeowners to text us pictures of what they're dealing with. We can help you to make the proper diagnosis so that you can solve the problem and improve your lawn's health.

This is also why there is great value in having a lawn care professional on your property regularly, keeping an eye out for you. Oftentimes they'll notice problems before you even know about them. That means that instead of waiting until it becomes a brown spot (at which point the lawn is dead), many of these issues can be prevented in the first place.

It also means that instead of having to worry about lawn problems, you'll know that a professional is on your side, looking out for your best interest. At the end of the day, that peace of mind is everything.

Want to learn more about professional lawn care services for your Cincinnati, Dayton, Ohio, or Northern Kentucky home? Request your quote, choose the lawn care program that's right for you, and then sit back and relax as the pros help you get the lawn of your dreams without the worries.
Image sources: lawn fungus