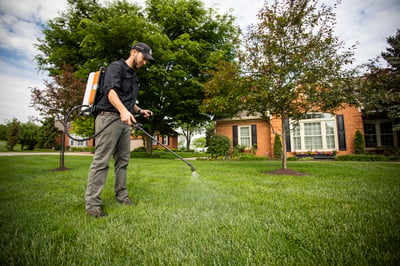 When it comes to getting great lawn care results, you want what's best for your lawn. However, you don't want to pay for treatments that you don't actually need.
You might be wondering "How many lawn applications are necessary?" You might have even tried 4-step programs in the past and may be wondering why you need anything more than that.
This is a question that we often get. Because we truly care about you getting the best results for your lawn, we'll explain why a lawn care program with just 4 lawn care treatments will fall miserably short of your expectations.
Where Did the Idea of 4 Lawn Care Treatments Come From?
Chances are, you've seen information out there about a 4-step program. Most likely, this option was made famous by Scott's 4-step program. Naturally, homeowners see that this is an option on the shelves at their local hardware store so they assume it's something that their lawn care professional can do—and some may.
But it's a major disservice to you.
If you truly want the best for your lawn, a program with just 4 lawn care treatments is not enough.
How Many Lawn Applications are Necessary?
At Oasis Turf & Tree, we have taken the nutrients requirements for turfgrass and spread them out over 6 applications, for several very specific reasons which we'll explain.
With Different Seasons Come Different Challenges
It's incredibly important to recognize that your turf has different needs at different times of the year. This is why 6 visits are strategically timed to work with those needs. For instance, at different points throughout the season, there are different weeds that are germinating. If we attempted to treat these too early (or too late), we simply could not be as effective. The same goes for pest control. The timing is critical.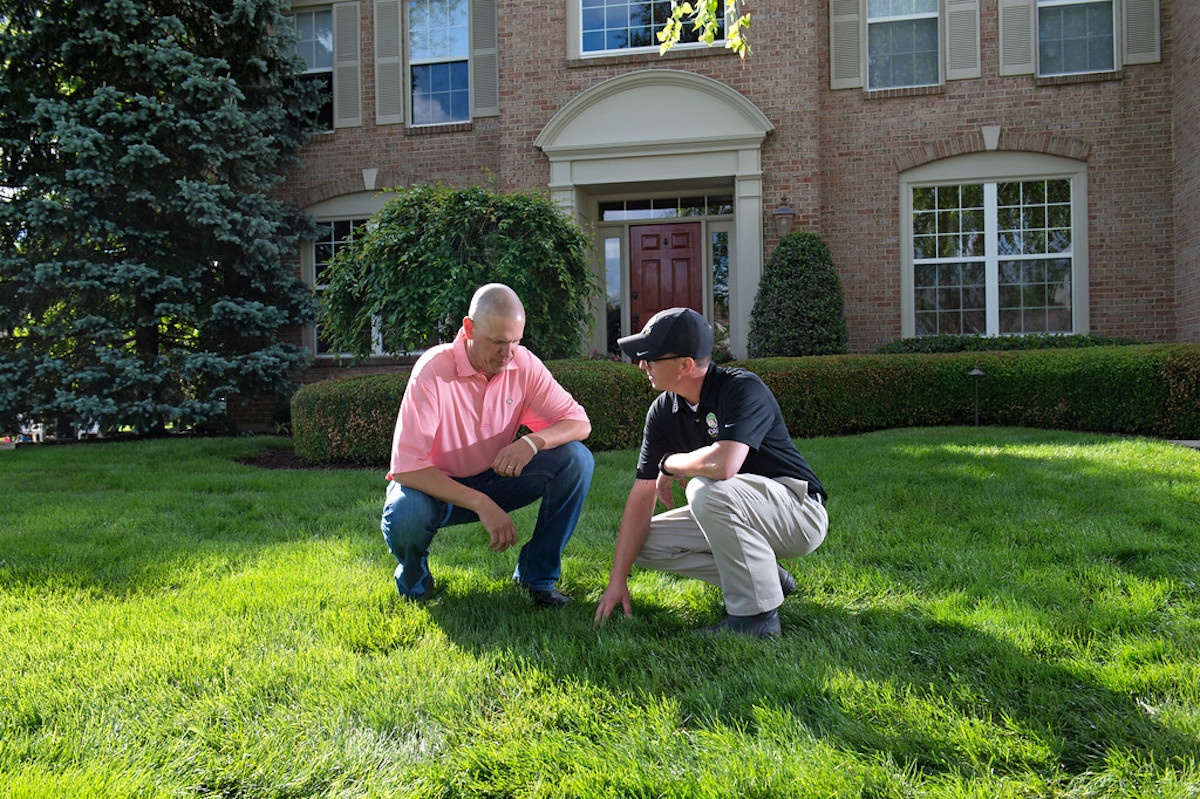 Consider just some of these "reasons for the season," so that you can get a sense of how much can change in a short amount of time.
Reason for the Season: Early Spring
Fertilization with bionutritional materials for optimum health
Pre-emergent control for crabgrass
Starting broadleaf weed control
Inspecting for Billbug damage
Reason for the Season: Late Spring
Fertilization with bionutritional materials for optimum health
Inspecting for and treating crabgrass breakthrough
Continuing broadleaf weed control
Reason for the Season: Early Summer
Fertilization with bionutritional materials for optimum health
Grub control before it's too late
Surface insect control
Spot treating new weeds that have popped up
Reason for the Season: Late Summer
Inspecting for turf disease
Spot treating for new weeds
Reason for the Season: Early Fall
Fertilization with bionutritional materials for optimum health
Broadleaf weed control
Aeration and overseeding ideally performed in the fall
Reason for the Season: Late Fall
Fertilization with bionutritional materials for optimum health
These are just some of the services that are included throughout the year, to give you a sense of how it's continually changing, based on the season.
If you partner with Oasis Turf & Tree, you're not paying us to apply fertilizer and weed control, you're paying us to take away the worries associated with your lawn.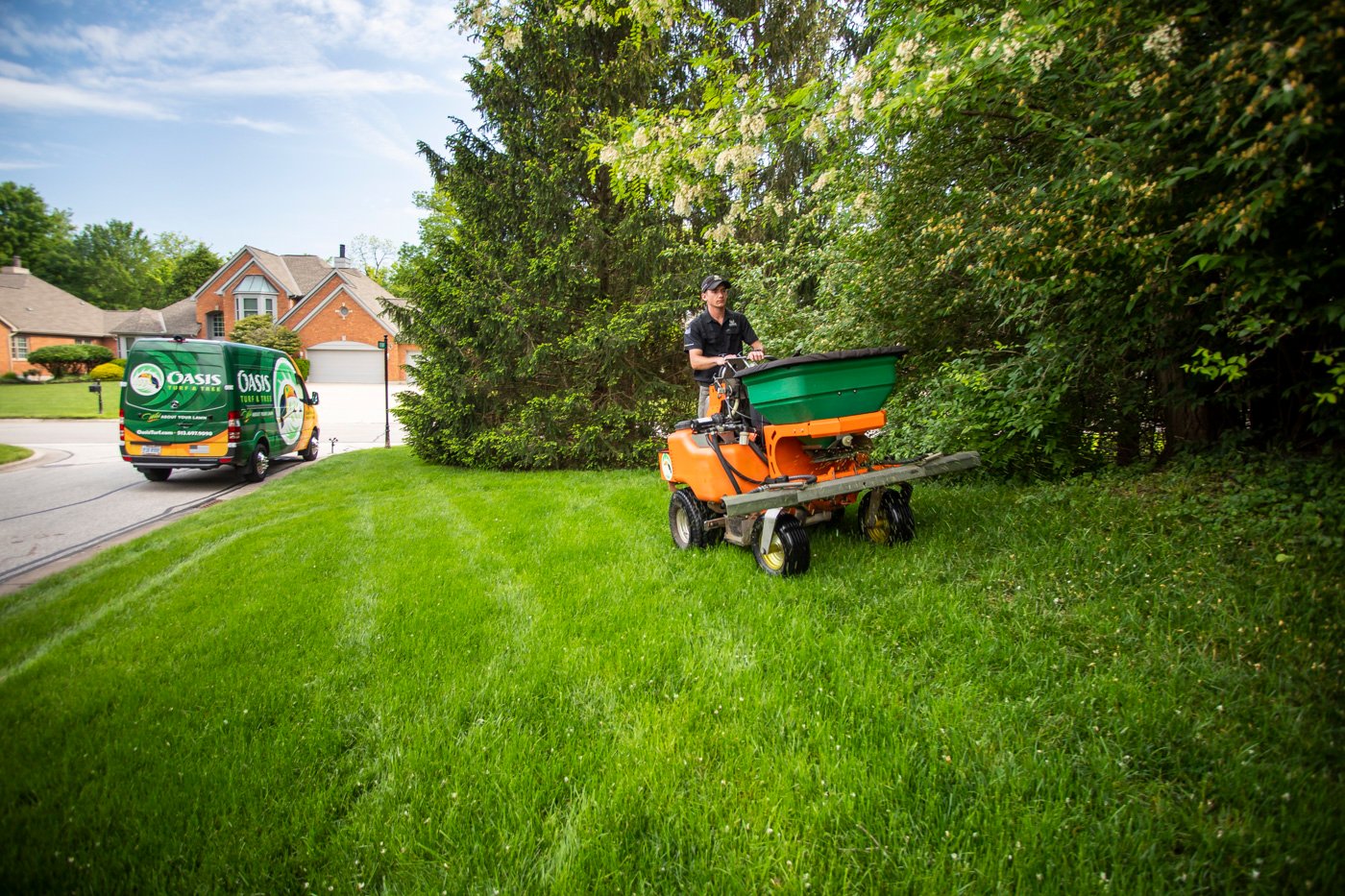 It's important that we're able to stay on top of these challenges at (or before) the time that they are occurring. If we were only coming out 4 times, there would be a lot of time left for worrying because a lot of things would be missed. Many of these items are weather-dependent and when performed too early or too late, they are a waste of your investment.
With Regular Visits, Problems are Spotted Early
Of course, there's another important reason for 6 visits (as opposed to anything less), and that's the fact that it allows for a professional eye on your property more regularly. That's critical because it means problems can be spotted (and treated) early before they become serious.
Even with coming out 6 times throughout the year, your lawn care professional will still urge that you help in being our "eyes" in-between visits. We always want to hear from homeowners at the first sign of a problem.
Fertilizing Too Infrequently is Detrimental
Lawns perform better when "spoonfed" what they need in proper increments. But companies that try to only come up 3 or 4 times (or homeowners who are trying to perform fewer DIY treatments) may be applying too much fertilizer at once.
That could actually create disease problems, particularly in the summertime when too much nitrogen might aggravate fungal growth. Spacing out the lawn's nutrient needs is a much better approach.
Choosing What's Best for Your Lawn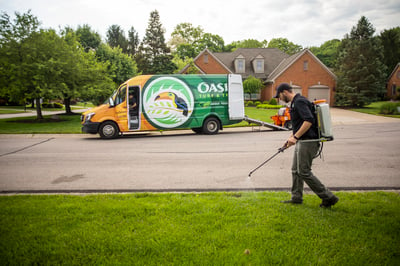 The ultimate goal of lawn care treatments should be to build a healthy turf. After all, a thick and healthy turf is the best defense against weeds and other challenges.
But this can only be accomplished when the proper timing of all of the agronomic practices associated with proper lawn care are taken into account. A program that only includes 4 lawn care treatments is going to struggle greatly to achieve this.
Instead, by choosing wisely, you can avoid unmet expectations. At Oasis Turf & Tree, we are committed to providing your lawn with exactly what it needs to thrive. That means switching up products and services as the year goes on in order to truly take away your worries and give you peace of mind that your lawn is in good hands, all year round.
Want to stop worrying about what lawn care services your Cincinnati, Dayton, Ohio, or Northern Kentucky lawn needs and at what time of year? Request your quote, choose the lawn care program that's right for you, and then sit back and relax knowing your worries are being taken care of.