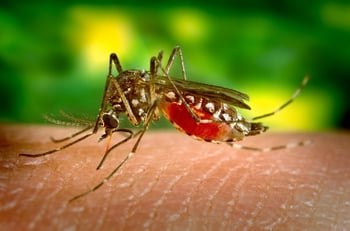 Mosquitoes, just hearing the word makes you begin to itch. Your backyard should be a relaxing place after a hard day's work, but the last word that anyone would use to describe a mosquito-infested backyard is "relaxing."
Are mosquitoes anything but a nuisance? Are there real health risks? Is there anything that can be done to get rid of mosquitoes on your Cincinnati property, and what's the best way to safely protect you and your family?
Why Are There Mosquitoes in Your Yard?
Mosquitoes hatch from the smallest moisture sources such as the tiniest of ground puddles, bird baths, flower pot trays, and even low sections of rain gutters above. They spend the majority of their time in cool, damp parts of your property including the undersides of leaves, low tree limbs and under decks to keep from drying out from the summer heat.
When adult mosquitoes detect the carbon monoxide you're exhaling from your chaise lounge, they begin to make their aerial approach to feed.
What Diseases Can Be Transmitted by Mosquitoes?
Mosquitoes are annoying pests that can ruin your outdoor experience in almost any setting. For the most part, mosquitoes are merely a nuisance, but in some cases, they can also transmit diseases. It's important to understand the risks that Mosquitoes pose in your own backyard. Don't underestimate this foe!
According to the Ohio Department of Health, mosquito-borne diseases that may occur locally include:
Eastern equine encephalitis virus (EEEV)

La Crosse virus

St. Louis encephalitis virus (SLEV)

West Nile virus
Other mosquito-borne diseases that may be imported into Ohio via travel include:
Zika virus

Dengue

Malaria

Yellow fever
What is The Best Way to Control Mosquitoes?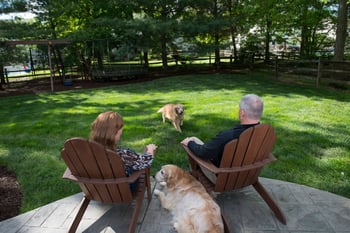 Mosquitoes are weak flyers, landing a few times on their journey to their next meal. This flight pattern creates an effective opportunity for control.
To control mosquito populations around your home, it's important to (1) identify and eliminate mosquito larvae in breeding sites while also (2) initiating a mosquito control strategy that also targets the flying adults.
A comprehensive mosquito control strategy can not only drastically reduce the nuisance that these pests pose but also their ability to be a disease vector in your backyard.
Mosquito Control Options for Cincinnati Homeowners
Since controlling mosquitoes is essential to enjoying your outdoor space and preventing potential health concerns, let's take a look at what you can do to minimize their impact on you and your family.
Here are a few popular mosquito control systems for your Cincinnati home that are easily found online. Some of these measures may help but have certain limitations. Therefore, consider if they should not be your only choice for mosquito control tactics.
1. Citronella Candles And Mosquito Coils
Citronella candles and mosquito coils work by producing a scent which repels mosquitoes. These have become increasingly popular over the years, but their range of effectiveness is small. Because of this, we recommend using citronella candles in addition to (and not to replace) mosquito treatments.
Since both candles and coils release smoke, there's also concern about how safe it is to regularly breathe in the smoke while sitting nearby. Candles and coils can be helpful, but are minimally effective.
2. Mosquito Lamps And Lanterns
These devices use butane heaters or candles to warm up pads that contain the insecticide allethrin (also used in mosquito coils). These products claim to offer up to 15 feet of odorless mosquito prevention and last anywhere from six to 12 hours depending on the product.
Mosquito lamps are only useful when you're sitting outside and are minimally effective. The repellants can be easily displaced by a light breeze. As soon as you step outside of the safety zone, you're a target again.
3. Mosquito Traps
Mosquito traps typically run on propane and batteries, and the idea is to lure mosquitoes into the trap. They're supposed to run 24 hours a day, seven days a week.
It takes anywhere between seven to 10 days to see a difference, but it can take up to four weeks for you to see any noticeable results. The downside to mosquito traps is that they don't take effect as quickly as other options.
4. Mosquito Misting Systems
Mosquito misting systems use spray products to eliminate pests from your backyard. Most systems are tankless or use a drum-based system that you can set on a timer. Misting systems target mosquitoes when they're already in the immediate area of an outlet, as opposed to targeting landing sites like trees and shrubs.
These devices work minimally and can also hit non-target areas that you don't want or need sprayed, which isn't ideal for most homeowners.
5. Treating Your Property for Mosquitoes
This is by far the most effective mosquito control option out there. Mosquito treatments involve treating mosquito landing sites with a product that will affect mosquitoes but that are safe for your plants, family, and pets. Mosquito control treatments target adult mosquitoes, and are applied around areas such as decks, and the vegetation near sitting areas such as shrubs, plants, and low tree branches.
Having a mosquito control service treat your property every 4-6 weeks will drastically reduce populations of flying adult mosquitoes.
What's the
Best Way to Get Rid of Mosquitoes?
The combination of some preventative measures and regular spraying for mosquitoes is the best way to get rid of mosquitoes.
Preventative Mosquito Control: Using a personal mosquito repellents and wearing protective clothing when possible will help to lower your chances of being bitten by mosquitoes. Reducing standing water areas around your home and placing a fan or two outdoors on your deck or patio may also deter the likelihood of activity.
Spraying for Mosquitoes: If you're like most homeowners, you may have concerns about the safety of using insecticides– especially if you have children and/or pets. But when used properly, mosquito treatments have proven to be both safe and effective.
As mosquitoes hatch and try to be protected during the day within plant leaves and other harborage areas, mosquito control products will control these pests on contact, drastically reducing their numbers.
A Great Local Option for
Backyard Mosquito Control in Cincinnati
At Oasis Turf & Tree, our mosquito control program consists of four applications that take place from late spring to early fall when mosquitoes are most active.
By applying our treatment every six weeks, we help reduce the existing mosquito population on your property by about 90 percent.
How Much Does Mosquito Control Cost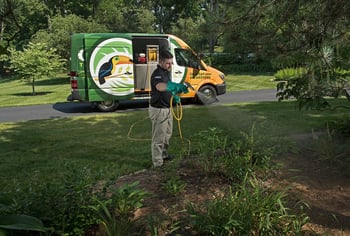 A mosquito control program can either stand alone, or you can bundle this program along with our perimeter pest control or tree and shrub program for only $30 more per application. This means saving you money while addressing other concerns on your property during the same visit to your home!
We've received lots of positive feedback on our mosquito control program. Customers who couldn't bear spending even ten minutes outside, are now enjoying their yards with little to no hassle from these pests.
Take back your backyard! Learn more about how Oasis Turf & Tree can help you get rid of unwanted mosquitoes on your property in either Cincinnati, Dayton, or Northern Kentucky by requesting a free estimate.