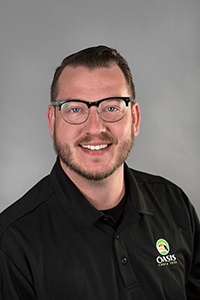 Having come from previous sales jobs at some larger corporate companies, Brian Myers says that he always felt like his opinions never mattered. Even if he had ideas that he thought could benefit the company, they were not welcomed. The places that he worked already had "their own way of doing things," and zero interest in hearing anything else.
Brian admits that left him feeling frustrated. He desired a workplace where there was mutual respect and where his ideas mattered. He wanted to be able to feel like he was part of a great workplace community—a place where he actually wanted to go to work each day.
"I think there are a lot of companies that take a 'my way or the highway' approach to business and that can be frustrating if you have ideas," says Brian, who has a Bachelor's Degree in Entrepreneurship & Small Business and spent a lot of time studying strategic business planning in school. "I have always wanted to work for a company that was growing and had potential growth opportunities for its people; A company that listened to employees as it grew."
Brian says that is what he has found with Oasis Turf & Tree.
"Here, your opinion really matters," Brian adds. "If you have an idea or a way to improve upon something, they listen. We have meetings and everyone gets heard. This is a company that values input from its team members. As a team member, I feel like I'm an active part of the company's growth, not just sitting on the sidelines or following orders."
A Totally Different Sales Approach
When performing sales for larger corporate companies in the past, Brian often felt like nothing mattered outside of the bottom line. He didn't even feel he was given the tools that he needed to succeed. It was all just "sell, sell, sell."
"My last position was a sales manager position and I lacked a lot of the tools that I needed to be successful working with customers," Brian continues. "There wasn't a lot of training or support—we just needed to sell as much as we could."
But that wasn't something that Brian even felt good about. It's hard to get behind sales jobs when you don't really believe strongly in what you're doing.
On the flip side, at Oasis, Brian says that when making sales we take a "mutually beneficial approach." Brian talks to customers about building relationships and long-term benefits of a lawn care program. Because it's easy to see how you're helping customers (and Oasis has thousands of happy customers to back that up), it's easier for salespeople to become passionate about what they're doing.
"We're not some giant corporation just trying to take homeowners' money," Brian adds. "We do honest work and we truly help the people that choose to work with us. Oasis is not just about the sale, which is kind of strange to say, coming from a salesperson. But, if we can't help the customer, we tell them, and even help find someone who can. That's pretty unheard of. But it's also why I'm able to feel so good about what I'm doing."
Oasis team members are also given the tools that they need to succeed.
"There is such a strong emphasis on training here, which is pretty uncommon in this industry," Brian says. "As a sales manager, myself, I'm also constantly looking at what tools my team might need to be more successful in what they're doing."
A Positive Work/Life Balance and More
Another thing that Brian admits to loving about Oasis is the great work/life balance—something that he says he lacked in other positions.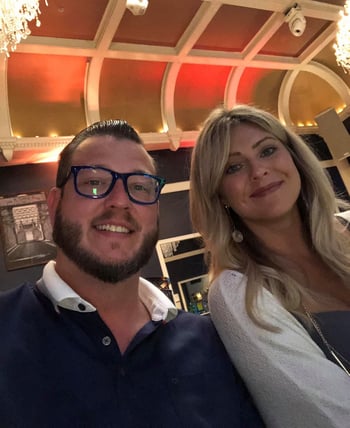 "At my previous position, I could see that all my regional managers were worked so hard—long hours with no real work/life balance," Brian recalls. "I didn't want that to be my future. I have a family and things I enjoy doing outside of work. I wanted to find a company that respected that."
Brian has found that with Oasis. He has also found a positive company culture so that when he is at work, he enjoys being here.
"Culture flows downhill," Brian continues. "If the only thing a company cares about is making money, and pay no attention to what the company culture is like, the employees suffer. It creates a miserable work life. When people don't get recognition, listened to, or appreciated, it starts to feel like a grind. You become a clock puncher. But that's not the case at Oasis. The company constantly promotes from within and presents opportunities to grow. They listen to your ideas. They even do fun things for us at work—parties, outings, and even attending industry events and training opportunities together. We are growing as a company and everyone is benefitting from that, not just the owners and managers. It's a true team."
Are You Ready for a Change from a Typical Sales Job?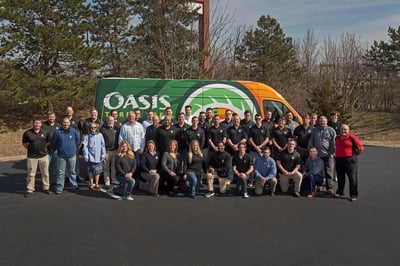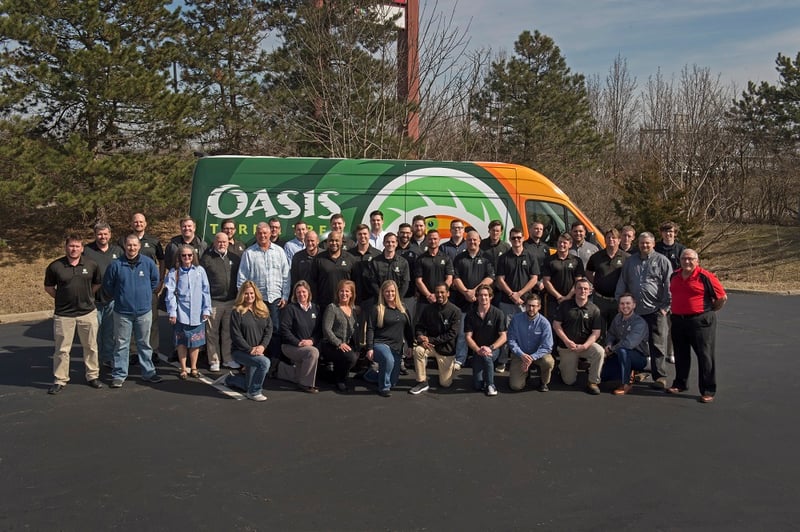 If you've been where Brian has been and gone from one sales job to another without finding a company culture that you could really believe in or embrace, then maybe you're ready for a change, too. Or, maybe you come from outside of the lawn care or landscape industry and you're just looking for a company that you can grow with. At Oasis, we are actively growing and we are seeking hard-working individuals to fill many roles on our team.
There are a lot of opportunities here and if you're ready for a positive change in your work life, then we invite you to find out more.
As Brian puts it: "We are adding thousands of new customers each year and have so much room for growth as a result of that. If you're someone who is looking for a true team atmosphere and a company that you can grow with, this is the place to find that."
Looking for sales jobs in Cincinnati and Dayton, OH? Consider joining the Oasis Turf & Tree team and find out more about how you can become part of the family at a place where you'll be able to truly grow.