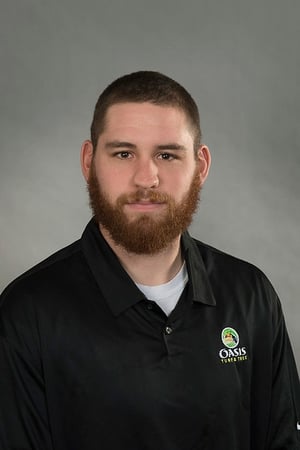 Nick Twinning has been working in the Green Industry in one capacity or another since high school. He even worked his way through college while performing landscaping work on the side. That has included landscape design/build, mowing, mulching, and more.
He knew that he enjoyed the industry and preferred being outside as much as possible. So, when he moved from Northwest Ohio to Cincinnati and was scrambling to get a job, he says he "found something quick," without much research or understanding about what he was getting into.
A Frustrating Prior Experience
Unfortunately, it soon became obvious that the job he had found was not going to be the right fit. In his haste to find something so speedily, he had landed in a role he was unhappy with and where he saw no opportunity for growth potential. Day in and day out, the job was a frustration that had him feeling like he was going nowhere.
"The biggest issues I was experiencing were just the lack of organization," Nick remembers. "They didn't always have a need and I wasn't even getting the hours I wanted. I'd be all ready to go to work one day and find out they didn't need me. It was incredibly frustrating. It wasn't a job that held any promise for the future."
Considering a Lawn Care Career at Oasis Turf & Tree
This prior frustration led Nick to revisit an ad for Oasis that he had noticed when he first moved to the area. So in early 2017, he applied and was hired as a lawn care technician.
Right away, Nick says that he could notice a difference between Oasis and the company he had been working for. For one, it was incredibly organized and more than just a "job" where hours would constantly fluctuate. It was a place where one could have a true lawn care career and that made him excited about the possibilities.
While there are lots of lawn care jobs out there, Nick says Oasis was clearly something different—something better.
Team Members Become Friends
"One thing that makes Oasis so different is the team atmosphere and the positive culture," Nick says. "Everyone here is friends. I think a lot of lawn care companies talk about that but it's not actually true that everyone gets along or likes one another. But here, we hang out outside of work, when we don't really have to. We all genuinely like being together."
Of course, that kind of camaraderie can feel intimidating to an outsider. When friendships and a close-knit bond are already established amongst team members, someone new might worry they'd be left out.
But Nick says that's not the case at all. Oasis is so welcoming to everyone.
"Honestly, the fact that I was new to the area and didn't have a lot of friends outside of work, or even know what to do outside of work for that matter, really made it nice for me to have this sudden group of friends," Nick says. "Everyone welcomed me from the very beginning and soon became the people I was hanging out with."
A Lawn Care Career Path
As someone who has shown a serious commitment to developing a lawn care career at Oasis, demonstrating characteristics such as leadership and drive, we have set a plan for Nick to work his way toward becoming a future service manager.
"We sat down and I evaluated myself, including what I felt comfortable with and areas that I needed to do more work on in order to move forward," Nick shares. "We talked about skills that might be lacking and what I would need to learn during the offseason in order to fill in the knowledge gaps in those areas."
Nick says he has been impressed by the clear career path he's been shown along with the support he's been given to ultimately move toward a lawn care manager job.
"The thing about Oasis is that they don't just talk about building a career path for you, they help support you in doing it," Nick adds. "They help you see what needs to be achieved to reach your goals and they help give you the confidence you need to make smooth transitions. You're not just thrown into something you can't handle. They want to see you actually succeed."
Are You Ready for a Lawn Care Career?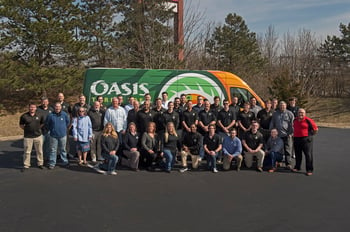 Nick says for anyone that is looking for a new career with an opportunity for growth, that Oasis just may be the ideal fit.
"We're growing rapidly as a company so there are continually a lot of opportunities for people to join us," he continues. "It's definitely worth exploring if you're someone looking for a new career."
He says that Oasis is not just a place for a job, but a place where you can see the possibilities for a long-term growth trajectory.
"My best advice if you're someone looking for lawn care manager jobs is to be patient and let Oasis mold you," advises Nick. "The longer you're here, the more you'll learn. I can confirm that. You just have to allow some time and be willing to put in the work. But you must also give the career a chance to grow. You'll never know what you're capable of doing or what Oasis is capable of doing for you if you aren't willing to put in the time to see it happen."
Looking for lawn care jobs in Cincinnati and Dayton, OH? Consider joining the Oasis Turf & Tree team and find out more about how you can become part of the family and achieve your full potential.