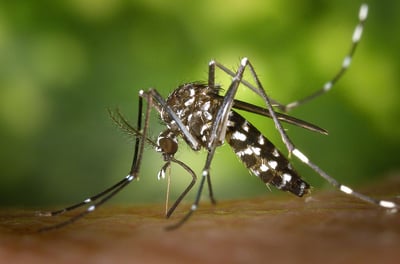 Mosquitoes are the worst. Not only are they a major nuisance, leaving itchy or painful bites on you and your family, but they are a danger too. That's because they can carry deadly viruses like Zika and West Nile. If you feel like you're getting eaten alive whenever you try to spend time outdoors, then you may have turned to an Internet search for mosquito services near me.
In order to get the best results, it's important to determine your best option. You might be trying to decide which mosquito control company to use. Do you go with the big name you've heard before? Or should you opt for the locally-owned business?
We understand that it can be easy to get overwhelmed by all of the information that is out there when selecting a mosquito service. We want you to be able to get the most possible enjoyment out of your lawn, while making a smart buying decision, so we created a guide to help you understand your options for mosquito control.
Cincinnati Mosquito Control
Services to Consider
Truth be told, Cincinnati mosquito control is a bit of a niche given the fact that it's a specialty service. However, you do have some different options when it comes to choosing a company that offers it.
Mosquito Joe in Cincinnati is a name that you've likely come across in your search. This local franchise is part of a large company. It began as a single location in the Virginia Beach-area but has since become a franchise system.
The company now has more than 125 franchise locations across 33 states. For as little as $30,000 start-up costs, almost anyone can start a franchise. This creates an attractive business model for small businesses looking for extra billable work during the spring and summer months.
Another option for Cincinnati mosquito control services is hiring a lawn care or tree care company. These local companies often add mosquito control since they are already treating nearby landscape and lawn areas on the property. Mosquito service additions have been very popular in this industry over the past 5-10 years.
Oasis Turf & Tree fits this category. At a quick glance of what Oasis has to offer, our services include lawn care, tree and shrub care, outdoor pest control (including ant, flea and tick control, perimeter pest control, and mosquito control services), aeration, and overseeding.
Oasis Turf & Tree vs. Mosquito Joe
In comparing Mosquito Joe Cincinnati to Oasis Turf & Tree, one of the biggest differences is the size of their customer base and their business model. While Mosquito Joe is part of the franchise system, Oasis is an independent business. Oasis services customers in only Cincinnati and Dayton, Ohio, as well as Northern Kentucky and its surrounding areas.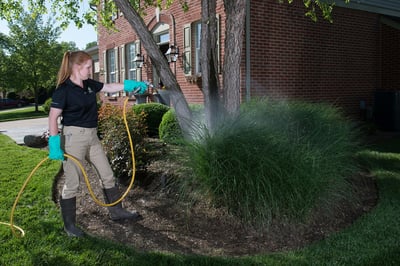 Time in business is another difference for the companies. Oasis was founded in 1996. Mosquito Joe was founded in 2009.
Another key differentiator between these two companies are the technicians who will actually come out and service your property.
Both companies are licensed to treat for mosquitoes. However, there is added value in hiring a company that can handle lawn care, tree and shrub care, and pest control needs. Because mosquitoes are not their only area of expertise, these technicians aren't your average joe schmo. They have a trained eye to spot other potential problems such as disease or even different types of pests that also may be feeding on your lawn or landscape—and they're going to know what to do about it.
Comparing the Mosquito Control Approach
The approach to mosquito control is another key difference between Oasis Turf & Tree and Mosquito Joe Cincinnati.
Mosquito Joe utilizes backpack blowers to spray the control product around the property. This opens up the possibility for more drift. A blower can be more prone to materials being taken by the wind. That means that product may wind up in non-target areas such as on your neighbor's property, in pools, and on windows.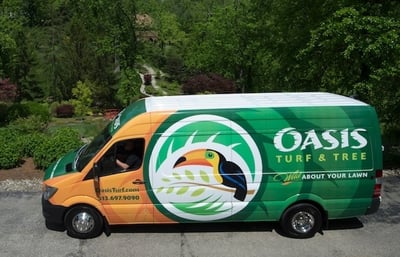 At Oasis, we treat the property using a truck-mounted system that delivers larger droplet-size liquid applications, which are much less prone to drift. As a result, we are able to target very specific areas of your property where we know mosquitoes are most likely to spend time for shelter while waiting to feed.
These mosquito habitats include shrubs, ornamental grasses, undersides of decks, and areas around patios. Every application is customized for the property and for your specific needs.
The number of applications is also a critical difference. According to Mosquito Joe's website, they offer two different options. The regular application schedule is every 3 weeks. Their organic application schedule is every 2 weeks.
At Oasis Turf & Tree, we perform 4 mosquito control applications, typically beginning in early spring and ending in the fall, spaced approximately 5-6 weeks apart. This timeline covers the full mosquito season, ensuring that your property is protected the entire time. We believe that anything more than this is unnecessary.
A Look at
Mosquito Service Cost
At Oasis, we believe that nickel-and-diming our customers for an extra need that may pop up goes against our company culture. While we perform four applications of mosquito control product, if you need a service call or a touch-up in between visits, that is not something we would charge for.
Since we are not a national company or tied to a franchise or chain, we are not pigeon-held into following a particular regimen when it comes to our program or our fees.
Oasis Turf & Tree Costs
Starting at $72 per application, based on square footage

Offers stand-alone mosquito control services or the possibility of bundling discounts if combined with some other services. If bundled with other pest control options, you can save a minimum of $164 per year

5 treatments throughout mosquito season (approximately May to September)
Mosquito Joe Cincinnati
Costs
$? minimum per application

Treatments every 2 to 3 weeks (this would mean approximately 6 to 11 treatments from May to September)

Even if the cost per application is the same as Oasis, the number of treatment visits will make it cost a lot more. Are that many treatments really needed?
Making an Educated Decision on Safety and Savings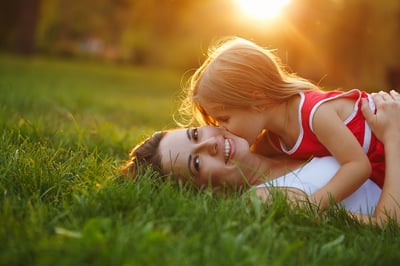 You want to be able to enjoy your yard instead of feeling as though you're under attack every time you step outdoors. For that reason, choosing a company that is going to offer effective mosquito control services is key.
Of course, you shouldn't have to spend an arm and a leg to be able to feel as though you are safe in your own backyard. You ought to be able to find a company that charges a reasonable amount while still providing safe and effective services for your investment.
By making the wise choice in Cincinnati mosquito control services, you can the battle against these troublesome pests. That means you'll truly be able to enjoy your time outside. When you say goodbye to mosquitoes you can let go of the worry of getting ripped off as well.


If you'd like to learn more about mosquito control for your Cincinnati, Dayton, OH, or Northern Kentucky home, call us at 513-697-9090 or get your quote online and help us find the program that is best for you, then sit back and relax.
Image Sources: mosquito