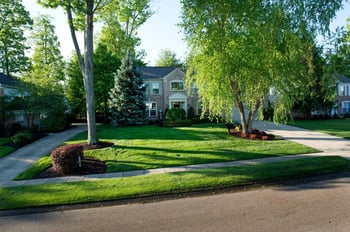 Switching lawn care companies may seem like the last thing you feel like doing, but if you are unhappy with your service, it might be time to take the plunge and set yourself up with better service for next season. Whether it's because your lawn care company didn't return your calls, performed sloppy service, or just left you with less-than desirable results, it's worth the trouble of choosing a new lawn care company that can better meet your needs. There is no reason to continue to be unhappy when better service is out there.
We know that making a change takes some time and effort on your part. Regardless what time of year it is, researching companies can take some time. We put together this handy guide to help make the process a bit easier. Ultimately, your goal is to find a lawn care company that is exceeding your expectations so that you don't have to go through the work again. Instead of having to regularly switch companies, you'll be set.
1.
Finding Lawn Care Companies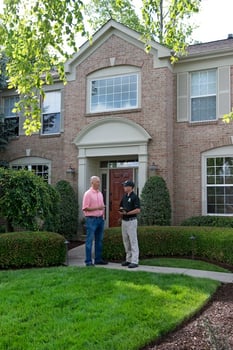 A common reason homeowners might stick with a lawn care provider they're not happy with is the feeling that all companies are created equal. It might sound like a burden to research other companies only to end up having the same complaints. It may even feel confusing trying to figure out how to begin the research process. But it's absolutely worth the time and effort. Better service is available, but you are going to have to do a little research to find it.
There are a lot of lawn care services in Northern Kentucky, Cincinnati, or Dayton, OH. In fact, we've written honestly about the best lawn care companies in Cincinnati, Dayton, and Northern Kentucky who we think are doing good work. Though there is no shortage of companies to consider, choosing a lawn care company can't just be done at random or even simply based on lawn care service cost if you expect to find a company that's going to give you a great return on investment and deliver at a high level. Otherwise you may find yourself back in a vicious cycle and ready to go through the whole process of cancelling again.
Here are some important things to look for when choosing a lawn care company:
Here are some things to avoid when choosing a lawn care company:
2.
Choosing a Lawn Care Company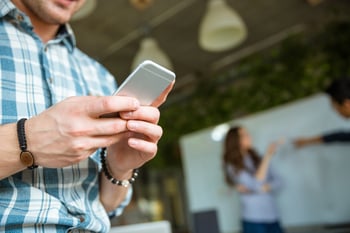 As you do your research and narrow down your choices, you'll likely want to call the lawn care companies you're considering. Simply from talking to a salesperson you'll likely get a sense of what the company is like. Are they pushy? Are they knowledgeable? Even some of the most basic questions about their services will likely lead you to get a feel for the company culture.
Sometimes getting on the phone with a company can feel daunting. You might not know what to ask or what to expect out of the call. To make the process a bit easier, we've created some important talking points. In addition to discussing the specifics that are important to you, be prepared to ask some telling questions. Going through these questions with a lawn company you're considering will provide you with helpful insight.
Ask these questions when choosing a lawn care company:
What kind of fertilizers do you use, and how will you help the health of my lawn's soil?

How do you address weeds that are harder to control?

What specific treatments are included on each of your lawn care visits?

How will you address the specific challenges I've had with my lawn?

What is your guarantee?

Where can I see examples of your work in my area?

What does your company do in regards to on-going training of your team?

In what ways will your company communicate with me?

Do you offer convenient payment options?
Asking most of those questions gives you a point of reference if you are in fact comparing lawn care companies fairly. Pay attention to whether the sales representative sounds knowledgeable or whether it feels like they're just telling you what you want to hear. It's fine if you don't have all of the answers yourself, you can still tell a a lot by how concisely and specifically the representative answers your questions.
We would hope lawn care companies in our area were above it, but we have heard stories of customers being lied to. Most commonly, they tend to tell you what it is they think you want to hear--even if it's a flat-out lie. Even if you don't understand everything about the lawn care program, asking specific questions helps you get a sense of whether you're talking to a knowledgeable company, and if their representative is just trying to sell you or helping you to make an informed decision. A good company will tell you what you need to know, not just what you want to hear.
When you're confident you've narrowed down your choices and have found the best lawn care company in Northern Kentucky or Ohio, ask them to get started with your program and move on to the next step, cancelling your existing lawn care service.
3. Canceling Lawn Care Service
Now that you've done your homework and you are going to be switching lawn service companies, it's time to make it official. Either before engaging with, or immediately after hiring a new lawn care company, contact your existing lawn care service to cancel.
Even if you've pre-paid services for the current year, your existing lawn care company is required to refund any remaining funds to you and you are not bound by any contract.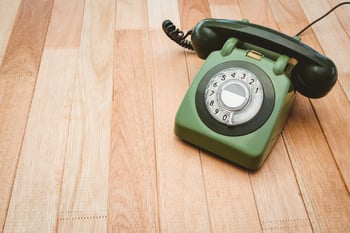 It all sounds so simple but sometimes making that call can feel intimidating. Be prepared that the company may put up a fight to keep you. But remember the reasons you were canceling in the first place. You've given your lawn care company multiple times to make things right already, and they've fallen short.
Be leery of lawn care companies who are suddenly willing to drop their price just to keep you on board. Trust your instinct to cancel. If the service was subpar, it's not going to suddenly improve just because you've said you want to cancel and they've lowered their price. If anything, a lower price may only incentivize a commission-based technician to perform at an even lower standard. Plus, you must ask yourself: If they were able to offer that price all along, why didn't they?
You should also be aware that some lawn care companies might ignore your cancellation request. We have heard stories of customers who have cancelled their service with a competitor only to have them show up next spring as though nothing had transpired. Ask for a cancellation number or for an email address. Then email the company you're cancelling with to confirm the cancellation and ask that they reply. Keep a copy of that email on file so that you have written proof.
Once you've cancelled your existing service, you can go about hiring a lawn care service in Ohio or Northern Kentucky.
The Oasis Difference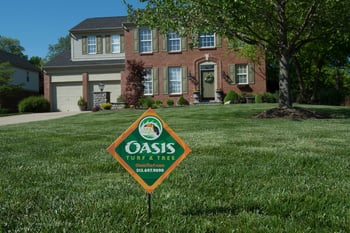 At first glance, a lot of the lawn care companies in our region might seem alike. But once you really start to do some research, ask the important questions, and compare companies in our area side-by-side, we think you'll easily be able to see the Oasis difference.
Unlike other companies, we follow a detailed process that delivers superior results on each of our lawn care visits. We use the highest-quality products in our lawn care program which uses bio-nutritional fertilizers that promotes better soil health. This allows the lawn to function the way nature intends with less problems in the long run, all while being diligent to combat the weeds and insects that mean to do your lawn harm.
We also put a very strong emphasis on customer communication and satisfaction. Keeping you informed about what we're doing, with personalized communication with your technician, is a top priority.
When all's said and done, we know that you're looking for a lawn care company that offers you the best value for your investment, with superior results. As a company that has your best interest at heart, that's exactly what Oasis has to offer.
If you're considering making a switch to a better lawn care company in Cincinnati, Dayton, or Northern Kentucky, we can answer more of your questions. Feel free to contact us or or call us at 513-697-9090.
Image Sources: phone, phone and notepad,