Lawn Aeration Services in Cincinnati, Dayton, Ohio & Northern Kentucky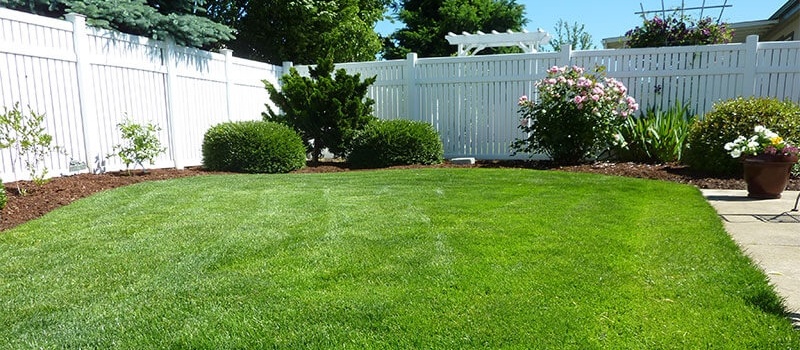 Your lawn is so much more than what you see above the surface! One common reason that lawns deteriorate and struggle to be thick and green, is due to compacted soil. A strong and developed root system is essential to help your lawn take hold of what it needs to thrive.
Grass roots grow and seek out not only moisture, but nutrients and even oxygen. If your lawn's soil is compacted, roots cannot grow deeply into the soil for these essentials. What ends up happening, is a lawn with compacted soil turns brown, thin, and just plain ugly. Compacted soil is also a favorite place for a lot of weeds to grow as well.
The best way to remedy compacted soil is with lawn aeration services. A piece of small machinery (called a core aerator) travels across your lawn, pulling small cores of soil (½" in diameter and 2-3" long) and depositing them on the surface. After a couple weeks, these soil cores naturally break down.
Core aerating your lawn annually will help your lawn in the following ways:
Increases root growth to seek out more moisture and nutrient resources

Allows for better drainage, so grass roots don't rot in waterlogged soil

Establishes an oxygen-rich environment where

soil microbiology

can better thrive

Improves tolerance from wear, drought, disease, and other stresses

Aids in thatch breakdown

Gives ideal conditions for

lawn overseeding
Why to Choose Oasis Turf & Tree for Your
Lawn Aeration Services
You could try your best to rent a core aerator.. However, this machinery can be difficult to operate and isn't always easy to secure on the weekend you happen to find free time.
Most lawn care companies in Cincinnati, Dayton, Ohio or Northern Kentucky provide lawn aeration services. Some offer aeration at a highly discounted rate, due to the fact that they are taking half measures when performing it. But here at Oasis Turf & Tree, we take a few extra steps to make sure you get the most bang for your buck when aerating your lawn.
When our lawn care technicians aerate lawns, they utilize a superior ride-on lawn aerator. This equipment pulls deeper, and more cores from your lawn than traditional walk-behind units. Plus, our standard procedure for lawn aeration services is to do not one, but two passes across your lawn! That means more holes, less soil compaction, and better results!
Lawn Aeration Pricing
We would be happy to provide you with a free estimate for lawn aeration services. This valuable service is completed in conjunction with our lawn care program. Feel free to contact us for more details.