Rob Reindl
El Conquistador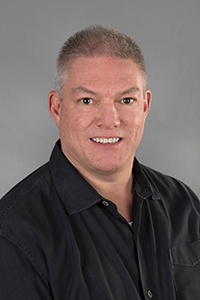 Rob's dad's entrepreneurial spirit of starting his own machine shop in their home's garage, along with his mother's affinity for gardening seemed like the perfect recipe to have Rob trade in his job in the financial services industry for starting Oasis Turf & Tree in 1996.
From childhood to his young adult years, Rob worked tirelessly at any assignment. From sweeping the floors of his dad's machine shop, to tearing apart equipment, to climbing smokestacks to clean lights or pumping gas, his mission was always one in the same, get the job done right, and have fun all the while.
That same fun-loving and hard-working man serves as El Conquistador of Oasis, a term that birthed out of his jest of being a pirate stealing away frustrated customers from other lawn care companies. But the adventure of adding new customers was only secondary to the true treasure that he found when creating a culture focused on innovative excellence for the benefit of their customers.
From a passionate pursuit for finding the secrets of a healthy lawn and landscape, to his continued dedication to developing our team, Rob's focus is all about what's the "best" of everything.
These "bests" reveal themselves in all we do as Rob leads our team to strive for:
The BEST service we can provide to our customers

Using the BEST products and methods out there

Finding the customers that demand the BEST for their properties

A team that wants to be their BEST every day

Giving the BEST value we can, starting with our BEST price first
Rob works hard and plays hard. He loves anything with a motor and wheels, spending time hiking on family vacations, throwing football with his daughter, and mountain biking with his son. He and his wife, Angela, are passionate about their local community and the great nation we live in and are thankful for the freedoms we enjoy each day from the valiant efforts and sacrifices of those who defend our way of life.
If you get a chance to talk to Rob, ask him about his family's latest weekend adventure and maybe if you're so lucky, he'll dust off that old unicycle and show you he still can ride.