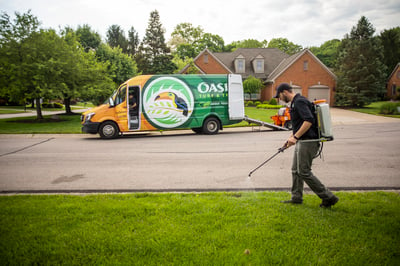 Your lawn is important to you and you likely want to do what you can to keep it looking its best. One way is by choosing the best lawn care provider. Of course, you may recognize that there are a lot of Cincinnati lawn care services out there, and choosing the best one might not be all that simple.
Spending some time comparing companies against each other is a great way to narrow down your choices and ultimately pick the best one.
When you perform a search for "Cincinnati lawn care services", you'll likely come across Cincinnati Lawn Services, LLC, which is the actual name of a company in the area. Given the fact that this is literally the search term many people are using to find companies, we know that could be an option you might be exploring.
To help you get started on your research, we've put together an article that compares Cincinnati Lawn Services, LLC to Oasis Turf & Tree.
Who is Cincinnati Lawn Services, LLC?
Whenever you research a company, the first thing that you should do is spend some time on their website. That's the easiest place to gather a lot of important information about the company that you're considering.
Speaking frankly, the trouble with the website for Cincinnati Lawn Services, LLC, is that it's incredibly simple (only one page), which made it difficult for us to gather a lot of information about them.
While the details were relatively limited, we did learn a few things about this company and how they differ from Oasis Turf & Tree. Let's look at some of the key differences.
They Have a Smaller Service Area
One thing that stood out is the fact that Cincinnati Lawn Service has a smaller service area than Oasis—and there's nothing wrong with that at all. However, if you live outside of their service area, you might not be able to work with this company.
At Oasis, we have grown as a result of customer demand. There have been requests for our services further out from our home base so we've deliberately acquired more team members and intentionally grown to accommodate that demand.
They Have More Services to Focus On
Another big difference is that Cincinnati Lawn Services offers a lot of different services instead of honing in on some specialities as Oasis has done. We know what we're really good at, which is why we focus on lawn care.
However, this company advertises offering mowing, garden maintenance, construction, and even snow removal. In fact, they have a tagline on their site that says "we can do anything you need!" But it's hard to be an expert in everything.
There's No Way to Know What (or Who) You're Getting
When people visit a website prior to hiring a company, it's usually to get to know the company and its employees a little bit better. People value the opportunity to see who they might be working with.
However, Cincinnati Lawn Services has no information about their team, even on their "About Us" page. They have some photos of their team at work but there are no names or information. In fact, they don't even have information about their management team, including who owns or runs the company. There are just a lot of unknowns which can be frustrating for the homeowner who is trying to be an educated consumer.
Comparing Online Reviews
Online reviews are another great way to compare Cincinnati lawn care services. With reviews, you can get a sense of what past and current clients have to say about any particular company and its services.
When looking at reviews, you should look at both the number of stars that the company received (on a 5-point scale) as well as how many people have reviewed the company.
Maintaining a high rating with many reviewers is more challenging than maintaining a high rank with just a few reviews. A 4-star and up ranking is good, though ideally, you want to find a company with at least a 4.5-star rating.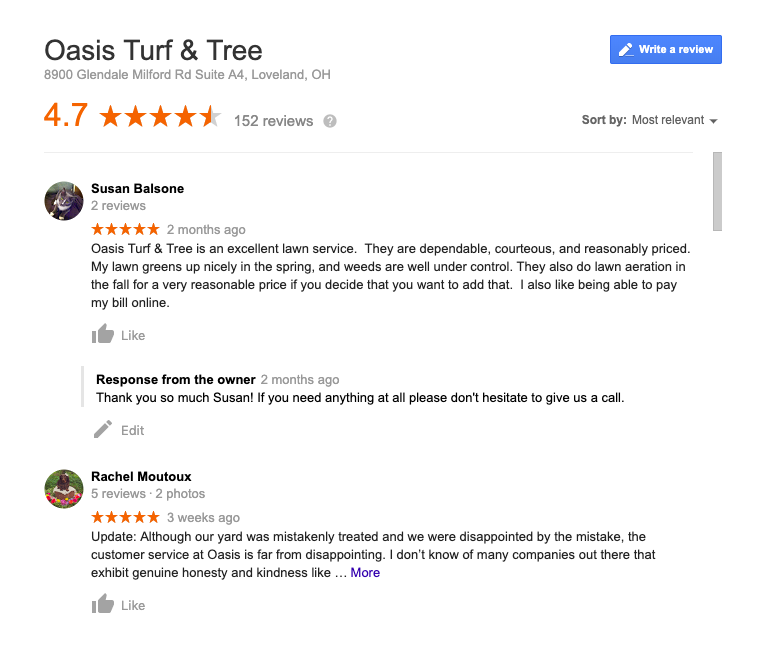 Let's take a look at Cincinnati Lawn Services, LLC vs. Oasis Turf & Tree.
Cincinnati Lawn Services, LLC Reviews
Google: 3 reviews; 4.0-star rating
Facebook: 5 reviews; 5.0-star rating
Unfortunately, similar to their website, there is not a lot of information out there on Cincinnati Lawn Services, even when it comes to third-party review sites. They seem to only have had a few reviews written about them.
Without a doubt, the biggest concern about this company is just the lack of information out there. It's hard to say much about them when there's such limited information.
Making Your Educated Decision
We commend you for your effort to research companies before making a decision on Cincinnati lawn care. However, we understand the difficulty in performing this research when there's such limited information on this company.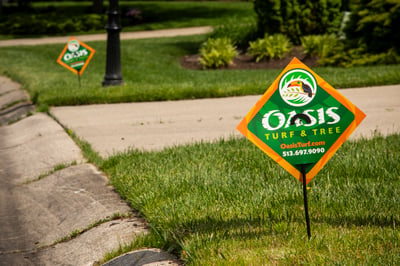 While they could end up being a fantastic service provider, there's just a lot of uncertainty.
Ultimately, we know that you're looking for transparency when it comes to making a decision to invest your money in Cincinnati lawn care.
You want to be able to feel confident that you've made a wise choice which is exactly why you're putting in this time at the forefront to "do your homework" and compare lawn care companies in Cincinnati and the surrounding areas.
With all the work that you're putting into researching companies, you deserve to get the best. Don't risk your lawn care services being subpar because you chose a company that you know nothing about. Invest in lawn care that you feel confident is going to get you the best results.
Want to learn more about lawn care services for your Cincinnati, Dayton, Ohio, or Northern Kentucky home? The process is easy! Request your quote, choose the program that's right for you, and then sit back and relax as the local pros help you get the lawn of your dreams!