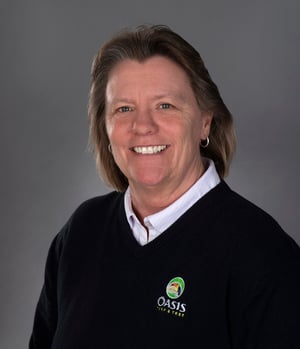 It would be fair to say that a passion for the Green Industry is in Angie Bradley's blood. Having grown up on a farm in North Carolina, working outdoors just became part of her natural instincts, Angie says. Though at one point she planned on becoming a pilot, she ultimately found that her love of the outdoors could be a successful career path that would use her skills while being wholly fulfilling.
"I remember coming home from ball practice one day and seeing a technician fertilizing and it just clicked that this is something I could do to get paid," recalls Angie, who started working on the family farm at age 6. "As a teen, I ended up applying with a national lawn care company and working summers for them. I immediately saw the connection to some of the work I'd done on the farm. I knew then that I wanted to stay in a career that would keep me outdoors, working with people, and solving problems."
That was in 1985 and Angie has been in the industry ever since. She earned a degree in Turfgrass Management from Michigan State University and had a number of roles that took her everywhere from Colorado to Chicago to New York. She's worked for full-service landscaping companies as well as lawn care focused companies—and she's handled everything from customer service to production and recruiting.
Angie also spent a lot of time working in the field and says that there is nothing quite like being able to witness the transformation of a lawn thanks to a combination of hard work and the application of knowledge and skills.
"You're making a difference and that feels good," she says. "I like being out in the field and over the years I do think that's shocked some people. They expect me to be in the office. But I started as a technician and worked my way up just like anyone else. At times I've had challenges getting people to understand I have just as much knowledge and experience as my male peers. Fortunately, that's changed a lot in recent years and there's been a lot more acceptance."
Bringing a Positive Energy to Oasis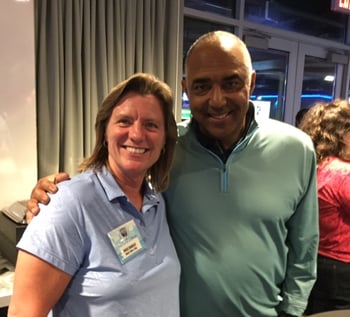 After many years in the field in various roles, Angie joined our team at Oasis Turf & Tree as our Chief Operating Officer. She oversees all of our production as well as employee training.
"I've developed some really strong bonds here," Angie says. "It's an amazing team. Having the opportunity to work with the team one-on-one and share my knowledge has been my favorite part about my role. I have so much passion for this industry and love the idea of passing that on. It's my goal to lead by example. But perhaps most gratifying of all is to watch people that I've brought into this organization through recruiting make an impact and start to advance their own careers. There's nothing more rewarding than seeing people achieve both personal and professional growth."
Angie has a unique way of contributing positive energy to the workplace and the team absolutely feeds off of that. Her level of care and devotion has always gone above and beyond and the team here at Oasis reciprocates those feelings. In fact, our lawn care technicians have come out to support Angie in a number of her community service efforts she's been involved with.
A Passion for Veterans in the Community
Those community service efforts are as much a passion of Angie's as the Green Industry is and she's incredibly involved on a local level.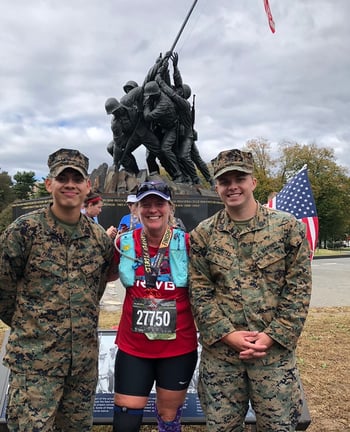 One of the places where she volunteers most of her time is with Team Red, White, & Blue (also called Team RWB), a nonprofit that supports veterans. Angie says that in her family, you either worked on the farm or you worked in the military. Though she didn't pursue the Air Force—which was actually because of an injury that would have made qualifying for boot camp at the time difficult—that passion for the military has never left her and she's found other ways to be involved.
"I had a very close friend who served in Iraq and went through so much and he ended up taking his life," Angie says. "He didn't know how to bridge that gap between military life and civilian life. He was lost when he got out. That's what Team RWB is all about. Helping people to bridge that gap and readapt. Nobody is left behind, no man or woman. We do lots of things from physical training activities together four times a week or more. We have book clubs. We cook meals. We go down to the VA hospital and we take vets out for walks and slow jogs."
Angie says this volunteer work has been "her purpose" and has helped her to cope with the loss of her friend.
"We have a buddy check system and we check in on people constantly," Angie says. "It's so important for them to realize they have a place and a purpose here."
Yes You Can...
Angie says that her work with Team RWB has helped her in her personal life and her career, too. She often applies what she learns at work.
"We talk about there not being such a phrase as 'I can't,'" says Angie. "Yes, you can. You can do it and we'll support you. These are concepts that apply at home and at work for me."
That's coming from someone who is currently dealing with her second bout of cancer but has continued to train for marathons. First it was ovarian cancer. Currently, she's in the midst of battling an aggressive form of melanoma that required a 7.5-hour surgery and chemotherapy. She's still taking immunotherapy which shocks a lot of the team who say, "how can you run six miles before work, still be the first one at the office, and you're going through all this."
To that, Angie tells them, "There is no such phrase as 'I can't.'"
It inspires the team who have been known to show up with signs when Angie's at a run or send her encouraging messages echoing her sentiment—"You can do it and we're here to support you."
Even as the pandemic struck and we encouraged Angie to work from home, she told us, "I have to be with my team." We've done everything we can to make the office safe for Angie as she has insisted on being here.
"My team is here so I need to be here," Angie says. "I tried working at home and I couldn't do it. I feed off their energy."
There's no question they feed off hers, too.
Are You Ready for a Lawn Care Career?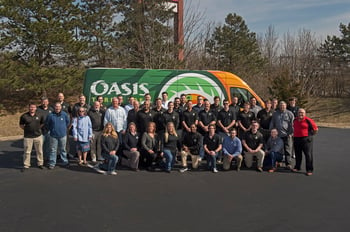 As the person responsible for our recruiting, Angie is always looking for new hires. Oasis Turf & Tree has been rapidly growing and with that growth comes a lot of opportunity.
Angie says that new hires should anticipate a "family-like atmosphere" and to become part of a team where there are people who really care about you.
"This is a very viable career path," Angie says. "It's constantly evolving and providing new growth opportunities. I don't think people always realize how big this industry is and how you can truly take your career to another level. Here at Oasis, we are providing safe green spaces and a healthier environment where people can enjoy time outside. It's something really rewarding to be a part of."
Looking for a lawn care career in Cincinnati and Dayton, OH? Consider joining the Oasis Turf & Tree team and find out more about how you can become part of our family.