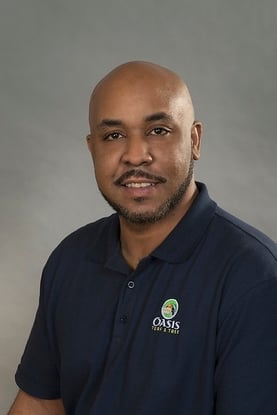 Tony Reeves will be the first to admit that prior to coming to Oasis Turf & Tree, he didn't even know lawn care was something that people invested in. He laughs about it today since he now calls turf a "passion" and says one of the most rewarding aspects of his job is following up with clients who have completely transformed their lawns. He says there's nothing like talking to happy homeowners who have seen the results of their investment pay off.
While he came in without a lawn care background, Tony says that right off the bat, he felt supported by the company.
"From the very beginning, I noticed that Oasis was committed to making sure I was well-trained," Tony continues. "I was a little nervous without having any experience or understanding what lawn care was all about but they helped me to overcome those fears. I could tell they wanted me to be successful."
Part of the Family
Reeves says it was the family-like atmosphere that initially attracted him to Oasis. He had previously done work in phone sales and enjoyed the customer interaction, but he was looking for a more team-like environment.
Since starting there, Tony says the company has delivered on his expectations.
"It really is the team environment that I envisioned it to be—and that's something neat to be a part of," he says. "We work toward a collective goal each week and it's very rewarding to be an individual but also feel you are part of something greater."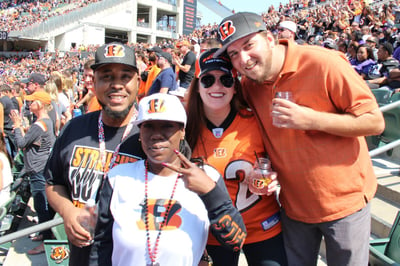 It's also nice to feel a part of the Oasis Turf & Tree family, Tony says, adding that some of his best friends are right there in the sales room with him. Interacting with people that "really care about you" on a day-to-day basis makes work an enjoyable place to be. Tony knows not many people can say that and he's grateful for it.
"You are not just a number here," Tony adds. "Oasis makes you feel like your efforts are truly appreciated and that you are an important part of achieving the company's goals."
"And it's not just hype", he says. "The people at Oasis, even the management, really do care. It's a place where you matter", and Tony says you don't find that too often.
Tony says he also appreciates how transparent Oasis is as that's not always the case when you work in sales. When looking for sales jobs in Cincinnati and Dayton, OH, Tony wanted to find a place that was unlike the others he had worked at. A place that exhibited transparency. He found that in Oasis.
"Oasis is honest and straightforward as a company," Tony says. "They are transparent with everything from their goals to the way their payment and commission is structured. That might not sound like a big deal but in a sales position it's not that common—and it's very appreciated."
The Tools for Success
Tony says that he was given all of the tools he needed to be able to succeed with Oasis. It's a company that values licensing and Tony says employees are prepared 100-percent for any testing they choose to pursue.
"Oasis goes above and beyond to give their people the support they need," Tony adds. "We are given top-of-the-line tools and training and the owners put a lot of effort into giving us everything we need to be successful. There is such a strong culture of training and development and it's not just developing more sales skills but developing personal skills, too. I have always felt the company has encouraged me to grow as a person as much as I have as an employee."
A Positive Mindset Above All Else
For the management team at Oasis, it was Tony's positive attitude that really attracted them to him. After all, they know that you can teach lawn care to a new employee, but you can't fix a bad attitude.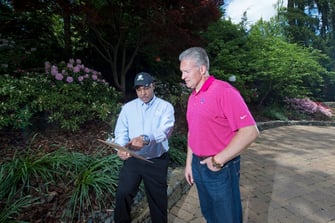 "What we liked so much about Tony was his positive mindset about coming to work every day," says Adam Zellner, VP of Sales. "That's something you need in a sales position where rejection is part of the job and Tony has that. He always has a positive attitude."
Company founder Rob Reindl agrees. He says that Tony's "drive" and his "desire to be the best at what he does" was inspiring. Oasis is always looking for positive people that will contribute to the company's culture.
"He's the type of person that's ready to come to work every day, and that's what we look for in a person," Rob says.
As far as Tony's initial lack of lawn care knowledge, that was a non-issue, says Rob.
Adam agrees.
"It might be nerve-wracking for someone looking for sales jobs in the Cincinnati area, who has never done this type of work before, to apply, but we want them to know the sky's the limit here," Adam says. "If they have a positive attitude and are ready to come to work each day, then we can give them the rest of the tools they need to succeed."
Want to Join the Team?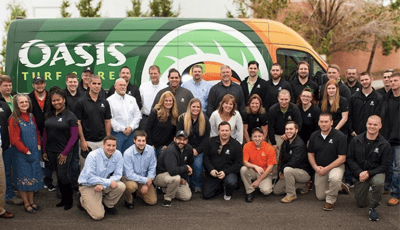 If you are someone who is searching the internet for "sales jobs near me" and have a positive attitude and a strong work ethic, then we invite you to consider a job with Oasis. We are always looking for the right folks to become part of our family.
Is that person you?
If you think it could be, don't let a lack of background in the lawn care industry hold you back. Like Tony, in a short amount of time, the right training can have you well on your way to being a lawn care expert.

Looking for sales jobs in Cincinnati and Dayton, OH? Consider joining the Oasis Turf & Tree team, find out more about how to have not just a great place to work, but how to have a career that never feels like working a day in your life again!