Tony Reeves
Licensed Turf & Tree Specialist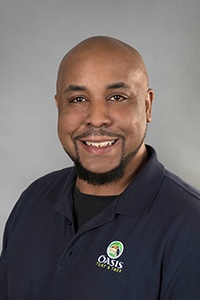 It was the interaction with ownership and management as well as the family atmosphere of the workplace that first attracted Tony Reeves to Oasis Turf & Tree. Tony is from Kentucky and says that Oasis is the only place he has ever worked in the great state of Ohio.
As our Senior Turf and Tree Specialist, Tony gets to know a lot of our customers as well as their properties. He says it's his patience, understanding, and compassion that helps him really succeed in his role. He has a great knack for putting himself in other peoples' shoes in order to truly understand and address their concerns.
Tony says that if he could help customers to see any one thing about Oasis Turf & Tree it would be how the company always puts the customer first. Oasis is committed to giving each and every customer the best service possible!
In addition to being passionate about turf and trees, Tony says he also really enjoys spending time with his family and listening to music. He is an avid sports fan and loves catching a game when he has the chance.
Certifications:
Ohio Department of Agriculture Applicator License