Richard Mann
Licensed Lawn Technician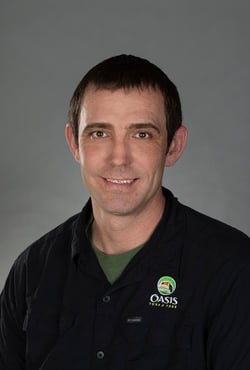 Having worked in lawn and landscaping in one capacity or another since 1999, Richard Mann knew that he loved the industry—and being outside—but he just hadn't found that ideal place to work. That is, until Tim Strobl, one of our service managers, encouraged him to come check out Oasis. Like Richard, Tim had also been working in the green industry for a long time and seeking a place where he could build a career when he came to Oasis.
Richard discovered right away that Oasis was different. Everyone was so friendly and caring—but even more important, he sensed that the culture was different. There was a positive team environment, the exact opposite of the workplace he'd just left where there was constant stress and micromanaging.
Richard says, "No matter where I've been, I've always tried to do my best for the customer and to give them the highest quality job, possible. Finally, I've found a place where I'm supported in those efforts."
After a lot of searching, Richard says that he's happy to have found a place where he feels "at home."
Outside of work, Richard is kept busy as a father of four children. He also enjoys computer gaming as a hobby.