Randy McGee
Lawn Care Technician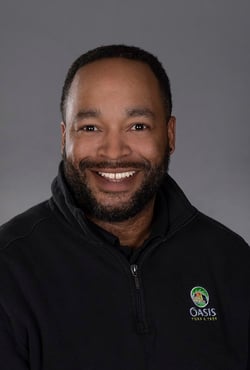 Having found out about Oasis Turf & Tree from a friend who already worked here, Randy McGee was intrigued. It's difficult to find a place to work where the team really does work as one—and where people enjoy coming in each day. But Randy says that since coming to work here himself, he can attest to the fact it's true.
"There's a real camaraderie here that is hard to find," he says. "I really do love the people I work with."
Randy says that he also takes a lot of pride in the work he does for customers' lawns. He says it's rewarding to see lawns transform over time.
"We spend a lot of time training and seeking new information," Randy says. "Whether it's learning about different weeds and how to identify and treat them or it's just learning about best practices, we're always looking to learn more."
Outside of work Randy spends his free time with his family which includes his two young children.