John Hennies
Licensed Lawn Technician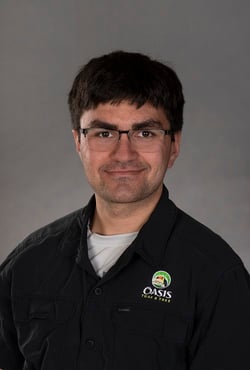 John Hennies isn't new to the lawn care industry—he once worked for a national chain. But he's new to working for an independent, family-owned business—and he loves it.
"You're not a number here," John says of working for Oasis Turf & Tree. "The management team really does care about you and want the best for you. They invest a lot into education so that we can always be improving."
John says that he wants customers to know the Oasis team is always available to answer questions. In fact, they pride themselves on being able to help customers in any way they can.
"I also want customers to know it's not an overnight process, but if you give it time, your lawn can really be transformed," John adds.
When not at work, John enjoys gaming, spending time with friends, and playing cards. He says he rests up on the weekends so he's fresh and ready to work hard during the week.