Hes Coolidge
Fleet Manager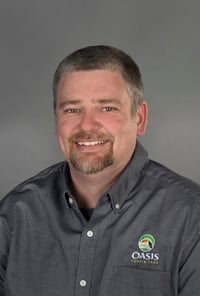 Coming to work for Oasis has been a far cry from the strangest job Hes Coolidge ever held, which was mixing pet food in a granary at an animal farm. Hes says he learned a lot about grains and seeds that went into animal feed—and that parrots love hot peppers. But working with animal feed was not his calling and he has become passionate about the lawn care industry.
Hes was attracted to working for us when he saw that Rob actually went out on jobs and worked with his crews. He was impressed by the family-like feel of the company and today it's that family environment that he still loves most about Oasis.
Hes says that one of the things that makes him great at what he does is his passion for learning. He's also always up for tackling a good challenge. When he's not on the job, Hes can be found four-wheeling in the woods of Kentucky.
Certifications
Tree and Shrub, Lawn, L.T. Rich