Brian Myers
Licensed Tree and Turf Specialist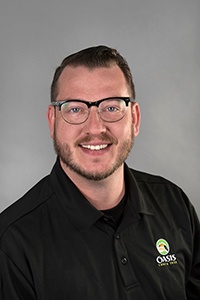 Brian was attracted to Oasis Turf & Tree because it's a smaller, family-owned company. Not to mention his schooling background of studying strategic business planning and earning a bachelor's degree in Entrepreneurship & Small Business, also drew his attention towards Oasis.
Brian comes to Oasis with a background in sales, but his most interesting job was bartending – bar patrons always kept the nightshift exciting! Now that he's been with Oasis for some time, he enjoys learning the most. "From the sales process, to products, actual lawn treatment process, and how we try to differentiate ourselves as a company…it's been a great learning experience so far," states Brian.
What do you think customers would appreciate knowing about Oasis Turf & Tree? "The process of learning how we select products and the way they are made."
What are some personal touches you add to your work for Oasis to make it great? "Honesty. If you don't have the answer, say that, and let them know you'll find it. Also, being genuine."
When he does find some down time, Brian's hobbies include softball, video games, and spending time with his daughter!