Angie Bradley
Chief Operating Officer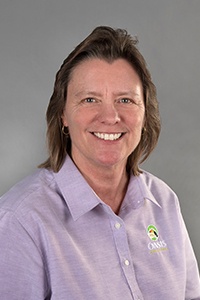 From the age of 6, working on the family farm in North Carolina, Angie Bradley had all things green in her blood. Her love of the outdoors and passion for teamwork took her literally all around the US working in roles from production, customer service, sales, and management.
Her love of a hard day's work, developing strong teams, and taking pride in providing quality experiences led Angie to be involved with innovative green industry teams from North Carolina, to Michigan, Colorado, New York, and now with her Oasis Turf & Tree team in Ohio.
You don't have to be around Angie for long to find out what makes her excited to work at Oasis and what's important to her. Even before her start with our company in 2013, she developed many core beliefs that has made her the valuable team member she is today.
Her own words speak to who she is:
"You get out of life what you put into it."
"Don't take shortcuts, they aren't worth it and nothing comes easy."
"To be successful, you need passion, and encourage those around you to be even better than you hope to be."
Angie thrives on constant challenges. There's always something new to learn and solutions to discover in our line of work. She helps to lead our team by keeping them organized to focus on important details, and working together to give our customers the results and an experience they deserve.
Outside of work, Angie enjoys spending time outdoors, pushing her limits with Crossfit and competitive obstacle course races. In addition to raising awareness to important causes to benefit veterans and children suffering from cancer, these competitions have helped to reinforce a lesson that Angie brings daily to our organization. "Obstacles in races are like those in life. You often can't beat them on your own. You need others to beat them."
We're proud that Angie's not only a part of our team, she's also a part of yours.