Adam Zellner
Vice President of Sales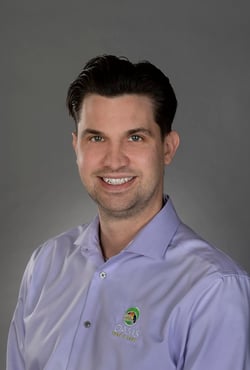 Adam Zellner has had a strong work ethic and a passion for the Green Industry since he was a kid. Those two things went hand-in-hand when Adam began a mowing route in Fourth Grade to save up for something he saw advertised in the Sunday paper. Even early on, Adam says he had an appreciation for a well-maintained turf, on account of golf being his primary pastime. While attending Miami University where he studied Economics and Political Science, Adam simultaneously worked at a local country club.
Adam says he heard about Oasis Turf & Tree before coming to work for us and it was the quality of service that attracted him to our company. He appreciates being part of something bigger than himself and says that Oasis is so much more than just a clock-in/clock-out company. It's a place where people actually love coming to work.
Since getting more heavily involved in the Green Industry and learning more about it over the years, Zellner says he has begun to realize just how large it is—and how proud he is to be a part of it. Adam says the more he learns, the more he appreciates it.
"It's rewarding golfing on the weekend and seeing something on the course and understanding what is causing it or why it's there," Adam says.
Adam came to work for us as a sales manager but today serves as the Vice President of Sales. His role in the company consists of overseeing sales efforts in order to grow Oasis Turf & Tree while also improving the customer experience.
"Without loyalty and positive feedback from our customers, we will cease to grow and be successful," Adam says. "This day to day challenge is what motivates me to find the next creative way to advance Oasis as the best company in the industry."
Adam says that every day he tries to interact in some way with as many team members as he can. He always wants everyone to have a smile and feel appreciated. He is a high-energy individual—and he says he wakes up that way!
"I wake up in the morning with the same energy and enthusiasm that I have all day," Adam says. "There is no warm-up time required!
When Adam isn't solving problems, or sharing his energy and enthusiasm at work, he's looking for challenges in his free time as well. He says he enjoys anything hands-on or that involves problem solving. He's also passionate about golfing, hiking, and yard work when he has time to relax.
Certifications:
Ohio Department of Agriculture Applicator License