Although she didn't grow up doing landscaping work or even working outdoors, Taylor Payzant says that when she graduated from high school, she knew that she was "ready to be done staring at a computer or sitting down all day."

Because of that, she was eager to find a job where she could spend time outside and move around more. That led her to take a job for a residential mulching company while also applying for potential tree care or landscaping jobs.

But she admits the path to a tree care career wasn't without its challenges.

As an 18-year-old young woman right out of high school, Taylor says she was met with some resistance. As soon as companies heard she was looking for a role on a crew—as opposed to answering phones or working in the office—she says the conversation usually ended. But that didn't deter Taylor from continuing to look.

That persistence paid off as she ultimately landed a career with Oasis Turf & Tree.
Met with Some Uncertainty
Taylor says that she knew college wasn't the right path for her—at least not right away. She says it may be part of her future. But she was ready to get into the workforce and to find a job that would "work both her body and her brain."

Taylor says she was drawn to the idea of a tree care career after watching her grandfather care for his property for many years. She also loved the idea of a job where she'd be "tired at the end of the day"—where she could end the day feeling like she'd completed a hard day's work.

"I wanted a job where I could feel satisfied that I'd accomplished something that day," she says.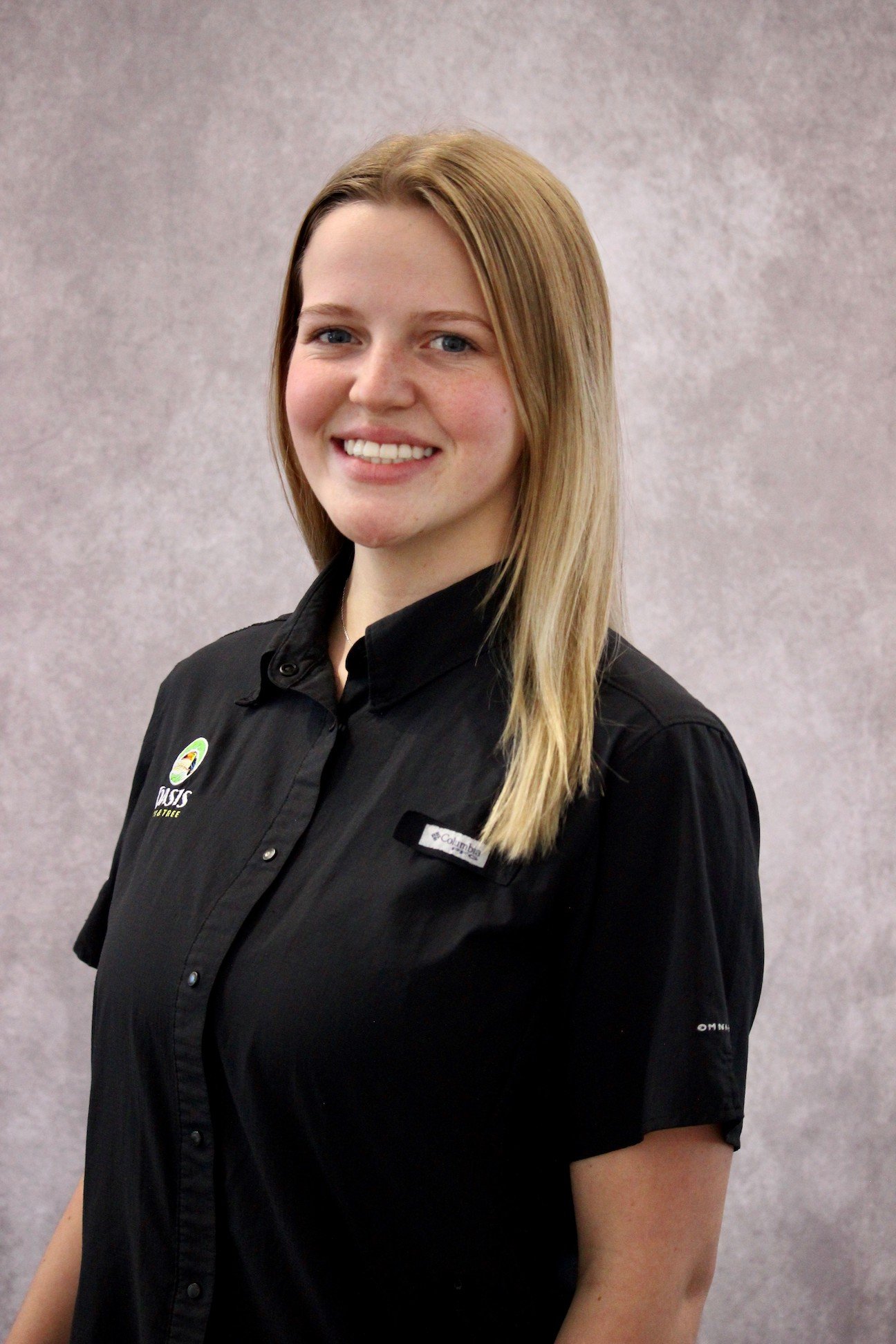 But Taylor says that being young, inexperienced, and female all seemed like hurdles standing in her way.

"I feel like I wasn't taken very seriously and I got turned down a lot," she recalls. "The phone calls I got in response to my resume never seemed to go further than that. It didn't seem to matter that I was really enthusiastic about learning and serious about wanting to go into this field. I wasn't even making it to the in-person interview stage. That is until I heard from Oasis Turf & Tree. They were the first company to actually bring me in for an interview."
A Tree Care Career with Oasis Turf & Tree
Taylor was hired and is one of our Tree and Shrub Technicians. What we immediately saw in Taylor was a strong work ethic and a willingness to learn—two of the main things that we look for when hiring.

With our strong emphasis on knowledge and training, we know that we can always teach what our technicians need to know about lawn, tree, and shrub care. But skills like work ethic cannot be taught.

"What we really appreciate about Taylor is that she was ready to jump in and learn from day one," says Adam Zellner. "She's very personable and she has a lot of confidence. She isn't afraid to ask questions when she doesn't know something."

Taylor says that even as a "newbie," she feels she's been embraced by the team.

"I love that Oasis has such a team-oriented mindset," she says. "When I have questions, someone is always willing to help."

In terms of where her strong work ethic comes from, Taylor says that's an easy one—her family.

"I grew up in a lower-middle-class home and we struggled at times but I certainly know there are plenty of people who have had it much harder than we ever did," she says. "I was always taught to be grateful for what I had but to work hard for what I want. My family members are all very hard-working people. I love learning, but I'm not really a books person. I am a hands-on learner and I like being out in the field and learning from others. That's why a tree care job has been perfect for me."
Enjoying Life Outside of Work
One of the things that team members often say they appreciate about Oasis Turf & Tree is that a strong work/life balance is embraced. Taylor says that when she's not at work, she enjoys being outdoors and hiking. One of her biggest goals is to one day hike the Pacific Crest Trail.


"I also enjoy hammocking, fishing, and taking my puppy, Ollie, to the park," she adds.

Taylor says that she has an artistic side and enjoys painting. She finds inspiration from plants and nature and takes a lot of inspiration from her job.

A lifelong native of Loveland, OH, Taylor recently moved into her first apartment—a place she found next door to a customer's home when she was there working one day. She says it was fitting that her first big job role also brought her to her first apartment.
Considering a Career with Oasis Turf & Tree, Too?
Finding a job with Oasis Turf & Tree was a great fit for Taylor.

"This career with Oasis has been a blessing," she shares. "I feel really lucky to have found this company—and only five minutes down the road from my childhood home. I love being part of the team but also having the chance to help people. It feels good that we're out in the field and helping solve our clients' problems and be able to enjoy their properties more."

Taylor also has advice for others who might be looking into a tree care career but lack the experience or the background.

"My advice to anyone else starting out without experience is that, 'Everyone has to start somewhere,'" she says. "Nobody started as an expert or a veteran in the company. We all have to be newbies at some point."

But Taylor says that if others are serious about a tree care career, it comes down to finding the right place.

"I never let my feelings get too hurt that I wasn't called in for other interviews," she adds. "If they weren't even willing to give me a chance with an interview, I probably didn't want to work there anyway. It says a lot about the environment and what it would have been like working there. Here at Oasis, I never feel like a question I ask is a stupid question. I feel as much a part of the team as anyone else."
Looking for a tree care career in Cincinnati and Dayton, OH? Consider joining the Oasis Turf & Tree team and find out more about how you can become part of our family.