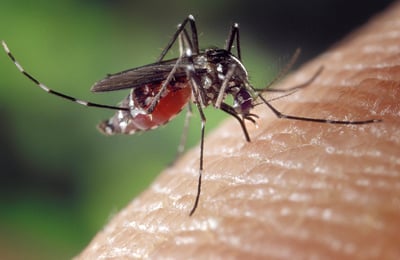 Nothing can ruin a great time outside faster than a swarm of mosquitoes biting you and your family. Not only is it a nuisance, but you likely have real concerns about these blood-sucking pests—and for good reason, too.
If you've ever turned on the Discovery Channel or picked up a copy of National Geographic, then you may already know that mosquitoes are one of the deadliest creatures in the world because of their ability to transmit deadly diseases. Disease transmission by insects is obviously more of a concern in countries where disease runs rampant, but you may be surprised to learn that it happens here more often than most realize. Statistics show that the United States had 96,075 cases of disease transmitted by insect bite in 2016. In the US, mosquitoes are a primary pest of concern.
Recognizing all this, you may be eager to know how to kill mosquitoes in your backyard. While you may know you probably cannot get the same results as a professional, you might still wonder: what does the pro do differently?
You may have even searched for "how to kill mosquitoes in my yard" and you're just not sure what steps need to be done.
That's exactly why we're going to walk you through it. We understand that most people don't know what's involved in the process and they'd like to be informed about what they can expect.
1. The Mosquito Problem Assessment
The entire process of how to kill mosquitoes outside begins with an assessment of your property. A professional pest control technician will seek out breeding grounds, landing sites, and dwellings where mosquitoes are most likely spending their time when they're not busy looking for their next meal. The information derived from this assessment will be used to compose an individualized treatment plan.
The assessment of your property involves starting at the front corner of it and walking all of the way around, finding those mosquito "hot spots." These can differ from property to property but will likely include areas where there's standing water, tall grassy areas, decks and patios, swing sets, fire pit areas, and sheds. Any spot where people frequently gather is going to be a mosquito zone.
Once these specific locations are identified, then a treatment plan can be developed.
2. Putting the Mosquito Control Plan into Action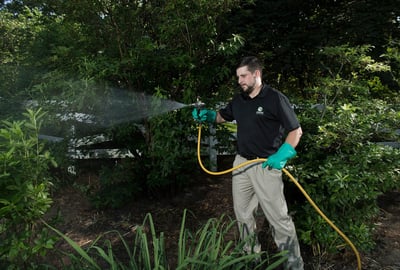 When it comes to killing mosquitoes, it's very important that the treatment plan is fully customized to your property. A technician will begin the mosquito control treatment following the same path that they did during the assessment. That means starting at the front corner of your property and working their way around the border as they spray, being sure to hit plants, structures, and other popular landing sites.
After fully covering the border area with the product, the technician will move in toward the house to fully cover all of the interior "hot spots" in the yard. Because technicians hit the border first, if mosquitoes take off from an interior spot, they will eventually land in a previously treated area and be eradicated. Mosquitoes are weak fliers and they land frequently to rest. This is why it's so important that all possible landing sites are well-treated.
Mosquito Control Products
It's also important to point out that one major key to success in mosquito control is the use of an appropriate and effective product.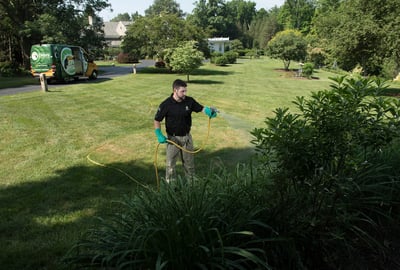 The professional-grade product being applied by a licensed and trained professional is so much better than anything you could pick up at a box store.
If you've ever taken a DIY approach to pest control, then you probably already know that these tactics just don't work. And if you have tried 'organic' products to combat mosquitoes, you have surely also found that they are not very effective; that's why organic mosquito control companies have to come back to re-apply their products every 2 weeks or so.
At Oasis, we treat for mosquitoes using a truck-mounted system that delivers larger droplet-size liquid applications. This is not as prone to drift like backpack blower sprayers that some companies use. That means where we apply the product is where it stays. This makes it a truly targeted approach.
Mosquito Control Changes You Can Make
Finally, we may also make cultural recommendations with valuable information. While visiting your property, if a technician notices areas of standing water—especially if it's collecting in items you've left in your yard, in low-lying areas on the ground, or even in clogged gutters that are holding water—then they will also leave recommendations about eliminating these areas. Dumping any standing water is an easy but very important step you can take if you're wondering how to kill mosquitoes in your backyard.
3. Returning for Future Mosquito Control Applications
Finally, because you realize that a single application will not get you through an entire mosquito season (which can last from late spring into the fall), you will want to sign up for a complete program, the return visits of which will be performed in the same thorough and conscientious way as the visit we just walked through together.
At Oasis, we perform 4 mosquito control applications, typically beginning in spring and ending in the fall, spaced approximately 5 to 6 weeks apart. This timeline covers the entire mosquito season, ensuring that your yard is protected the entire time. We believe that anything more than that is unnecessary, even though other mosquito companies in Cincinnati, Dayton, OH, or Northern Kentucky will charge to come out more frequently.
Stop Letting Mosquitoes Ruin Your Time Outdoors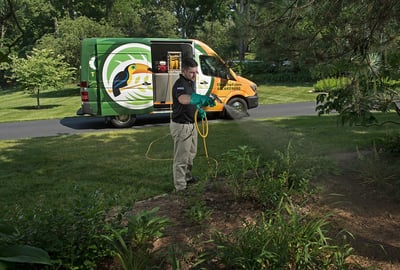 Now that you understand how to kill mosquitoes, today is the day that you can choose to make a change that will make your time spent outdoors much more stress-free. You want to be able to enjoy your yard and you don't want to feel as though you're under attack by the world's deadliest animal every time you step outside.
By choosing wisely when it comes to mosquito control, you can stop worrying and start enjoying your backyard. A company that takes a customized and thorough approach to treatment will give you the peace of mind you deserve.
If you'd like to learn more about mosquito control for your Cincinnati, Dayton, OH, or Northern Kentucky home, call us at 513-697-9090 or get your quote online and help us find the program that is best for you, then sit back and relax.
Image Sources: mosquito