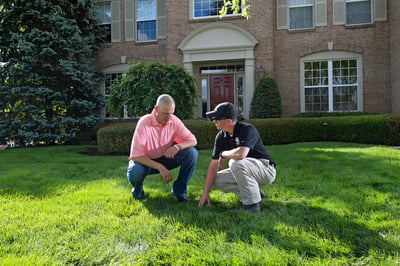 Regardless of the service that you're looking to hire, most people like to hire local. So it's no surprise that when searching for a lawn care company, most people turn to Google to search for terms such as "lawn care services near me."
How close does a company have to be to be considered "local" and are you willing to search a little farther for a company that offers better services than the one that is right down the street?
Chances are, you would be. After all, sometimes your closest option isn't necessarily your best option.
We know that choosing a lawn care company may feel daunting with all of the companies that are out there. However, you should be able to choose a service that is going to provide you with great results regardless of whether they are 3 or 30 miles away. That's why we've rounded up some of the best ways to make your online search of "lawn care near me" more successful.
Performing a Google Search for Lawn Care Services

Google processes 3.5 billion searches per day so it's likely one of the ways that you are going to research lawn care companies. When looking for a product or a service, most people turn to the powerful search engine. If you're using Google to search for "lawn care near me," you should be aware that it will likely ping the closest company, but not necessarily the best. Google can be a helpful tool and you should certainly use it. Just make sure that you're taking the time to scroll through more than just your top pick and doing a little bit of a research.
Reading Online Reviews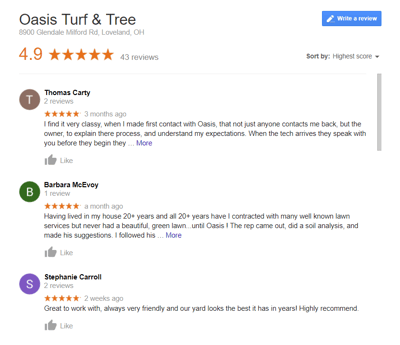 Online reviews are a valuable way to do that research we just mentioned. Taking the time to read through what other customers say about a company you're considering can be valuable information. Look for companies that have four- and five-star ratings which are current, and with at least a couple dozen positive reviews.
Finding Comparison Articles
Comparing one company to another can be a lot of work. But some companies have simplified the process for you by doing some of the research and getting the process started. Oasis has written several review articles, honestly comparing ourselves to some of our top competition. Knowing what a company sees as its best strengths can be very important information in comparing lawn care companies and choosing the best lawn care option.
Perusing Testimonials
Though similar to reviews in that it's a customer's opinion of the company, the big difference with testimonials is that they appear directly on the company's website and not through a third-party source such as Google or Facebook. That means the company chose to display these reviews. There's certainly nothing wrong with that, but you must recognize any smart company would only choose to display their very best testimonials. Testimonials can be another helpful tool as long as you also take the time to read reviews on third-party sites.
Asking for Referrals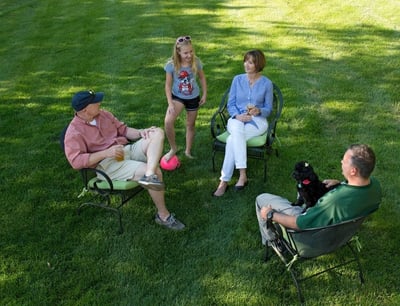 Who do your neighbors use for their lawn care? What about your family and friends? Asking for referrals is another great way to generate a list of lawn care services that might work for you.
Even so, you should still take the time to research the companies that are suggested. Your neighbor, family member, or friend might be satisfied with their service but not realize there's an even better option out there.
Watching for Trucks
Do lawn care trucks ever come through your neighborhood or somewhere nearby? This is another great way to generate a list of local companies that service your area. Take some time to jot down names of companies that you see servicing your neighborhood and then do your research on which ones might be a good fit for you.
Looking for Signs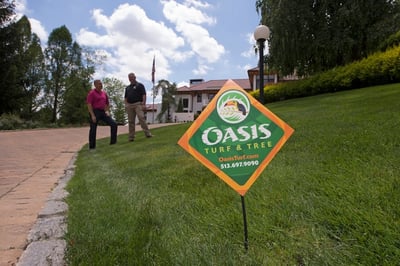 A lot of lawn care services will leave small posting signs behind after servicing a lawn. Looking at the different signs in your area is another very easy way to add names to your "Lawn Care Services Near Me" list.
A Word About Putting in the Time
The recurring theme in each of these recommendations is to use it as a tool, but not the end-all-be-all item in your search. In other words, use more than one of these methods to generate a strong list and then thoroughly research each company on your list. Call the lawn care company, ask questions, and take the time to read through their website. It's this background research that will help you to know whether the company is what you're looking for—or not.
These days everybody is busy and it's certainly a lot easier to just search for "lawn care near me" and arbitrarily pick a result. However, doing it that way is a gamble and you could easily wind up right back to where you are now—which is choosing a lawn care service. You've wasted time and maybe even got poor results. Now your lawn needs even more work.
However, if you put in the time on the front end, and research the companies you're considering, then you'll be much more likely to make a good choice and save time in the long run. And soon you'll be on your way to the lawn care results that you truly desired.
Choosing the Best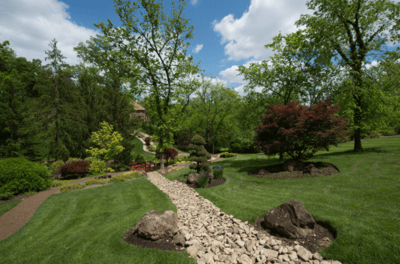 Searching for a lawn care company might feel like a daunting task. After all, there's a lot to take into account. By using a mix of the search methods we discussed above and following through with your research, you should be able to find a company that is not only local, but is going to do a great job.
Oasis is a local company, based out of Loveland, Ohio, but we view the entire metro area as the "community" we both work and live in. Nothing is more rewarding than bumping into one of our 8,000+ happy customers from Dayton, Cincinnati, and parts of Northern Kentucky.
Simply put, we are big enough to provide a great level of service without being too big that we have become disconnected from the community that we serve. We view our customers as family and we invite you to become part of it.
If you'd like to learn more about the lawn care programs we offer in Cincinnati, Dayton, OH, or Northern Kentucky, request your quote, help us find the right program for you, then sit back and relax knowing that you've made a wise choice.