Trey Mann
Lawn Care Technician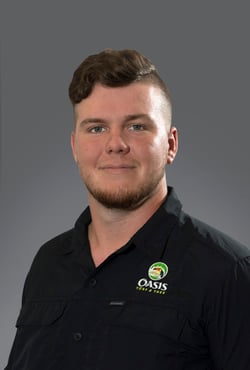 Trey Mann says there are three things that he loves about working for Oasis Turf & Tree—the customers, the team, and the ability to be outside. Though he's worked in the lawn care industry previously, he says the biggest difference about Oasis is that he feels like "more than just a number."
"I feel like the management team at Oasis cares about me as a person," Trey adds.
In giving customers a sneak peek inside the inner workings of the lawn care process at Oasis, Trey says he would tell them, "We go really in-depth in everything that we do. There is a lot of knowledge and experience behind the decisions we're making for our customers' lawns."
Outside of work, Trey loves watching baseball and traveling. He's an Ohio fan all-around—the Reds, Bengals, and Buckeyes being favorite teams.