Trevor Sora
Master I Certified Technician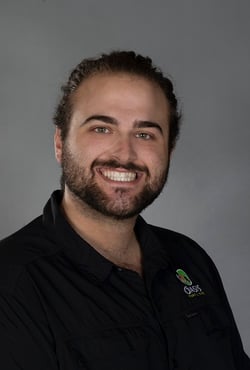 The first thing that you might notice about Trevor Sora is that he has the best hair at Oasis. His long and curly hair is somewhat of his trademark. The next thing you'll notice is how much he enjoys the work that he does.
Born and raised in Loveland, Trevor attended Rutgers University in New Jersey and earned a certificate in Golf Turf Management before returning to the area. Though he's worked in the golf course industry since 2015, he ultimately decided that he'd like to work on residential lawns—and applied with Oasis Turf & Tree. He says he loves being able to work outside all day.
Since coming to work here, Trevor says that he also appreciates the team-like atmosphere.
"You get the best of both worlds at Oasis. You have the independence to work on lawns on your own—but you have the support of a team behind you."
Outside of work Trevor enjoys golfing with his friends. He also recently purchased a home and anticipates being outdoors and working on his own yard a lot in his future.