Timmy Brewer
Lawn Care Technician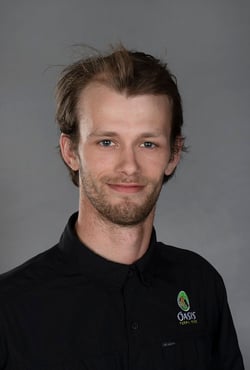 Prior to returning to Ohio, where he was born, Timmy Brewer had been living and working in Montana handling herbicide treatments for Yellowstone National Park. He had an interesting career treating highly specific weeds with specialty weed controls in order to ensure the amazing wildlife of Yellowstone was protected.
Though he loved the Montana landscape, when his brother turned 18 the two decided to move to back to Ohio. Given his herbicide experience, Timmy was looking for a career where he could continue to utilize his knowledge and skills. He says that he's appreciated the intense training and the value that Oasis puts on education—and he's enjoying learning about how to best tackle weeds in Ohio.
Outside of work, Timmy's favorite hobby is fishing. Though he says he'd gotten used to fly fishing in Montana, he's learning new fishing skills, too. He and his girlfriend and his two dogs also enjoy spending as much time outdoors as possible.