Tim Strobl
Licensed Turf & Tree Technician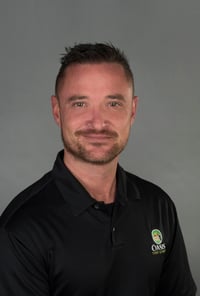 Tim Strobl says that he's been working with grass for his entire professional life. He started of with commercial mowing and was even the co-owner of a landscape company before it merged with another. He was drawn to Oasis for being known as an industry "superpower in turf care" and has quickly moved up the ranks from lawn technician to service manager, in which he now oversees some of our technicians.
In addition to being responsible for the technicians that report to him, Tim also enjoys continuing to interact with clients and being a go-to professional for the northeast section of the areas that Oasis services.
In terms of why he chose this profession, Tim says that he has to work outside—it's not even a question in his mind. He says that he loves fresh air—and he loves grass, which probably isn't surprising since he has spent more than two decades of his life working with it.
"I also love that every year I learn something new," Tim adds. "It's not the type of profession that could ever get old because the knowledge and the information just keep coming. It's always evolving."
Lawns are undoubtedly a passion for Tim, and he says that it wouldn't be uncommon to find him chatting with clients about their properties—and how to improve them. He finds the science behind turf care truly interesting.
Outside of work, Tim also looks for as many ways as he can to get outdoors with his kids. A single father of two, Tim says that they do lots of camping, fishing, and nature hikes. He loves to think up new family activities each weekend. Tim also enjoys cooking and gardening and is also an artist—creating mostly acrylic paintings of landscapes.