Tim Lippolis
Customer Experience Manager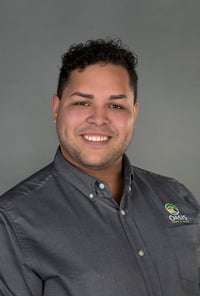 While we know you can't see him when you call our offices, we can assure you that Tim Lippolis, our Customer Experience Specialist, always has a big smile on when he answers the phones. Tim swears people can hear it in his voice and he makes a point to smile each and every time he answers a call.
Of course, smiling is easy to do when you also love what you do. Tim says that he particularly loves the family atmosphere at the Oasis, as well as the fact that we all genuinely care about one another.
Tim has a high-energy personality and also a great knack for working with people. His enthusiasm combined with his compassion make him really great at what he does. He is very understanding and ready to handle all of our clients' needs.
When he's not handling customer needs here at the office, Tim says he loves playing music and spending time with his friends. He taught himself how to play the piano and grew up playing and singing for churches in the area in both the youth and adult choirs.
Certifications:
Ohio Department of Agriculture Applicator License