Ryan Piron
Lawn Care Technician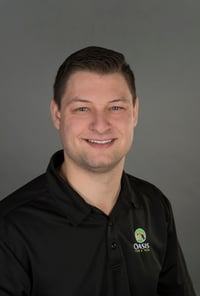 Since graduating high school, Ryan Piron has been in the Green Industry. As someone who loves the outdoors, he says that an office job would never have been the right fit. Since coming to Oasis, Ryan says that what he appreciates most about the company is the close-knit feel. He says: My work colleagues are like family.
He also loves the strong customer service focus and says he knows of no other business that would perform free service calls.
What makes him good at his job is being highly driven. Ryan is also an avid golfer and has come to truly appreciate beautiful turf.
In addition to golf, outside of work, he also plays professional softball and travels frequently for the sport. Being highly family-oriented, Ryan also enjoys spending time with his fiancée, his nieces, and his parents.