Richard Coyle
Licensed Lawn Technician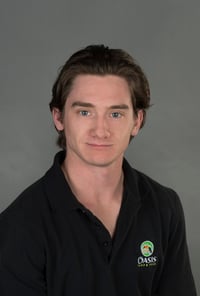 Having worked for a family-owned greenhouse for a good part of his life, Richard Coyle says that the last two office jobs he worked had him longing for the outdoors. Most recently, Richard was an accountant and says sitting behind a computer all day just wasn't for him. He missed the opportunity to be outside. In particular, he missed everything from the changing seasons to seeing what was in bloom.
That's when he decided to start with Oasis. Now, Richard says he loves spending his days outdoors and getting to meet customers face-to-face. He says its his helping attitude that makes him a good fit for this role. Besides helping customers, he also likes making a difference in their lawns and says it's very rewarding.
Outside of work, Richard loves to write and play music—mostly guitar and in particular, rock and metal. He also enjoys hiking, fishing, hunting, and trail running as additional efforts to embrace the outdoors.