Matthew Kreke
Licensed Turf & Tree Specialist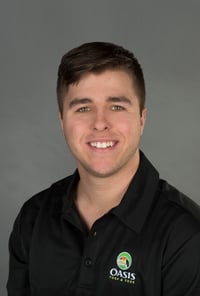 It was an interest in sports that led Matthew Kreke to pursue a career in lawn care. He says that having long been an avid sports fan, he's always had an appreciation for well-maintained athletic fields and what it takes to achieve those spectacular results. That ultimately drove him to pursue a lawn care role.
Previously the head of the turf division at another company, Matthew says that he often saw the bright-colored and professional-looking Oasis Turf & Tree vans on the road. He'd also heard through the grapevine that it was a great place to work. When he saw a posting for a job, he decided to give it a shot. And he says he hasn't looked back.
Matthew says that its his people skills and his attention to detail that make him good at this work.
In his spare time, Matthew remains an avid sports fan, following all of the local professional and college teams—and attending games as often as he can.