Josh Faulkner
Lawn Care Technician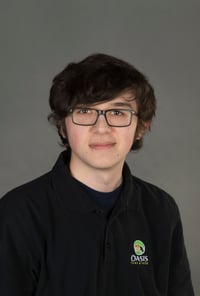 While on the lookout for a job that would keep him active and outside, Josh Faulkner says he came across Oasis. It was the company's impressive reviews that led him to apply for a job there. Now that he's joined the team, he says that loves getting to spend his days outdoors. He's also become very passionate about learning about the different grass types that Oasis clients have and what will work best for their lawns.
What makes Josh a great fit for this career is that he doesn't rush the work. Josh says his patience—and meticulous nature—allows him to help his clients achieve the results they desire.
Outside of work, Josh enjoys gaming with his friends. He also has future plans of pursuing a degree in mental health and helping kids who are growing up with anxiety and depression.