Joel Dammeyer
Licensed Turf & Tree Specialist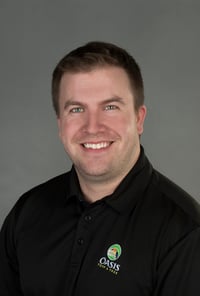 As a Turf & Tree Specialist, Joel was initially attracted to Oasis Turf & Tree because he felt it was a place where he could not only grow within the company, but also gain more experience in his sales and customer service skills. He joins the team with seven years of similar experience in phone sales and customer service.
When asked what Joel enjoys most about working with Oasis, he replied, "the atmosphere at Oasis is one of the most positive work environments I've ever had the pleasure of being around. Everyone seems to work with each other with no real complications that can't be resolved quickly and effectively. Also, the service our technicians provide is above and beyond of any other lawn care companies I had previously heard of before I started this career path."
The best piece of advice Joel shares with customers is to keep with the program and the results will happen! If customers could see from behind the scenes here at Oasis, Joel feels they'd appreciate seeing, "the family atmosphere the whole entire company contributes to provides an excellent and personal customer service to all our customers."
Joel notes it's his positive attitude and personalized conversations that make his contributions to the team great. He aims to treat others the way he would want to be treated and approaches conversations with coworkers, customers, and potential customers in this manner.
An interesting fact about Joel is he recently became a full time father to a baby boy. At only 8 months old it entails, "waking up at 3 am, cleaning, feeding and consoling my baby boy 24/7. There's no other job like it and wouldn't trade it for the world!"
Outside of work and being dad, other hobbies include playing/listening to music. Joel was the drummer of a Cincinnati based rock band. "I can play drums, guitar, piano, etc. I've been a part of a variety of bands across the Cincinnati area for many years. I have a large collection of vinyl records and really enjoy researching the history of all kinds of music."