James Bordicks
Licensed Turf & Tree Specialist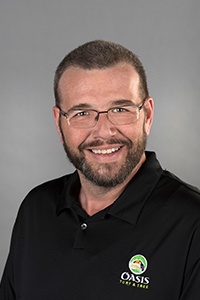 James Bordicks is a people person which is why he thrives in sales. One of the strangest jobs he ever held was driving a vending machine route which involved going into different businesses and meeting people throughout the day. What made it fun was working with different people—which is exactly what he enjoys here at Oasis.
Dedication to his customers is what James says helps make his work great. He's always willing to go the extra mile to handle anything that comes up. He loves talking through questions or concerns and is always ready to lend an ear.
You may be surprised to learn that James was on a TLC reality show with his wife. Though he hasn't made any additional television appearances, James says his favorite thing to do outside of work is spend time with his wife and daughters.
Certifications:
Ohio Department of Agriculture Applicator License